February 17, 2014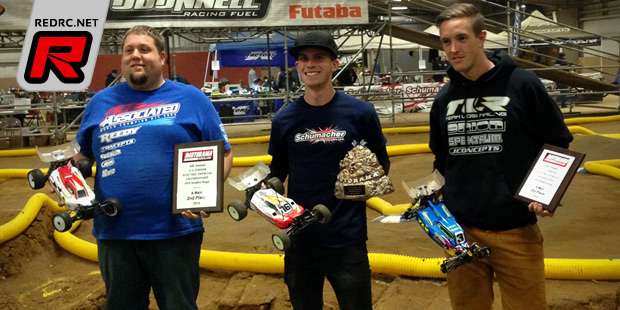 This weekend was the 36th annual Motorama show in Harrisburg, Pennsylvania. The event hosts what is possibly the largest RC race around, over 700 entries across two tracks, along with a host of other motor sport events, thousands of visitors pass through the doors and are exposed to RC as a hobby and sporting event. The weekend started with travel problems for most, with the East coast being battered by a storm. This meant that a few drivers had to alter their plans and didn't receive luggage until half way through the practice day. Despite the problems everyone made the show and were all sorted by the end of practice day. With practice untimed it was difficult to gauge pace, but with the teams cars all feeling good they were ready for racing. Qualifying was to be decided with 2 counting rounds from 3, with bump up finals throughout. This meant consistency would be critical for a good qualifying position, but if all goes wrong it was still possible to bump up.

Carson Wernimont showed great pace with his Schumacher cars, taking TQ in 4WD & 2nd in Short Course. Also making the A main in 2WD, he'd be joined by Tom Cockerill in all three classes. Rob Betts got the worse of traffic in his heats, leaving him 11th overall and hoping for that magic bump spot in 4WD. Matt Olsen missed practice due to lost luggage, and had a nightmare qualifying day with his 4WD, leaving himself 72nd of the 73 entrants. When finals came round, Matt Olsen showed his true pace, and the Schumacher guys worked as a great team to get his car prepped and turned around, on his way from the H to B main in 4wd, earning himself the Bump Up King name. Also bumping in 2wd he won a total of 6 finals. When the main event came around, Carson would lead from the front taking a dominant victory by almost 7 seconds from Chad Due and Dustin Evans.
Modified 4WD Top 10:
1. Carson Wernimont
2. Chad Due
3. Dustin Evans
4. Brent Thielke
5. Steven Hartson
6. Alex Miller
7. James Schlick
8. Tom Cockerill
9. Mike Gay
10.Alex Kosciuszek
2WD was to be a more frantic race with many drivers making mistakes. Chad Due came through from 5th to take the win, followed by a hard charging Carson and James Schlick.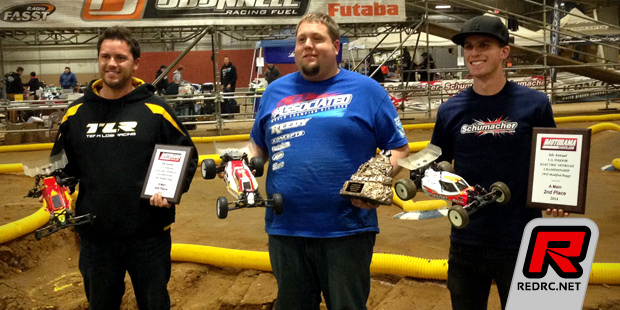 Modified 2WD Top 10:
1. Chad Due
2. Carson Wernimont
3. James Schlick
4. Steven Hartson
5. Dustin Evans
6. Tom Cockerill
7. Greg Hodapp
8. Gunner Rieck
9. Andrew Parente
10.Brent Thielke
Short Course provided the most entertainment for the watching crowd with Chad and Carson going at it once again. With very little to split between the two it was Carson, with his Schumacher prototype truck, who got the break, jumping over Chad on the triple section and taking the win. Chad came home 2nd and John Cravotta 3rd.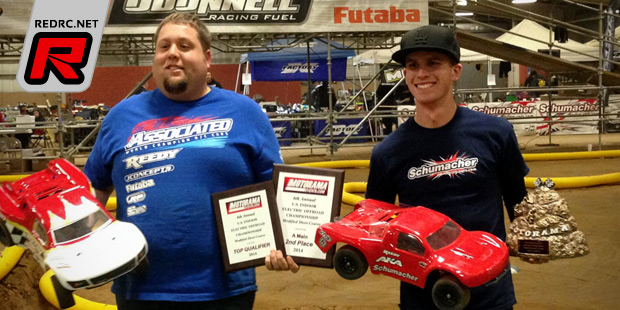 Modified SCT Top 10:
1. Carson Wernimont
2. Chad Due
3. John Cravotta
4. Tom Cockerill
5. Barry Goodwin
6. Robert Meyer jr
7. Christopher Proctor
8. Matt Stoltz
9. Chris Cristo
10.Jim Hustins
Source: Schumacher [racing-cars.com]
---