March 18, 2014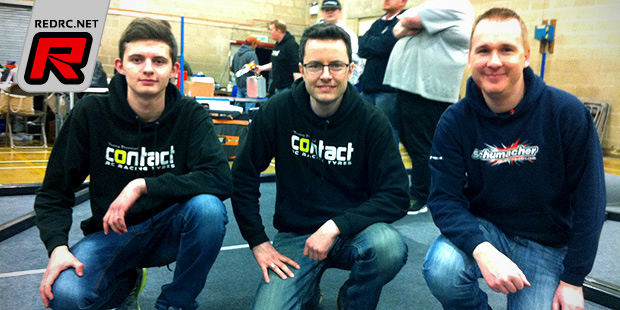 The 6th and final round of the 2013/14 BRCA National Series was held at what some consider the home of 1/12th scale racing, the Shirley Park Leisure Centre, Clay Cross, Chesterfield. In the GT12 championships both the Saturday and Sunday title was still up for grabs. The Saturday title could be won by either defending champion Chris Ashton or his Schumacher team mate Jamie McDonagh. Round 1 saw the Mardave of Jonathan Dixey set the fastest time with the Schumacher of Jamie McDonagh setting the next quickest time but with his car failing scrutineering, this would move Chris Ashton up to 2nd place and Alex Thurston into 3rd. Round 2 saw Chris Ashton move to the top of the time sheets with Jonathan Dixey dropping to 2nd place and Matt Lax into 3rd.

In round 3 Chris became the first driver to complete 22 laps with Jamie McDonagh now up to 2nd place and Sam Clifton into 3rd. The final round of qualifying saw Chris Ashton take TQ by only 7/10ths of a second from his title challenger Jamie McDonagh, with Sam Clifton 1.5 seconds behind in 3rd. Alex Thurston would line up 4th on the grid with the slowest of the 22 lappers, with early pace setter Jonathan Dixey in 5th. So the 2 title contenders would line up 1st and 2nd on the grid but with Chris only requiring a 4th place finish to retain his title, he would line up as favourite. A clean start from both Chris Ashton and Jamie McDonagh saw them quickly open up a lead over the chasing pack of Sam Clifton, Jonathan Dixey, Marcus Askell and Alex Thurston. With these 4 drivers all swapping positions for 3rd place it meant Chris and Jamie opened up a comfortable lead over 3rd place. Despite getting close to the rear bumper of Chris Ashton's Schumacher for the majority of the race, Jamie McDonagh was unable to attempt any overtaking moves on the tight track and with Chris driving a faultless race he crossed the line 3/10ths of a second ahead of Jamie to take the win and with it retain his BRCA GT12 Saturday title. Sam Clifton finished 6 seconds behind in 3rd place with Marcus Askell 4th and Alex Thurston 5th.
Results:
1. Chris Ashton – Supastox
2. Jamie McDonagh – Supastox
3. Sam Clifton – Supastox
4. Marcus Askell – Supastox
5. Alex Thurston – Supastox
6. David Hall – Supastox
7. Jonathan Dixey – Mardave
8. Andrew Carter – Supastox
9. Niall Cochran – Supastox
10.Matt Lax – Supastox
Championship Results:
1. Chris Ashton – Supastox – 599 points
2. Jamie McDonagh – Supastox – 595 points
3. Sam Clifton – Supastox – 593 points
4. David Hall – Supastox – 590 points
5. Marcus Askell – Supastox – 589 points
6. Alex Thurston – Supastox – 586 points
7. Stephen Lander – Mardave – 574 points
8. Matt Lax – Supastox – 573 points
9. Andrew Carter – Supastox – 572 points
10.Jonathan Dixey – Mardave – 572 points
Sunday was once again a 2 way battle for the title between Chris Ashton, who was looking to retain his Sunday title and add to his previous day's glory, and early season pace setter and Schumacher teammate Sam Clifton. Round 1 saw Chris Ashton get off to the perfect start by setting the fastest time from Jonathan Dixey and Jamie McDonagh. Round 2 saw Chris improve his time to remain in 1st with Jonathan still in 2nd and Alex Thurston improving to 3rd. Chris continued to improve in round 3 with Alex also improving his time to move up to 2nd place, dropping Jonathan down to 3rd. Chris was unable to improve on his time in the final round but took TQ by just under a second from Alex with Jamie McDonagh moving up to 3rd. Jonathan Dixey and Stephen Lander would line up 4th and 5th respectively. Having been hampered by issues throughout the day, Sam Clifton would line up 7th on the grid which would make it extremely difficult to get the win he required to take the title.
The final would see the top 3 cars of Chris Ashton, Alex Thurston and Jamie McDonagh get away from the grid cleanly. These 3 would quickly pull away from the chasing pack who was led by Marcus Askell who had a good start from 6th on the grid. With Alex Thurston having minor brushes with the track markings which would cost him a couple of tenths a lap, Chris was able to open up a comfortable lead over Alex. With a minute to go Chris went into cruise mode and came home to take the win on the day and with it the Sunday title. Alex Thurston finished in 2nd place, 2 seconds behind Chris, with Jamie McDonagh a further 2 seconds behind in 3rd. Marcus Askell finished 4th with Stephen Lander 5th.
Results:
1. Chris Ashton – Supastox
2. Alex Thurston – Supastox
3. Jamie McDonagh – Supastox
4. Marcus Askell – Supastox
5. Stephen Lander – Mardave
6. Jonathan Dixey – Mardave
7. Sam Clifton – Supastox
8. Andrew Carter – Supastox
9. Anthony Potter – Supastox
10.Christopher Skidmore – Mardave
Championship Results:
1. Chris Ashton – Supastox – 599 points
2. Jamie McDonagh – Supastox – 595 points
3. Sam Clifton – Supastox – 593 points
4. Alex Thurston – Supastox – 592 points
5. Marcus Askell – Supastox – 588 points
6. Matt Lax – Supastox – 578 points
7. Stephen Lander – Mardave – 578 points
8. Andrew Carter – Supastox – 576 points
9. Anthony Potter – Supastox – 572 points
10.Mark Christopher – Supastox – 561 points
Source: Schumacher [racing-cars.com]
---