March 17, 2014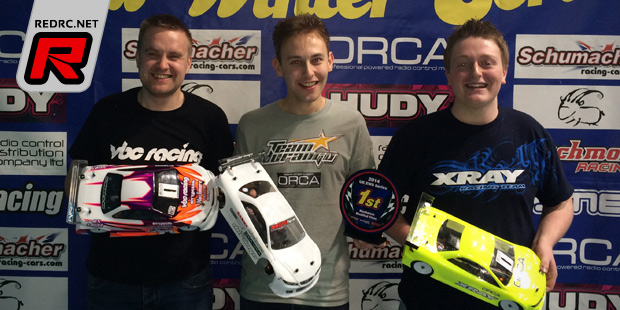 The final round of the Essex Winter Series championship took place this weekend.  With the series now firmly established as the most popular indoor touring car series in the UK, the championship finale was the last opportunity for drivers to prove their skills on carpet circuits, before turning their focus to the outdoor summer season. With nice weather forecast, a few drivers took the opportunity to head outside to begin their tarmac running early, but all the main championship contenders were will in attendance, joined by some new names for the last round of the series.

The Muchmore Modified class was the only one of the three not to have been decided at the previous round, but Elliott Harper had put himself in a very strong position having TQ'd and won every round he had entered.  But as qualifying got under way, it was Kyle Branson, winner of the International Carpet Challenge a few weeks back, that set the pace.  Kyle was clearly out to prove the ICC was not a one-off for him, deny Elliott a perfect score and also help himself move up the overall podium places.  Kyle took his Capricorn to the fastest time in round one, ahead of Elliott's Durango and James Hart's Xray.  Kyle was again fastest in round two from Elliott, with Andy Moore taking third with his HB at his debut at the series.  Round three saw the same result – Kyle from Elliott and Andy, securing Kyle the pole position.  Elliott then took the final qualifying round ahead of Schumacher's Paul Pinkney and James back into the top three.
This all left Kyle to sit on pole position for the A Final, ahead of Elliott, Paul, James and Andy.  Elliott now firmly had one hand on the championship trophy, and would essentially need to finish anywhere other than last to take the overall title.
Kyle led the A Final off, with Elliott sticking with him in the opening laps.  Kyle began to build a small lead, which stabilised at around one and a half seconds, which he then managed to maintain for the remainder of the five-minute final.  Elliott knew second place would be good enough, but continued to put himself in a position to capitalise should Kyle make a mistake.  The action in the final was the battle for third.  Paul, James and Andy raced nose-to-tail for the place, with a number of position changes during the run.  That allowed Stefan Chodzynski to move up and capitalise on the other drivers' battle, eventually Stefan moved up to third which he held to the finish line.  Up front, Kyle didn't put a wheel wrong to take a lights-to-flag victory, with Elliott crossing the line in second to confirm his EWS Championship title.  The result also meant Kyle snatched second in the overall title on the second-level tie break from out-going Pro Stock champion, Paul Pinkney.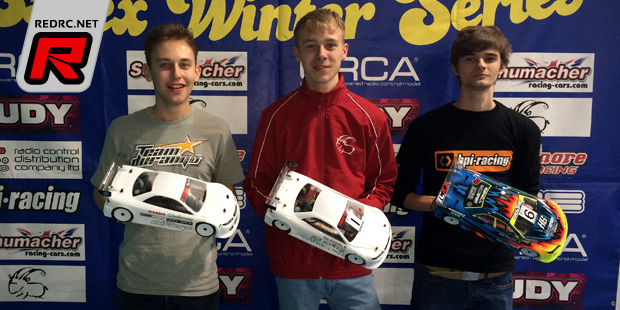 Muchmore Modified A-final result
1. Kyle Branson – Capricorn – 23/303.93
2. Elliott Harper – Durango – 23/304.73
3. Stefan Chodzynski – HB – 22/301.75
4. James Hart – Xray – 22/302.49
5. Phil Chambers – Xray – 22/306.02
6. Matthew Winyard – Xray – 22/308.43
7. Andy Moore – HB – 22/310.21
8. Matt Chandler – HB – 21/ 00.19
9. Nathan Winyard – Xray – 21/300.19
10.Paul Pinkney – Schumacher – DNF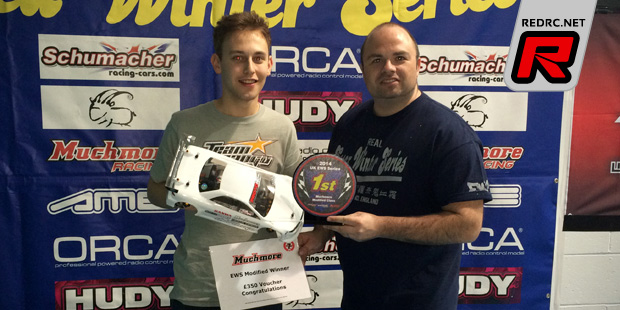 Muchmore Modified overall championship
1. Elliott Harper – 801 points
2. Kyle Branson – 786 points
3. Paul Pinkney – 786 points
4. James Hart – 783 points
5. Chris Grainger – 782 points
The Schumacher Pro Stock title had been decided in favour of Zak Finlay at the previous round, with Tony Broad also cementing second overall.  The battle was therefore for the final podium place, primiarily between Ashley Wiffen, Richard King and Reece Hodges.  Zak showed he wasn't letting up, despite having the title in his pocket and took the opening round TQ.  Jon Seals was second, ahead of Reece Hodges to make it an Xray 1-2-3, and Jimmy Maddison took fourth.  Jimmy had decided that, with the Stock title already wrapped up, he would enter the Pro Stock class for the final round and clearly showed he had the speed to run with the top drivers in the faster class too.  The second qualifier saw Zak again fastest, with Schumacher's Darren Lee second, Reece third and Jimmy again fourth.  Round three was Zak from Jon and Reece, whilst Zak made it a clean sweep by taking round four as well, ahead of Jon, Jimmy and James Baker's Xray.  Championship podium contender Richard King ended seventh overall, whilst Ashley Wiffen had a qualifying to forget and found himself in the B Final.
|The A Final was all about Zak, as he took off into the lead and built up a gap lap after lap.  Behind, the battle for second was between Jon, Reece and Jimmy, with Darren Lee quickly moving up from ninth on the grid to be within striking distance too.  Those four drivers put on an excellent example of high-speed driving for the entire race distance, giving each other just enough space and entertaining the crowd with their close racing.  As the time began to run out, suddenly Zak began to slow, seemingly his motor beginning to expire.  This gave a last-lap shoot-out, with four cars running practically side-by-side down the main straight on the final lap and Jimmy Maddison being the driver to have his car in the right position to snatch the win on the final lap.  Reece lost out at the line by just two tenths, with Zak dropping to third and Jon ending in fourth. This meant Reece took third place in the overall championship, on the tie-break from Richard King.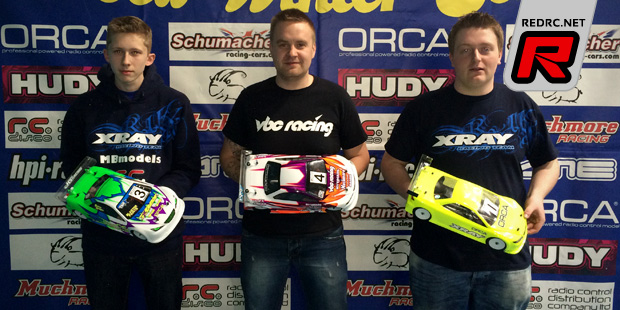 Schumacher Pro Stock A-final result
1. Jimmy Maddison – VBC – 22/305.20
2. Reece Hodges – Xray – 22/305.42
3 . Zak Finlay – Xray – 22/305.63
4. Jon Seals – Xray – 22/ 06.12
5. James Baker – Xray – 22/309.96
6. Ben Putt – Capricorn – 22/310.93
7. Daniel Veness – Xray – 22/312.70
8. Mark Buonaiuto – Xray – 21/300.69
9. Darren Lee – Schumacher – DNF
10.Richard King – Awesomatix – DNF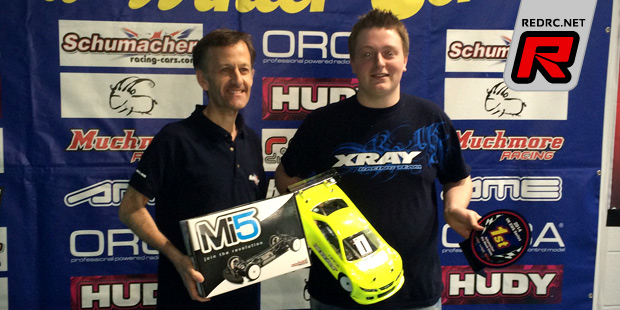 Schumacher Pro Stock overall championship
1. Zak Finlay – 803 points
2. Tony Broad – 793 points
3. Reece Hodges – 777 points
4. Richard King – 777 points
5. Ashley Wiffen – 774 points
In the Capricorn Stock class, Jimmy Maddison had already taken the title and raced in the Pro Stock class at the final round, leaving the drivers to fight for second overall.  Gavin Clinch put himself in the best position by topping the first round of qualifying, ahead of Colin Gardiner and Darren Tickner.  Gavin took his ARC to the fastest time in round two as well, ahead of the Xrays of Darren and Nathan Morgan.  Gavin again took round three, with Colin back up to second with his Xray in front of Terry Yarranton (Awesomatix).  Gavin made it four out of four in the final round, ahead of Darren and Colin.
Gavin led the A Final off, but Colin stayed close with him in the early stages.  Behind, Nathan, Darren and Michael Ball fought over third place, which then became second when Colin clipped a corner and rolled his car off the track at the half-distance point.  Problems also for Michael at this same time dropped him down the order, and meant Nathan was through into second, Darren third and Tim Harrop up to fourth from ninth on the grid.  But out in front, Gavin had it all under control as he cruised to the victory, enough to take second overall in the championship on count-back from Colin.  Nathan held onto second by just a tenth of a second from Darren at the line.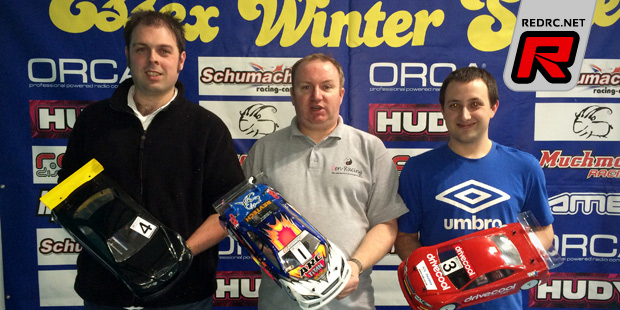 Capricorn Stock A-final result
1. Gavin Clinch – ARC – 21/308.56
2. Nathan Morgan – Xray – 21/310.03
3. Darren Tickner – Xray – 21/310.18
4. Tim Harrop – Capricorn – 21/314.49
5. Terry Yarranton – Awesomatix – 20/300.16
6. Mark Trinder – Capricorn – 20/301.47
7. Matthew Worton – Xray – 20/304.06
8. Barry Hughes – Xray – 20/304.93
9. Michael Ball – Yokomo – 16/303.29
10.Colin Gardiner – Xray – DNF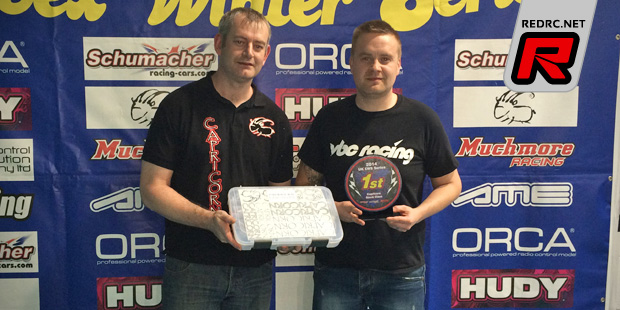 Capricorn Stock championship overall championship
1. Jimmy Maddison – 804 points
2. Cavin Clinch–786 points
3. Colin Gardiner–786 points
4. Nathan Morgan–775 points
5. Mark Trinder–769 points
Planning for the 2014-2015 Championship is already under way, and the organisers hope to be joined by plenty of new and old faces alike then.
Thanks to Oli Meggitt for sending the report
---