March 26, 2014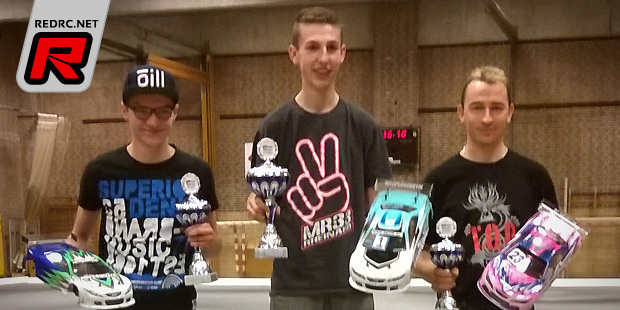 The 6th and final round of the Danish National Championships was held at the former DHI-Cup venue in Odense, where this great event was born many years ago. A big and flowing track with technical chicanes made for perfect conditions and close racing. Since it was the final race of the season, the schedule saw 5 rounds of qualifying with the 3 best to count, followed by 3 finals. In the Pro Stock class the fight for the magic A final spots was though, with 3 drivers being in the fight for TQ. Patrick Folman, Niklas Engholm and Søren Boy Holst all won rounds in qualifying – often with less than a second to second spot. At the end Patrick took TQ in a tie-break, with only .087 second from the number 2 driver.

The finals were just as close between these 3 guys. Patrick was fast in the beginning and Søren upped his pace towards the end, making for some really close battles. Lady luck then was good friends with Patrick, so he could take the overall win of the two first finals, despite problems with overheating. In the last round Søren made a mistake and had to retire after a hard coming together with a wooden board. Patrick also made a mistake, so Niklas grabbed the lead and kept it to the finish line. That gave him the same points as Søren and since Niklas had a 1st place, so he could snatch the 2nd place on the podium. The overall ranking then saw Søren Boy Holst (T.O.P.) taking the championship from Patrick Danielsen (Xray). Christian Lehm (T.O.P.) completed the podium in 3rd.
Thanks to Soeren Boy Holst for sending the report.
---