March 21, 2014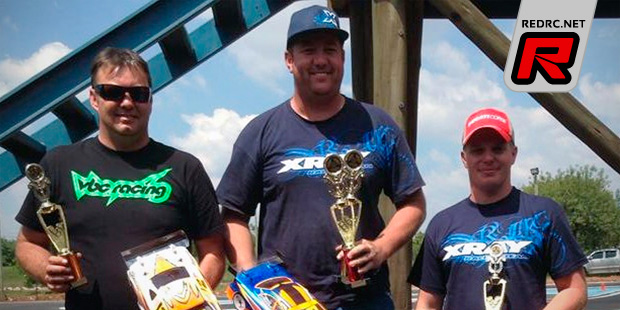 A round of the 2014 South-African ORE national championships was held in Pretoria last weekend. Rain cut the two day practise to a day, some foreign racers struggled to get the set-up right and the local drivers showed the way around a long fast and technical track. The touring modified class once again provided for some spectacular high-speed racing. The 2013 champion Jason Hillcoat continued his great pace and took the TQ and win in the A-final. There was a great battle for 2nd to 5th place in the 3 finals with Anderton Smith taking 2nd place and Deon Gove managing 3rd.
Modified touring result
1. Jason Hillcoat
2. Anderton Smith
3. Deon Gove
4. Hein Kotze
5. Shaun Schutte
6. Christian Fourie
7. Antonio Caroli
8. Willie du Plooy
9. Heine Herholdt
10.Alex Ribeiro
The very fast 13.5T boosted touring class provided some great racing. Anderton Smith managed to take TQ and the win in the A-Mains with Hein Kotze in 2nd and Antonio Caroli 3rd.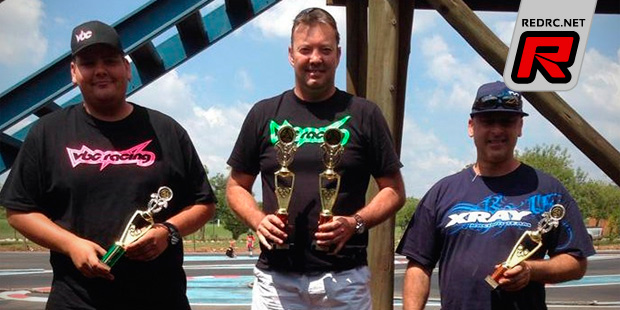 13.5T boosted touring result
1. Anderton Smith
2. Hein Kotze
3. Antonio Caroli
4. Deon Gove
5. Willie du Plooy
6. Christian Fourie
7. André Greeff
8. Alex Ribeiro
9. Karl Joubert
10.Kallin Kolmel
Ashley Hurley was the fastest man the whole weekend and took TQ and win in the 17.5T boosted touring class. André Greeff and Karl Joubert managed to qualify 2nd and 4th respectively. After a great battle during the A-finals Karl Joubert ended on a 2nd and André Greeff on a 3rd place.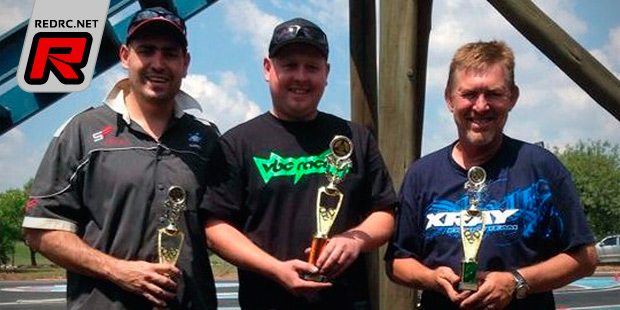 17.5T boosted touring result
1. Ashley Hurley
2. Karl Joubert
3. André Greeff
4. Kallin Kolmel
5. Willen Janse van Rensburg
6. Johnathan Wilken
7. Justin Cloete
8. Pieter de Villiers
9. Martin Fourie
10. Freddie Kotze
In the 21.5T blinky touring class Neville Menezes showed the way around the track in his first nationals, and after a great consistent drive over the weekend took TQ as well as the win. Fanie Viljoen Snr came in 2nd while Christopher Dolphin completed the top 3 result.
21.5T blinky touring result
1. Neville Menezes
2. Fanie Viljoen Snr
3. Christopher Dolphin
4. Gustav Engelbrecht
5. Paul van der Westhuizen
The 1/12th scale class changed to 10.5T blinky for 2014 and saw the drivers trying to find the correct roll-out for these cars in the relatively long track. André Greeff took the opportunity early in the qualifiers and managed to take TQ. He could not however keep his pace during the three finals and managed to hold on to a 3rd place. His team mate, Shaun Schutte drove well on the Sunday and managed to take the win in the A-finals with Willem Janse van Rensburg taking the 2nd Place.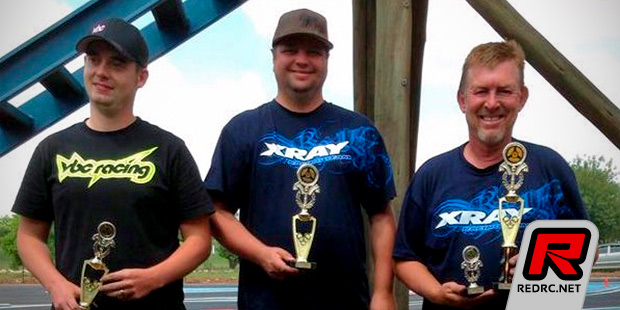 1/12th 10.5T blinky result
1. Shaun Schutte
2. Willem Janse van Rensburg
3. André Greeff
4. Darren Duggan
5. Neville Menezes
Source: Xray [teamxray.com]
---