March 1, 2014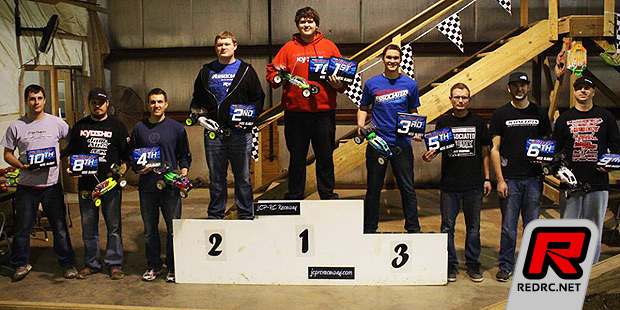 The 2014 Winter Cup at JCP RC Raceway in Indianapolis, Indiana took place with a total of 160 entries. The race format saw four qualifiers, and triple A-mains with bump-ups. In the highly contested 2WD Modified class Kyosho's Zach Phillips took TQ and made maximum use of the pole position by winning the first A-main with a clean run. In A2 he had a small bobble in the opening laps letting him drop to 2nd, but he was able to recover in order to take the win and therefore also the overall victory in the 2WD Mod class.
2WD Modified Buggy Top 10
1. Zach Phillips – Kyosho
2. Colton Cruse – Associated
3. Brad Abtey – Associated
4. John Reh – X-Factory
5. Adam Rayls – Associated
6. Ben Ellis – Associated
7. Tyler Whittaker – Kyosho
8. Jamie Ferrell – Kyosho
9. Mike Kochanski – TLR
10.Nate Jaskot – Kyosho

Thanks to Joe Pillars and Zach Phillips for sending the report.
---