April 14, 2014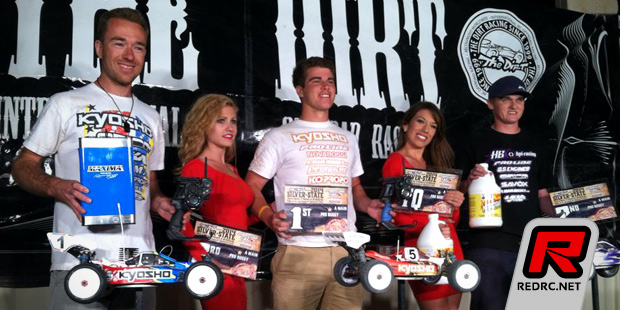 The 2014 Silver State Nitro Challenge got under way this past weekend in Las Vegas at the Boulder City Track. Run in 1/8th nitro and electric off-road classes as well as electric short course the race attracted the 1/8th scale off-road creme de la creme like Jared Tebo, Adam Drake, Cody King, and Ryan Cavaleri to name just a few. The event, presented by and run on a Joey "The Dirt" Christensen prepared track, also marked the 2nd race of the 5 round U.S. ProCup.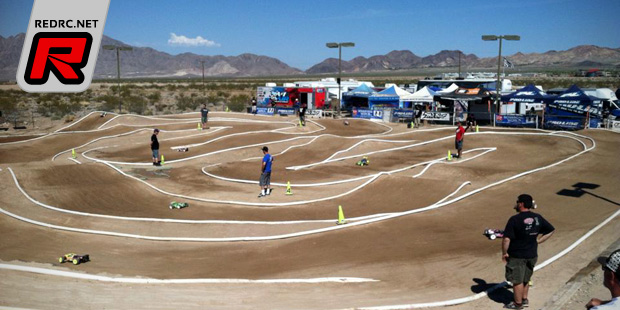 In Pro Nitro Truggy Jared Tebo took the first qualifying round from Adam Drake and Dylan Rodriquez. In 1/8th Electric Buggy Ryan Cavalieri won the opening round of qualifiers from Ty Tessmann and Ryan Lutz. Ty then grabbed the number 1 spot in 1/8th Pro Nitro Buggy with Josh Wheeler and Jared Tebo in tow. The second round of qualifiers had Ryan Maifield TQ the Nitro Truggy class while Carson Wernimont was fastest in E-Buggy. Round number 2 of Nitro Buggy went to Dylan Rodriguez. Round 3 of Nitro Truggy had Ty Tessman taking TQ and this in turn also handed him the overall TQ from Adam Drake and Jared Tebo. In Electric Buggy Ryan Lutz put himself on top with a 3.5 second faster run than Josh Wheeler, giving him the overall TQ spot. Behind Lutz Carson Wernimont and Ryan Cavalieri lined up. The third round of Nitro Buggy qualifying had Jared Tebo taking TQ, securing him the top spot after the qualifiers. Ty Tessman and Josh Wheeler lined up in 2nd and 3rd.
In the Pro Nitro Buggy main TQ Jared Tebo had to settle for 3rd overall after the 45 minute final as Australia's Kyle McBride (Kyosho), starting from 5th position, came in 1st some 5 seconds ahead of Ty Tessmann (Hot Bodies). Carson Wernimont and Drew Moller where able to better their qualifying to finish in 4th and 5th.
Pro Nitro Buggy result
1. Kyle McBride
2. Ty Tessmann
3. Jared Tebo
4. Carson Wernimont
5. Drew Moller
6. Josh Wheller
7. Cody King
8. Dylan Rodriguez
9. Ryan Lutz
10.Cody Smith
11.Adam Drake
12.Mike Truhe
13.Ryan Maifield
In the 45 Minute Pro Nitro Truggy final Drew Moller (Mugen) brought home a close win from Jared Tebo (Kyosho) who finished only 3.6 seconds behind. Another couple of seconds down, Carson Wernimont (Mugen) completed the podium. Team Associated's Ryan Cavalieri and TLR's Adam Drake finished the race one lap down on the top 3 in 4th and 5th position respectively.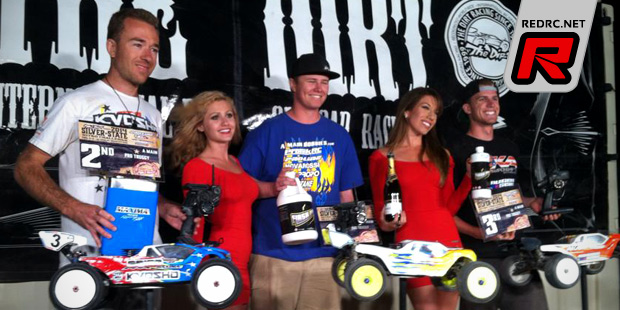 Pro Nitro Truggy result
1. Drew Moller
2. Jared Tebo
3. Carson Wernimont
4. Ryan Cavalieri
5. Adam Drake
6. Ty Tessmann
7. Josh Wheeler
8. Ryan Lutz
9. Cody Smith
10.Cody King
11.Dylan Rodriguez
12.Ryan Maifield
13.Colby Poh
The 10 minute Pro E-Buggy A-main saw quite a clear win of Xray's Josh Wheeler who came in some 4.2 seconds in front of Jared Tebo (Kyosho) and Ty Tessmann (Hot Bodies), with both crossed the finish line only 0.1 second separated. Drew Moller and Carson Wernimont completed the top 5 result.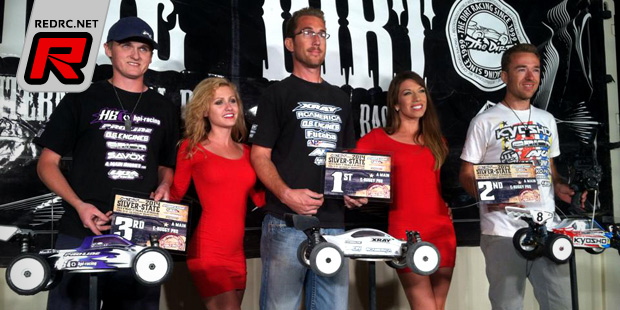 Pro Electric Buggy result
1. Josh Wheeler
2. Jared Tebo
3. Ty Tessmann
4. Drew Moller
5. Carson Wernimont
6. Kyle McBride
7. Cody Smith
8. Ryan Lutz
9. Ryan Cavalieri
10.Adam Drake
11.Mike Truhe
12.Colby Poh
13.Kyle Johnson
Images: Joe Pillars
---