April 14, 2014
The second annual Mile High Indoor champs were held last weekend at the 5280 Raceway in Denver, Colorado. Racers from around the U.S. and Canada made up the nearly 200 car field. The classes run were F1, World GT, 17.5 TC, 13.5 TC, Modified TC, 17.5 12th and Modified 12th. In the very competitive 13.5 TC class it was Drew Ellis who was fast all week and had a great last qualifier to sit on the pole. Other TQ's were Mario Ficco in F1, Bill Cydor in 17.5 TC. All five other classes were TQ'd by Josh Cyrul.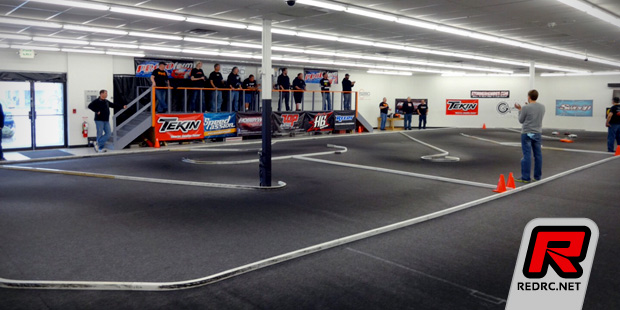 The Modified TC final saw Cyrul get the hole shot, Lemieux would stay close for a few laps, the gap would remain about 1 second until Lemieux got caught in traffic and drop back. Cyrul would cruise to the win with Lemieux second and hard Charging Ralph Burch finishing third.
Modified TC result
1. Josh Cyrul
2. Paul Lemieux
3. Ralph Burch
4. Kevin Hebert
5. Drew Ellis
6. David Joor
7. Andrew Doherty
8. Ron Atomic
9. Chris Hillier
10.Mackenzie Meyercord
13.5 TC had Drew Ellis leading the field. Drew got a good jump at the start with Adam Brown in second. As things settled in Drew pulled out front to a large lead after some shuffling, Bill Sydor raced to second with Tim Copp having a great charge from the back of the grid to finish third.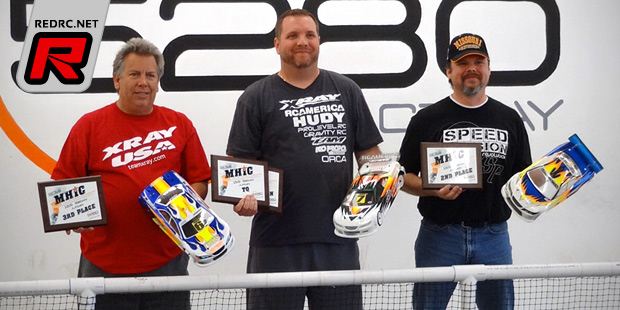 13.5 TC result
1. Drew Ellis
2. Bill Sydor
3. Tim Copp
4. Jystin Salerno
5. Kyle Klingforth
6. Michael Toth
7. Art Scrimo
8. Chris Kemper
9. Adam Brown
10.Brent Klingforth
The 17.5 TC final was the most ugly of all the finals. At the tone it was Bill Sydor who had the early lead, then carnage broke out and it looked like it could be anybody's race. Art Scrimo pulled threw the wreckage to a nice lead over Bill Cydor with Brock Whitmer and others challenging for podium. In the end TQ Bill Sydor would pull up to the bumper of Scrimo but would run out of time. Art Scrimo would take the win with Bill Sydor in second and Craig Xavier in third.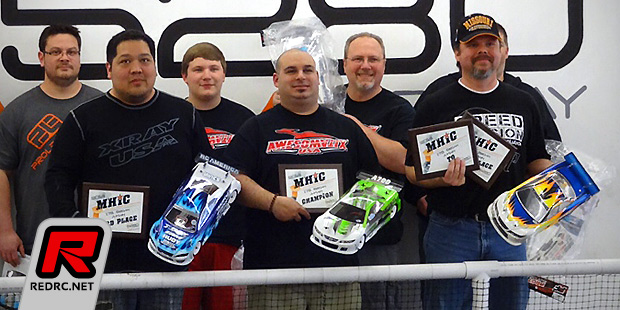 17.5 TC result
1. Art Scrimo
2. Bill Sydor
3. Craig Xavier
4. Tim Getchell
5. Brock Whitmer
6. Brent Klingforth
7. Mike Herald
8. Kyle Klingforth
9. Adam Brown
10.Michael Toth
Modified 12th was a battle between Cyrul and Hebert. Cyrul out front at the beginning with Hebert in toe and Lemieux in third. A mistake from Cyrul gave Hebert the lead. Hebert would lead much of the race but a mistake from Hebert allowed Cyrul back up front. In the end it was Cyrul again taking the win with Hebert second and Lemieux third.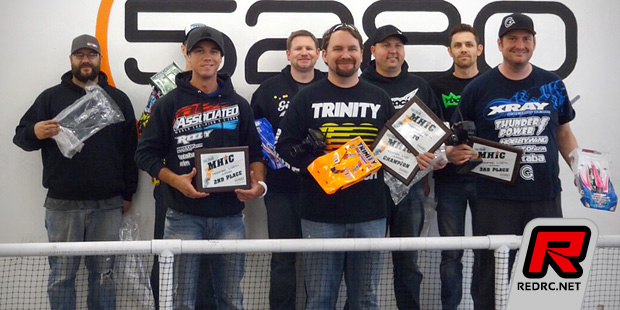 Modified 1/12 result
1. Josh Cyrul
2. Kevin Hebert
3. Paul Lemieux
4. Chris Hiller
5. Brian Bodine
6. Ryan Borgheiinck
7. Andrew Dohrity
8. Bob Stormer
9. Dave Ehrlich
10.Mackenzie Meyercord
The 13.5 12th scale A main saw Cyrul again making it a dominant weekend for him. Tony Block and Mitch Whitteman had a good battle for second. Across the line it was Cyrul with a convincing win over Block and Whitteman. Elsewhere in 17.5 12th scale Amain saw Cyrul out front with Mitch Whitteman and Mike Harold hanging around for the better part of the race. In the finish it was Cyrul taking a comfortable win over Mitch Whitiman with Mike Herald a close third. The F1 main would see Mario Ficco check out at the beginning and lead it from tone to tone while the World GT final saw Josh Cyrul jump out front and pull away from the start to take the win.
Source: Xray [teamxray.com]
---