April 9, 2014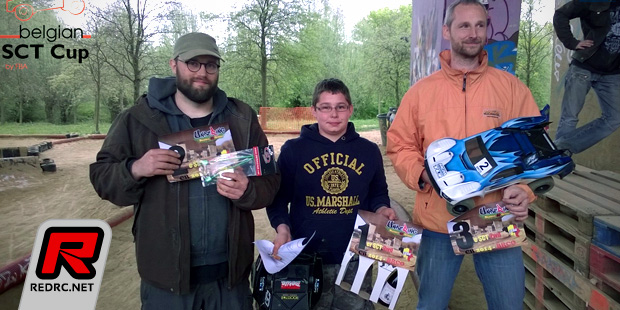 First round of this year's Belgian SCT Cup was held at the new urban UndeRing track in Brussels. The track is nicely located under the highway bridge within a public park with an interesting layout slippery surface. This race marked the first ever meeting organised by the club and after all it went pretty smooth and without problems. In the 2WD Pro2 class Philippe Hautecoeur (Associated SC10) ran a pretty weird but effective tyre setup, with astroturf tyres allowing him to run fast and consistent laps in order to take the TQ in front of Julian André (Associated SC10) and Martin Viérin (Associated SC10). In Pro4 Thierry Matthieu (Tekno SCT410) showed a great pace and took TQ in front on Nicolas Evens (TLR Ten-SCTE).

During the Pro2 finals, Philippe had trouble to convert his TQ position into a good result while Julian André went up from his 3rd starting position in order to take the win in leg 1 ahead of Nicolas Evens (TLR 22SCT) and Martin Vierin. During qualifying the track became bumpy making it prone to driving errors. Julian then was not able to repeat the win in leg 2 as he faced an issue on his car that lead to a DNF. Martin then took the win ahead of Philippe and Nicolas. At the start of final leg, Julian, Martin and Nicolas still had a chance to win but unfortunately Martin had to retire after 4 laps while Julian had a strong run which allowed him to take the win ahead of Nicolas. Martin still got second overall thanks to his win in leg 2.
2WD SC Top 5
1. Julian André – Associated SC10
2. Martin Vierin – Associated SC10
3. Nicolas Evens – TLR 22SCT
4. Philippe Hautecoeur – Associated SC10
5. Philippe Gustin – Associated SC10
In Pro4 Thierry swept all final legs, the first one being very close with a great pass over Nicolas in the last corner of the final lap. The trucks where separated by only 0.111 seconds on the finish line. Nicolas Evens finished second in all legs handing him the runner-up spot while Christophe followed in third.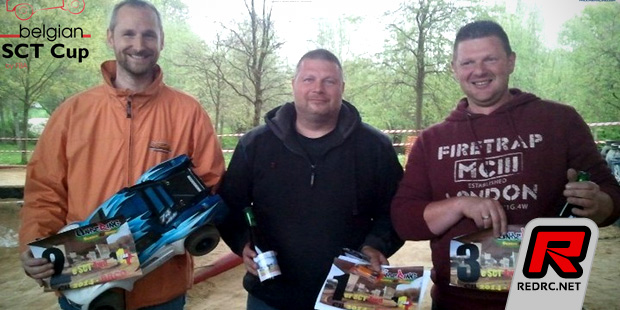 4WD SC Top 5
1. Mathieu Thierry – TeknoRC SCT410
2. Nicolas Evens – Losi Ten-SCTE
3. Christophe Leurquin – TeknoRC SCT410
4. Philip De Keersmaecker – TeknoRC SCT410
5. Alain Vandeuren – TeknoRC SCT410
Source: Belgian SCT Cup [belgiansctcup.be]
---