April 17, 2014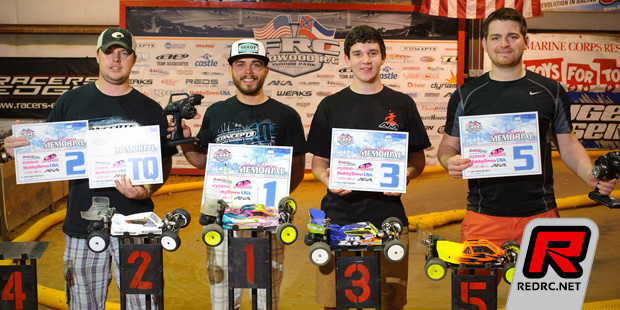 This past weekend the first annual Jamie Rogers Memorial race was held in Flowood, Mississippi. Jamie passed away in January due to a fatal heart attack while attending Flowood's "January Jam" race. Around 150 racers from the surrounding states joined together to remember a fallen hero in the RC community. Bubba Barham, race director, did a great job for Jamie's son Ty and his Mother, Melissa. FRC had many sponsors donating product to be raffled off to raise money for Ty and his family, with close to $4,000 raised.

In 2WD Open Buggy William Ables would start TQ into the triple A-mains. To start the first main the drivers all got off to a great start and Blake Boggs coming from 4th on the grid was able to get by 2nd and 3rd to start gaining on William. Blake was able to put a pass on William early and check out for a win in A1. A2 was much the same, Boggs was able to check out early and take A2 and the overall win.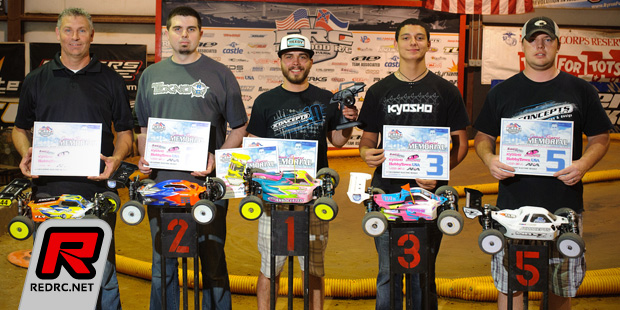 In 1/8th Pro eBuggy Blake Boggs took the overall TQ and starting into A1 he knew he had to stay smooth as William Ables, Tekno's Kevin Mccoy and TLR's Martin Harrison would be close in tow. Blake was able to have a very clean start and stay consistent to comfortably take the win in A1 only with a slight bit of pressure from FRC's local young guy Matthew Hales. In A2 Boggs tried to stay as clean as possible but a bobble in the rhythm section cost him dearly as he dropped back to 8th place. With that bobble he got caught up in more traffic and made it tough to fight back to first as Tekno's Kevin McCoy stretched his lead. Boggs was able to drive hard and make his way up to third, with another hot lap of 25.8, the fastest of the weekend, to finish behind Kyosho's Ty Rogers. In A3 TQ holder Boggs was worried that the guys behind him would battle hard for the lead and force him to make a mistake ending his hopes of a win, but he stayed calm and was able to stretch out a good lead and take A3 and the overall win.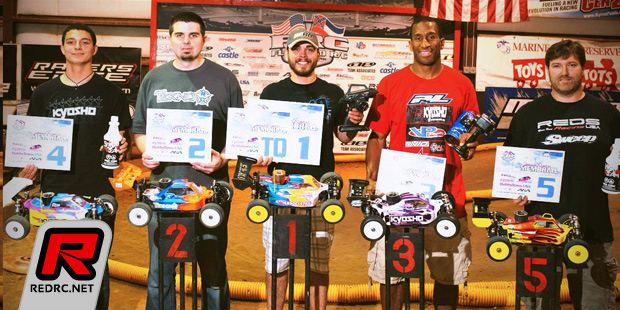 In Pro Nitro Buggy Blake Boggs was able to set an early TQ pace but round 2 would provide a much faster track and once again Boggs would have to top his previous time to claim overall TQ. In round 2, Blake would once again be the only one to go a 16 lap 7:22 to secure overall TQ. The main then would would be pretty straight forward for the Team Associated driver with some early pressure from Tekno's Kevin Mccoy. As the race went on Boggs was able to stretch out a comfortable lead on Kevin and Kyosho's Reggie Tounge. In the end he would take the win by over a lap on the field.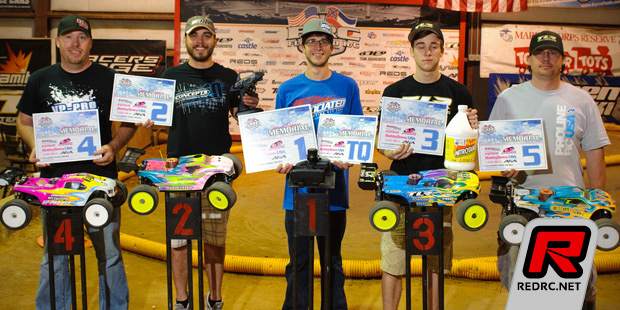 In Pro Nitro Truggy it was again Blake Boggs who set an early TQ pace in round one. In round 2 Boggs once again wanted to step up his game and he was able to set a pace to once again be on a 16 lap run until a small mechanical problem sidelined him for round 2. With the track improving TLR driver Cody Avant was able to place 1 spot above him. With Derek in the TQ position, Cody in second, Blake would start 3rd. At the start of the main Boggs was able to get by Cody and set his sights on Derek. He would catch Derek and pace himself behind him until the first round of pit stops. Derek was able to pit clean and Boggs would get tangled up with a back marker coming out of the pits. With what had seemed to be a flame out as Blake was tangled up, set him back about a half a lap. He was brought back to the pits with the engine still running and a obvious operator error. Although Boggs had assumed the worst and thought the engine flamed, he was wrong. The engine was still running and back out Blake went only to let Derek stretch his lead and keep it that way only to finish second overall.
Source: JConcepts [jconcepts.net]
http://blog.jconcepts.net/2014/04/jamie-rogers-memorial-race/#more-90613
---