April 28, 2014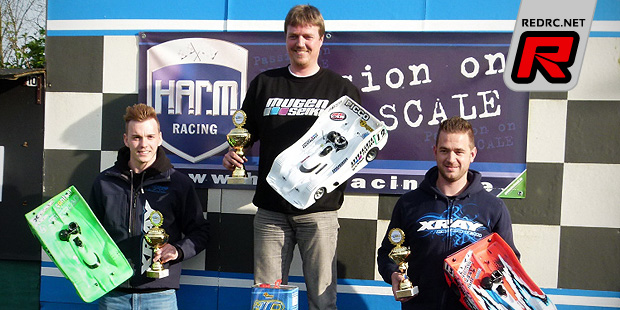 The 2nd round of the Western German nitro championships took place in Bad Breisig near the Rhine river. Rain hampered the racing action during the qualifying heats but when the weather turned to the better in the afternoon, the race wins went to Mugen racers Steven Cuypers in 1/8 class 1 and Reinhard Zick in 1/8 class 2 as well as to Shepherd rookie Bernd Rausch in 1/10 scale. A total of 62 entries signed in for the race organised by the MCC Rhein-Ahr club, but only 42 racers attended on the wet track on Sunday morning.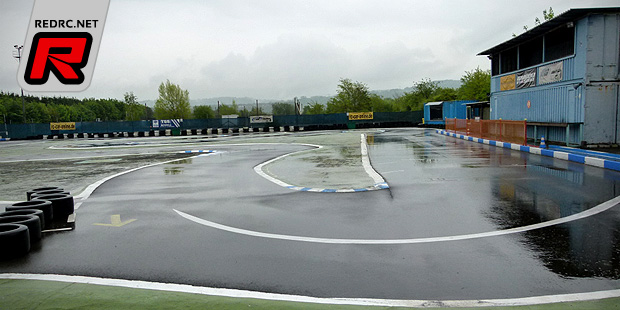 In 1/8 scale class 1 only Serpent racers Christian Wurst and Ralf Vahrenkamp cruised around the 254 meter track in the wet first heat, eight drivers entered the competition during the second heat and eleven in heat three. A drama prevent Serpent campaigners Michael Salven and Karl-Heinz Meister to qualify for the finals because despite Salven running on a blistering pace in the dry, both Salven and Meister did not have a valid run in the wet with the series' rules then denying both a start in the final. The TQ went to Thomas Kroeger (Serpent) who scored a 13 lap run, one more than Martin Baumann (Mugen) and Frank Schewiola (Serpent), and two more than Steven Cupers (Mugen).
With only eleven drivers having made the qualification, the main race started at sunshine with these eleven drivers. While Claus Nauth (Xray) had to retire at around half time of the 30 minute race because of a broken steering servo, Schewiola, Kroeger and Belgian Alexey Yaramishyan (Capricorn) lost valuable time because of various issues. Dormagen winner John Ermen (NL), still racing the 2013 RX8, took over the lead early and was able to build up an increasing gap. But later in the race he was hampered by a broken first gear letting him drop back to third at the chequered flag, three laps down on Steven Cuypers. Two years after his German title win at this track the Belgian brought his Picco-powered Mugen home on first place with a one-lap gap over Tobias Hepp, racing an Orcan-powered Xray RX8 2014. Like in Dormagen, the two Serpent racers Christian Wurst and Ralf Vahrenkampf finished fourth and fifth with Uwe Baldes in sixth in his first race with Xray. In the ranking of the Western German Championship, the qualification for the German nationals, Dormagen winner Ermen and Cuypers are leading by 240 points in front of Wurst (234).
1/8 class 1 result:
1. Steven Cuypers – Mugen – 114 laps
2. Tobias Hepp – Xray – 113
3. John Ermen – Xray – 111
4. Christian Wurst – Serpent – 109
5. Ralf Vahrenkamp – Serpent – 109
6. Uwe Baldes – Xray – 107
7. Martin Baumann – Mugen – 102
8. Frank Schewiola – Serpent – 101
9. Thomas Kroeger – Serpent – 94
10.Alexey Yaramishyan – Capricorn – 86
Just like Xray, who celebrated a win in both 1:8 scale classes at the season opener in Dormagen two weeks ago, this time Mugen made it to the top twice. Following Cuypers in classs 1, Reinhard Zick drove his Mugen MRX5-WC to a fine win in class 2. After 30 minutes "old boy" Zick had a five second lead over Serpent racer Andreas Goebel while Dutchman Benny Ciere (Mugen) was one lap down completing the podium in third. Joachim Kuehn from the local club brought his Xray home in fourth followed by the two Shepherd drivers Matthias Guenther and Martin Figge. The TQ was taken by Goebel ahead of Tim Vogels but the Xray driver from Belgian lost his chances for victory already when he had to retire early in his semi final. Zick and Ciere were the winners of the two semis. In the class 2 overall ranking Zick has a strong lead by 240 points over Figge (228) and Kube (227).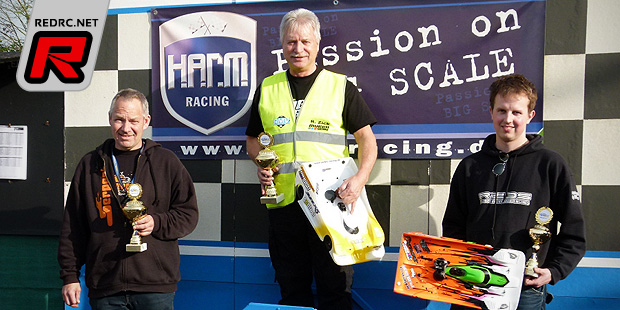 1/8 class 2 result:
1. Reinhard Zick – Mugen – 107 laps
2. Andreas Goebel – Serpent – 107
3. Benny Ciere – Serpent – 106
4. Joachim Kuehn – Xray – 102
5. Matthias Guenther – Shepherd – 102
6. Martin Figge – Shepherd – 101
7. Bert Poesen – Mugen – 99
8. Christian Tripp – Mugen – 94
9. Michael Woeste – Capricorn – 81
10.Heiko Kube – Mugen – 17
TQ in 1/10 scale was captured by Dieter Fleischer who did twelve laps with his RB-powered Mugen in the wet, followed by Shepherd racer Bernd Rauch and Michael Salven, driving the brand new Serpent 748 for the very first time. But Salven was among those who had to retire from the semi finals like Benny Lehmann (Sheperd) or Joerg Baldes (Serpent). The semi final B was a clean affair for Thilo Toedtmann who managed 71 laps in the 20 minute race to earn pole position for the main. Dormagen winner Puepke came in second in front of Rausch, Nenner and Diekmann. Bernhardt managed to win semi final A in front of Weyhoven, Fleischer, Thiele and Krings.
Toedtmann pushed his Orcan-powered Xray NT1 right from the start to open up a gap over his rivals but finally lost the win because of engine troubles due to not mounting the end plate properly. So he could managed to finish in third position. When the checkered flag dropped Bernd Rausch celebrated the win and was glad to be back in the winner's circle for the first time with his Sonic-powered Velox. Teammate Anrdt Bernhardt was less than one lap behind but very happy about his performance. In the ranking Bernhardt now leads by 235 points in front of Rausch (234), Puepke (233) and Fleischer (233).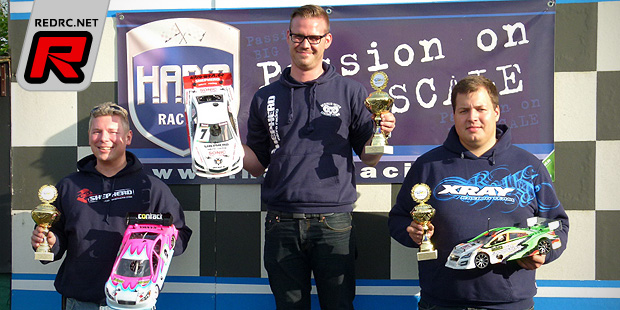 1/10 result:
1. Bernd Rausch (D) Shepherd – 106 laps
2. Arndt Bernhardt (D) Shepherd – 105
3. Thilo Toedtmann (D) Xray – 105
4. Daniel Thiele (D) Serpent – 104
5. Dieter Fleischer (D) Mugen – 103
6. Melvin Diekmann (D) Shepherd – 101
7. Andreas Weyhoven (D) Serpent – 99
8. Marco Nenner (D) KM – 99
9. René Puepke (D) Shepherd – 86
10.Dennis Krings (D) Xray – 58
Round three out of four of the West Open will take place at the famous track of MRC Alstaden Oberhausen on the 21st and 22nd of June.
Source: Nitro-West [nitro-west.de]
---