April 2, 2014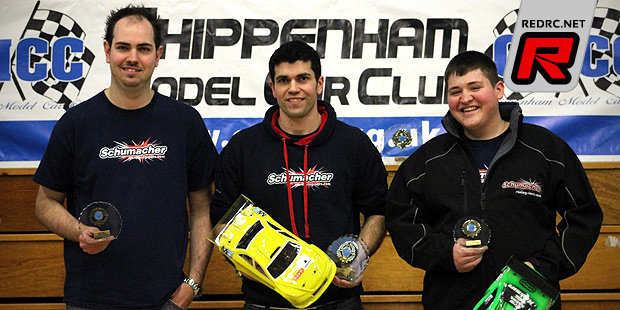 The final round of the 2013/2014 Chippenham Winter Indoor Championship took place with 100 drivers booked in. The track and conditions were good as the new carpet started to get a groove in. With final places and outcomes still possible in most of the championships it would lead to some fast and furious racing. In 13.5 Boosted Touring Chris Gunter was also leading the way, with a great third round run to take TQ and pole for the finals ahead of Luke Bennetts, who lined up second, 0.30 of a second ahead of Mark Giaquinto, who took third.

In the first final, pole man Chris Gunter got his Mi5 off to a flying start making the most of a clean start and the ideal entry in to the first corner, closely followed by Mark Giaquinto and his Mi5, as they settled into a rhythm they pulled away from the field, battle broke out behind them for third place with the hard charging pair of Kai Grainger with his Mi5 and Shaun Ogden going toe for toe over the five minutes, with Kai taking third place in the end by just over a second. Mark would settle for second place with as Chris took the win. The start of the second final was a repeat of the first, with Chris Gunter, Luke Bennetts and Mark Giaquinto all getting off the line and setting off into the distance. Luke was unable to keep the pressure on Chris and Mark as he slipped down and settled for a safe third place finish. Chris and Mark would pull away lapping the field as they went door to door for a thrilling last final of this year's series, Mark was able to pip Chris to first place on the final lap taking the win by 0.18 of a second. A great battle and spectacle too watch for the crowd watching.
Championship result 13.5T boosted
1. Mark Giaquinto – Schumacher
2. Chris Gunter – Schumacher
3. Scott Booth – Schumacher
4. Luke Bennetts – Schumacher
5. Rob West – Schumacher
6. Kai Grainger – Schumacher
7. Shaun Ogden – Serpent
8. Paul Ash – Schumacher
9. James Curtis – Schumacher
10.Chris Lovell – Xray
In 17.5 Blinky with the championship still up for grabs it was Chris Gunter who lead the way taking TQ honours by over four seconds from Andy Travis who's second round run was good enough to take second on the grid from Dean Jennings, who had to settle for third on the grid for the finals. In the first final, pole man Chris Gunter got a good start, but with the fierce battle that ensued over the five minutes, would come away with a fourth place finish. The battle to watch was between seventh place starter Ashley Gouveia and fifth place starter Chris Hughes, as they charged to the front of the field following line for line as Chris tried to track Ashley down. Ashley took the win from Chris in second by 1.5 seconds in the end with Andy Travis coming in third. In the second final normal service was restored as Chris Gunter and his Schumacher Mi5 took off into the distance lapping the field on his way to the win, with the battle behind being closely fort between Andy Travis and Chris Hughes, Andy was able to guide his new VBC Wildfire to a secure second place just ahead of Chris Hughes who took third. A very well done goes out to local risings stars Daniel Blake running his Hot Bodies TCXX and Jamie Somerville running his S411 ERYX, with strong results round on round and improvements in there racing skills over the course of the series they should be one's to keep an eye in the future.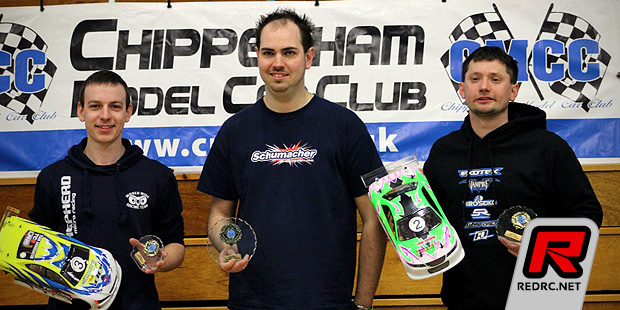 Championship result 17.5T blinky
1. Chris Gunter – Schumacher
2. Andy Travis – Hot Bodies
3. Ashley Gouveia – Associated
4. Chris Hughes – Hot Bodies
5. Dean Jennings – Schumacher
6. John Toman – Schumacher
7. David Allen – Tamiya
8. Gary Dyson – Serpen
9. Daniel Blake – Hot Bodies
10.Paul Rose – Schumacher
In qualifying for the Mini Formula class, Sam Shirley lead the way putting his best TQ run together in the final round, lining himself up on pole by a lap ahead of the 2013/2014 champion Mark Mitchell with Stuart Parnell coming in third. The first leg of the Mini finals saw Sam Shirley make a great start pulling away from the chasing pack, for the next five minutes Sam showed why he could have been this year's champion had it not been for some crawl reliability issues, put on a master class on his way to an 18 lap run finishing over 11 seconds ahead of Mark Mitchell who took a strong second in front of Stuart Parnell, who took third. In the second final, pole man Sam again showed the chasing pack the way, leaving them in his tire tracks with an impressive 19 lap run lapping the whole field. Mark again took second ahead of Stuart who took third.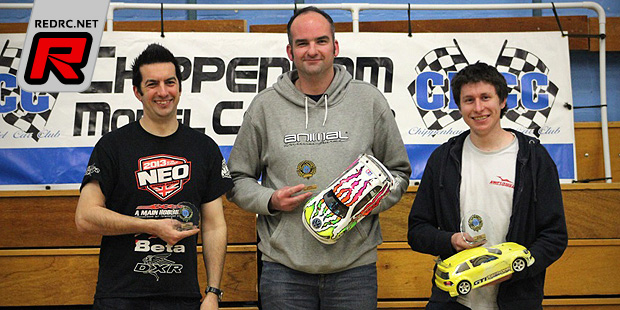 Championship result Mini
1. Mark Mitchell
2. Sam Shirley
3. Stuart Parnell
4. Simon Smith
5. Mark Bristol
6. Laurence Aldridge
7. Colin Kirkham
8. Daniel Carpenter
9. Martin Skennerton
10.Andy Shipley
GT12 qualifying was TQ'd by Chris Baldwin who put a faultless 22 lap run together in the final round of qualifying to line up on pole, with Mark Giaquinto lining up second and Rob West third. Going into the first GT12 final all eyes were on a close battle between the top qualifiers. With all three getting a good start, the race was on between Chris Baldwin and Mark Giaquinto, as the pair pulled away from the rest of the field, Chris was able to withstand the pressure for the full five minutes, pulling out a one second gap to take a great round win from Mark (2nd) with Rob West taking third. In the second final Mark Giaquinto got his own back on Chris Baldwin as the pair had another close quarter battle to the line, with Mark snatching the win by a mere 0.15 of a second from Chris, with Rob West again taking another third place.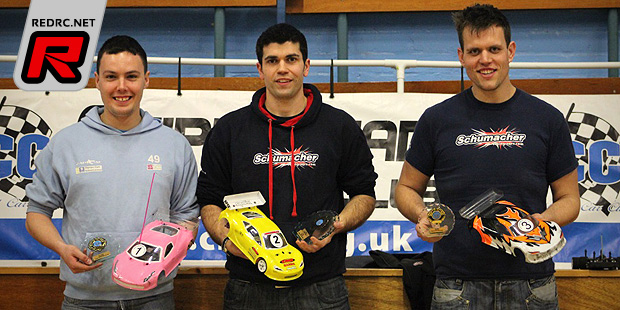 Championship result GT12
1. Mark Giaquinto
2. Chris Baldwin
3. Rob West
4. Stuart Parnell
5. Gareth Capper
6. Ryan Edwards
7. John Ridding
8. Trevor Slocombe
9. Shane Walker
10.Simon Biles
Thanks to James Alexander for sending the report.
---