April 14, 2014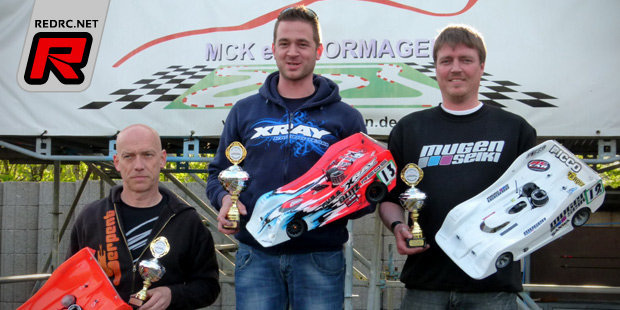 John Ermen, Philipp Roemer and René Puepke are the winners of the season opener of the Western German Championship, which has turned into a "West Open" with racers from six nations. A total of 59 racers attended the race weekend on the challenging track of MCK Dormagen in the North of Cologne with two racers which did not make it to the start line on Sunday. Close and fair racing in all three categories and perfect conditions at temperatures around 15°C made it an excellent start into the new season.

Especially in 1/8th class 1 the competition was extremely high with drivers like Michael Salven, John Ermen, Steven Cuypers and Robin D'hondt attending. The TQ went to Xray team driver John Ermen from the Netherlands with 20 laps in 5:07.601 minutes which put him only 91 thousands of a second in front of Michael Salven with his Picco-powered Serpent 977 Viper. While Mugen racer Steven Cuypers from Belgium is already a regular competitor in Western Germany for years, it was the first appearance of country-fellow Robin D'hondt, who captured the fourth position in qualifying right behind Cuypers already a couple of seconds slower than Ermen and Salven. But D'hondt's race weekend came to a sudden end when he made a small but fateful mistake in his semifinal. Among those who did not make it to the main race were Xray driver Tobias Hepp following an engine failure and Belgian Alexy Yaramishyan (Capricorn) who was beaten by Christian Wurst (Serpent) in a nail-biting finish.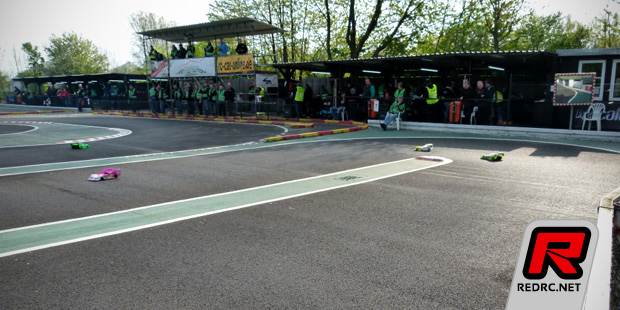 The 30-minutes finale began with a drama for Salven who damaged his car during the warm-up laps and had to start the race with a one-lap delay from the pit lane instead from pole position he achieved in his semi. While "Mr Serpent", lap-record holder at Dormagen, immediately started to catch-up position by position, Ermen was the early leader. Only after one lap Frank Schewiola, who started from fourth, had a fatal crash when he was touched while overtaking Cuypers' Mugen. At about half time the race was over for Karl-Heinz Meister as well. Following another flame-out at the start like in his semi, he moving up in the field until a screw issue at one of his servos forced him out of competition. Furthermore, Thomas Kroeger and Dirk Rischard, both with Serpent, did make it to the finish line.
Ermen was the only driver to change a full set of tires at the 15-minutes mark. That pit stop brought Cuypers into the lead but Ermen fought himself back to the front soon while Salven has turned the duel into a triathlon. Salven was catching up to Cuypers second by second and was on his tail close to the end. When Salven tried to pass Cuypers' Mugen, the Belgian driver slammed the door and both cars made contact. That brought the decision for second place as Salven's body was buckled a bit in the front which was fixed in a quick stop beside the track. Finally Ermen, Cuypers and Salven finished the line in the same lap. So it was an international podium with a Dutch, a Belgian and a German driver, racing three different chassis brands. And being at the subject of chassis, Serpent was the leading brand with seven 977 in the finale while Mugen had two cars and Xray one car in the main race.
1/8 scale class 1 result
1. John Ermen – Xray – 110 laps
2. Steven Cuypers – Mugen – 110
3. Michael Salven – Serpent – 110
4. Christian Wurst – Serpent – 109
5. Ralf Vahrenkamp – Serpent – 104
6. John Lenaers – Mugen – 101
7. Dirk Rischard – Serpent – 84
8. Thomas Kroeger – Serpent – 46
9. Karl-Heinz Meister – Serpent – 42
10.Frank Schewiola – Serpent – 1
Finally Xray celebrated both prestigious victories in 1/8 scale because beside Ermen young Philipp Roemer took TQ and a superb win in class 2. 17-year old Roemer, the only Xray driver racing the brand new RX8 2014, won the 30-minutes finale in style with a three-lap gap over Serpent racer Hans-Peter Holl. Reinhard Zick was another lap down to bring his Mugen home on third. With 23 competitors class 2 showed up with the strongest field at round 1 of the Western German Championship.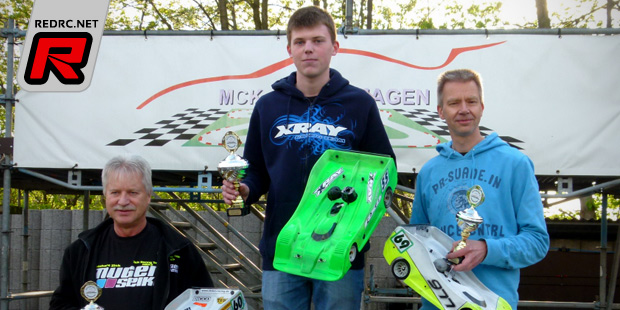 1/8 scale class 2 result
1. Philipp Roemer – Xray – 105 laps
2. Hans-Peter Holl – Serpent – 102
3. Reinhard Zick – Mugen – 101
4. Heinz Faigle – Xray – 95
5. Heiko Kube – Mugen – 88
6. Tim Vogels – Xray – 87
7. Nico Vandewynckel – Serpent – 79
8. Martin Figge – Shepherd – 64
9. Andreas Goebel – Serpent – 49
10.Thomas Kremer – Serpent – 26
The line-up of the 1/10 scale nitro on-road class was a disappointment. Following 30 participants in 2013 only 16 drivers entered the opening  round 1. After three qualifying heats the first four spots were in the hand of racers which have changed to Shepherd over the winter. TQ was taken by René Puepke and he was about six seconds ahead of Benny Lehmann. Bernd Rausch achieved the third position in front of Arndt Bernhardt. Reigning champion Daniel Toennessen pushed his Mugen to fifth position. The only driver who could have got close to Puepke was Serpent driver Joerg Baldes but he ran out of fuel in his last lap. Baldes as well his Serpent fellows Daniel Thiele and Andy Weyhoven and also Shepherd racer Melvin Diekmann were among those who had to retire in the semis.
In the main Puepke had to fight for the leading position only during the early stage of the 30-minutes race when Rausch was hot on his tail. But finally Puepke drove a clean and superior race to celebrate a strong victory with a three-lap advantage over Lehmann to make it a 1-2 for Shepherd. Toennessen was another two laps down on Lehmann but was happy to climb onto third stage of the podium. His Mugen fellow Dieter Fleischer finished fourth ahead of Bernhardt while Rausch had to retire seven minutes before the chequered flag to end on seventh position. Chassis-wise four Shepherd Velox V10 Pro made it to the finale alongside with each two Mugen MTX5 and two Xray NT1 as well as each one Serpent 747 and KM HK-1.
1/10 scale result:
1. René Puepke – Shepherd – 101 laps
2. Benjamin Lehmann – Shepherd – 99
3. Daniel Toennessen – Mugen – 9
4. Dieter Fleischer – Mugen – 95
5. Arndt Bernhardt – Shepherd – 95
6. Julien Cevani – Serpent – 94
7. Fähd Labik – Xray – 93
8. Bernd Rausch – Shepherd – 74
9. Dennis Krings – Xray – 2
10.Marco Nenner – KM – DNS
There now is only a short break at the Easter weekend before the Western German Championship will continue with round two of four on the weekend of the 27th of April April at the Motodrom Rhein-Ahr at Bad Breisig, located between Bonn and Koblenz a the river Rhine.
Source: Nitro-West [nitro-west.de]
---