April 28, 2014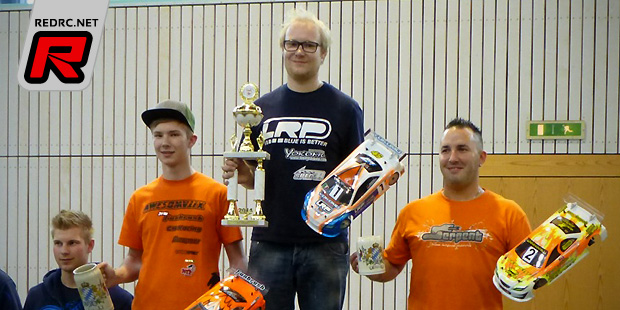 Last weekend, the 2014 German Indoor Nationals were held in the small town of Manching near Ingolstadt on a quite challenging track. A total of 59 entries participated in the three classes. In the Modified class, Yokomo driver Dominik Fleischmann dominated the proceedings from practice on, TQ-ing all five rounds of qualifying. Behind him Marc Fischer took his Serpent to second on the grid in front of the Awesomatix of Dionys Stadler.
In the finals, Dominik was able to open up a comfortable gap early on and he went on to take the overall win by winning all three A-mains. The podium was completed by Stadler and Fischer and the top 6 result was rounded out by the Xrays of Marco Kaufmann and Tim Wahl and the Yokomo of Bernhard Bopp.
Modified top 10 result:
1. Dominik Fleischmann – Yokomo
2. Dionys Stadler – Awesomatix
3. Marc Fischer – Serpent
4. Marco Kaufmann – Xray
5. Tim Wahl – Xray
6. Bernhard Bopp – Yokomo
7. Markus Wegmann, Awesomatix
8. Christian Donath – Tamiya
9. Daniel Sieber – Yokomo
10.Tobias Seidl – Team C
In the 13.5T Sport class, Xray driver Valentin Hettrich was just as dominating, TQ-ing 4 rounds of qualifying and winning the first two A-mains. Also on the podium were the Team C cars of Johannes Sperr and Florian Botzenhart and the top 5 was completed by the Xrays of Tobias Vogel and the Yokomo of Stefan Strung.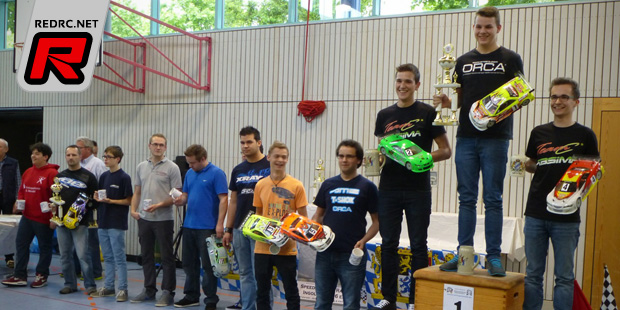 Sport top 10 result:
1. Valentin Hettrich – Xray
2. Johannes Sperr – Team C
3. Florian Botzenhart – Team C
4. Tobias Vogel – Xray
5. Stefan Strung – Yokomo
6. Luca Romondia
7. Rene Schmid
8. Christian Landinfer – Associated
9. Florian Fink – Xray
10.Martin Reiser – Associated
In the 17.5T Hobby class, Oliver Günther took the win in front of Lucas Mühl and Christian Wehrmann.
Thanks to Dominik Fleischmann for sending the report.
---