April 12, 2014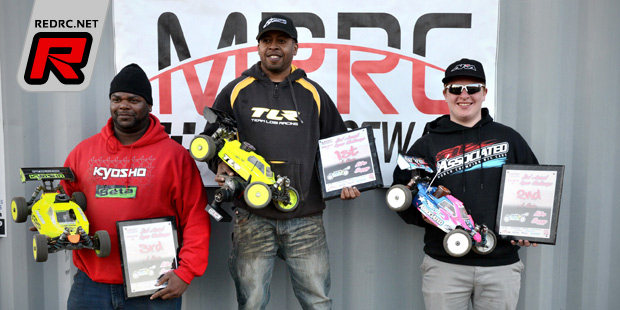 The 2014 Nitro Season began this past weekend on Long Island, NY at MRRC Raceway for the 2nd annual MRRC Super Challenge. Over 140 entries from NY, NJ, CT, PA, MA and even Canada made the trip to run on the newly built Joey "The Dirt" Christensen layout. Round one of Nitro Buggy qualifying would go to Mugen's Jerome Treignier from Quebec Canada followed by Associated's Gunnar Rieck & TLR's Jay Bless. Round Two would see TLR's Anthony Mazzara reset the TQ with team mate Stephen Plackis less than 2 seconds behind.

For the first 14 Minutes of the Nitro Buggy main there was an intense battle between Gunnar, Bless and Mazzara. It was a back and forth battle with all 3 drivers swapping positions until Mazzara suffered some issues and had to pull out of the race. It seemed as if Gunnar was running away with it until with about 6 minutes left Gunnar would come out of the pits with Bless about 1 second behind. Nose to tail with less than 3 minutes left, Gunnar hits the pipe heading into the triple and this allowed Bless to get by. Bless went on to take the win with Gunnar placing 2nd and Ray Crowder rounding out the podium in 3rd.
Nitro Buggy A Main
1. Bless – TLR/Novarossi
2. Gunnar Rieck – Associated/RB
3. Ray Crowder – Kyosho/Reds
In the Nitro Truggy A Main, TQ and TLR's Anthony Mazzara and Hot Bodies Randall Fraser both got off to a great start and never looked back. The real battle took place between Bryan Kata and Ray Boogie for 3rd and 4th place with both drivers battling to the very last lap.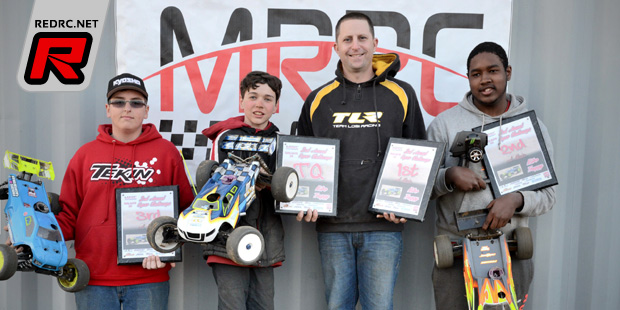 Nitro Truggy A Main
1. Anthony Mazarra – TLR/Novarossi
2. Randall Fraser – Hot Bodies/ Novarossi
3. Bryan Kata – Mugen/-
In the Pro 4 Short Course A Main, TQ Jay Franz got off to a good start but had some trouble on the 3rd lap which dropped him down to 4th this allowed Al Clark to move into 1st. Tyler Dickey had a bad start which dropped him down to 5th after qualifying 2nd but the young gun kept his composure and by lap 6 he was closing in on Al for the lead. Tyler took the lead on lap 7 and went on to fend Al off for the final 2 laps. Toby Hamson went on to finish 3rd.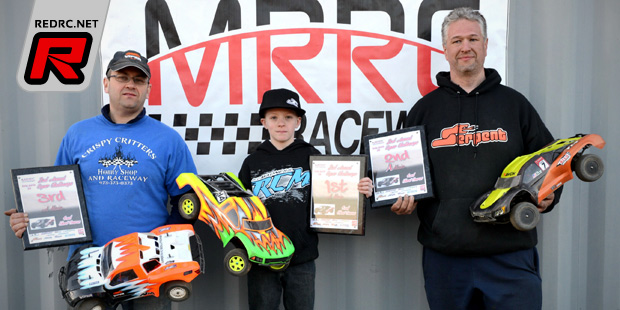 Pro 4 Short Course A Main
1. Tyler Dickey – TLR
2. Al Clark – TLR
3. Toby Hamson – Durango
In the E-Buggy A Main a little bobble on the 2nd lap by TQ and Team Associated driver Gunnar Rieck left the door open for TLR's Anthony Mazzara to pass and Anthony never looked back. Ofir Komerian also took advantage of Gunnar's mishap and briefly moved into 2nd but Gunnar was able to track him down on the next lap and move back into 2nd place. Ofir went on to finish 3rd.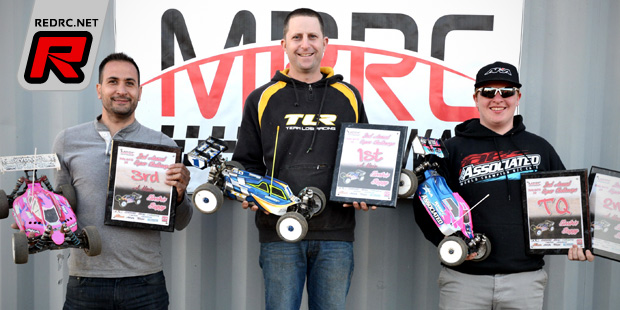 E-Buggy A Main
1. Anthony Mazzara – TLR
2. Gunnar Rieck – Associated
3. Ofir Komerian – Kyosho
In the E-Truggy A Main, TQ Neil Dickey got off to a great start and looked to lead from start to finish but a small bobble on lap 8 allowed Robert Berenzy to take over the lead. Neil quickly recovered and was able to get back to the lead dropping Robert back into 2nd. A small mistake by Robert allowed Harley Charlie to move into 2nd place and Harley Charlie never looked back. Robert went on to finish 3rd.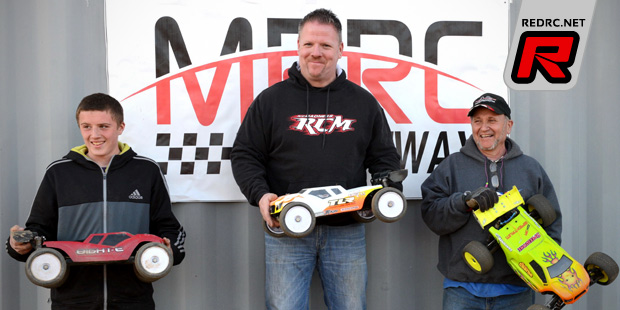 E-Truggy A Main
1. Neil Dickey
2. Harley Charlie
3. Robert Berenzy
Source: MRRC Raceway [mrrcraceway.com]
---