April 24, 2014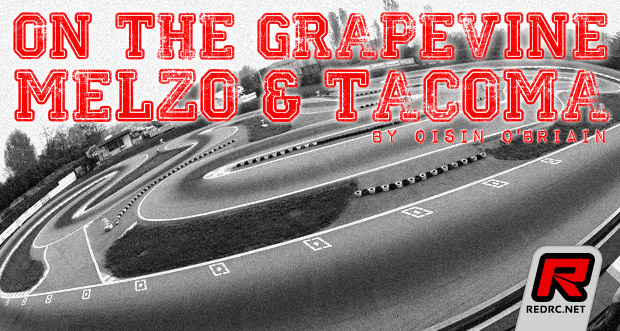 While my own racing activities are far and few between these days, one of the things I enjoy most about racing is the actual building of the kit in preparation for hitting the track. I like the piecing together of the various elements of engineering that is to be found in a competition rc car, most of my builds being onroad nitro kits, and I suppose that stems from my general interest in how most things are made. Happy to sit through a few episodes of Discovery Channel's 'How is it Made' series, I have always been keen when an opportunity arises to get an insight into the behind the scenes of how a product comes about, be it a visit to a Skoda car factory in the Czech Republic while there for a friend's stag or a recent visit to the world's oldest operating distillery which is located not to far from my home town. With the start of the all new Euro Nitro Series came two such opportunities involving rc manufacturers, one of which would turn out to be a lot more interesting that even I expected.
Round 1 of the ENS would take place at the beautiful Melzo track in Italy which is the local track to the Picco Engine factory and which is owned by the same people behind Matrix tyres. Thankfully limited flight availability to Milan meant I would fly out a day earlier than normal for the three day event opening up the chance to go behind the scenes of the two key elements that make up onroad nitro racing – power & grip. Two quick e-mails the week of the season opener had me booked in for a morning visit to Matrix and an after-hours visit to Picco – Alberto & Edoardo Picco taking advantage of Thursday's open practice day!!
******
While a foam tyre for an onroad nitro car may look like a very straight forward and simple product, it's not. I remember in my early days of racing my father, who was footing the bill for both me and my brother's racing, always being amazed how much a set of tyres cost. Working in the photographic industry for a manufacturer of film processing equipment, these German made machines always arrived in wooden crates carefully packed with a high quality sheets of foam for extra protection. One of these sheets was to makes its way home to the garden shed as my dad set about answering his own question 'sure how hard could it be to make a few rings of foam??'. The longer than expected process would prove fruitless as the car bounced its way around the track like a fish out of water before quickly shedding chunks of the hand crafted foam.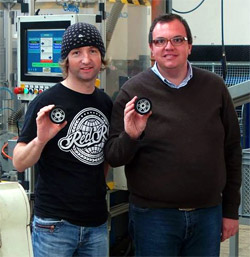 On arrival at the Matrix factory together for Uwe Rheinard and ETS/EOS/ENS master of time keeping Hartmut Wenzel, it actually took two drives passed to figure out we had got the right place as the building is rather more picturesque than you would associated with a tyre company being situated on a small side street of old Italian buildings. Greeting us on our arrival were Cristian Boni and his friendly dog. I first met Cristian at the 2008 1:8 Onroad European Championships in Valencia, Spain, and I have always found him to be a great character. In typical Cristian style there was a very light humoured start to the tour but when it came down to the facts and details one could not but be impressed by the process from start to finish. Like Juraj Hudy still has his first ever machine among his modern computerised machines at the Xray factory, Cristian still has his first self made machine which would be no match for the quantities of tyres Matrix puts out today. While the machines have become more automated Cristian still designs them himself, there is no catalog for onroad nitro tyre making machines, and he was very proud to show us CAD images of his latest design for a machine that will see four processes carried out in one action. One process that doesn't appear to be able to be automated is the gluing together of the sheets of foam to get the correct width for 1:8 tyres which is still done manually due to the nature of the foam and how the glue needs to be applied.
One funny story Cristian told us was when a new sales agent from Loctite paid a visit to the 'toy car tyre maker'. Expecting an order for just a few bottles of glue, the agent almost fell over when informed off the litres per week requirements of the factory. There isn't much Cristian doesn't know about foam and his knowledge has lead to some interesting non rc projects. With a certain Mr. Valentino Rossi having trouble a few year back keeping his backside from sliding forward under breaking from 200mph, it was Matrix tyre foam that came to the rescue. With a very specialised machine that can split a sheet of foam into very precise thin layers Cristian has since helped out Casey Stoner and just before our arrival those responsible for Cal Crutchlow's Ducati MotoGP bike had been over to have the foam that forms his saddle made even thinner – weight saving at its most extreme! Even writing this column I am still surprised at how interesting it was to see how a foam tyre is produced!!
******

Back to the track for the afternoon to hang sponsor banners in preparation for the ENS, just ahead of the Milan rush house traffic I got the nod from Alberto Picco that his day's testing was done and if I was ready we could go check out the factory. Alberto is one of the true gentleman of our sport and in my work reporting on an event as a driver he is always a pleasure to deal with no matter how his event is going. On arriving at the factory, Edoardo already there ahead of us working on Alberto's modified Mugen MRX-4 race car, I informed Alberto that the first new engine I ever purchased was a Picco for my Associated RC250 to which his reply was 'how old are you'!! While seeing the production line where most of the parts are machined along with getting an very open & insightful overview of the business, the highlight of the visit was the second building which housed the furnace where bars of alloy are transformed into the crank cases. While one might expect in this age of mass production this process to be automated its not at all. From the 750 degree centigrade furnace liquid alloy is taken and then individually poured into a single sand cast mould which after about 4-minutes can be opened to reveal one single crank case. This was proper 'How is it Made' stuff! From here we went to soul of Picco, the loosely named museum. Underground below the furnace and machines that finish off the pistons and liners, are all the old machines on which their late father Gualtiero Picco built the company. While more a storage area than a museum for me seeing how it all started out gives you the true story about a company. While starting out life as standard machines it was interesting to see the re-engineering done by Gualtiero so these machines could turn out racing engines. Also catching my eye was the left of kits of Picco's RS600 1:8 car, a project which would go on to be taken over Patrick Schafer and form the foundations of Shepherd cars. My brother raced the RS600 for a time and to this day there are still unopened parts bags to be found lying around our father's garden shed!!
******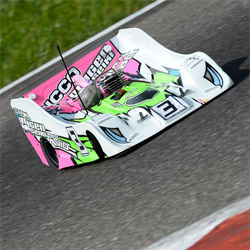 For me there is not much that can top the atmosphere of an onroad nitro race in Italy and the opening race of the Euro Nitro Series at Melzo fully endorsed my beliefs. Italy is the the spiritual home of nitro and the Melzo track, a short 2-lap video of 1:8 qualifying I posted on the ENS Facebook page quickly reaching over 120,000 people, the high quality international field, the weather, the host club and of course Cristian all added up to create for me at least a great vibe for a class that has suffered in recent years. It was like a reunion event with some of the faces that turned up and it was great to see so many manufacturers in 1:8, some returning old names and other totally new to the market. An epic final between Lamberto Collari and Robert Pietsch which after 45-minutes saw the former World Champions separated by just over 1.5-seconds and a 12 car field made up of cars from 8 different manufacturers. That in itself created a air of real excitement in the pits and with online followers of the event and by the end of the weekend I left the track wanting to own a 1:8 (even though I completely lack the skills to drive one!!). Speaking of leaving the track it is not often that I manage to find a flight that can get me home on a Sunday night but when I did I almost missed it. Thinking I had an hour to spare, my laptop running on Irish time, I have to be thankful Ricky Acciari is from Rome. I have never seen him drive an rc car before but based on the drive we had to the Malepensa Airport and having travelled with a few racing drivers I'm pretty sure if he made the switch from r/c to the real thing he'd enjoy some success just like he managed in getting me to my flight with literally seconds to spare.
******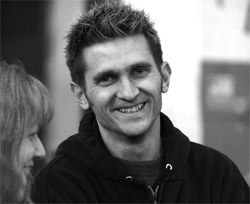 After the high speed thrills of Melzo, next up was a rather long 24-hour trek (7 hours layover in Altanta Airport is a mental challenge!) to Washington State for the JConcepts Spring Indoor Nationals. Normally when travelling to a race, the host track is distinguished by a name but that's not the case for Tacoma RC Raceway it being better known by its owners name. Mention Tacoma RC Raceway and the response is always 'Scott Browns track'. Having known little about the track or its owner until Jason Ruona announced it would be part of his series' five race 2014 calendar, all I kept hearing was that this Scott Brown was a great guy. Well turns out Scott, a worlds finalist and ROAR National Champion, is a super nice guy. With his hobby shop & track located right next to a number of classic car specialists I got talking to Scott on this topic during which he asked if I was going to check out the 'big' car museum. Informing him that as we were travelling in the same hire car as the Team Associated & JConcepts crew I was kind of restricted without hesitation he offered to get me to the Le May museum, an offer I would take him up on to get to check out an impressive collection of circa 350 classic cars.
******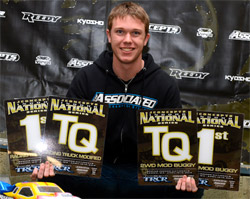 While its pretty common to come across local track heroes who will show flashes of speed, in Tacoma it would appear there are also some real talents in particular that of Michael Schoettler. This was my first time to come across Michael at a race before and while I am no talent spotter, gauging the reaction and comments of others about this 18-year-old would indicate his name is one hopefully we all will hear a lot more of in the future. In 2WD Mod Buggy, the series' regulars couldn't even get close to his pace with only Luke Smith, another local talent, getting the better of him, once in qualifying and once in the triple A-Mains. The locals making life hard for the visitors added a good storyline to the event and dealing with Michael, Luke and Ryan Matesa, who completed the 2WD Mod podium, on merit was refreshing from my point of view. Overall the trip to Tacoma, or should I say Scott Brown's track, with the Spring Indoor Nationals being the biggest event to be hosted there, was a very pleasant experience and one which I hope is the first step in unearthing some new talents for the main US tour of key events.
Have an opinion on the topics discussed? Leave them in the comments below.
Oisin O'Briain is Red RC's Event Editor. Traveling the world reporting on some of the biggest races in the sport he regularly chats with top drivers and key industry figures and in his new column 'On the Grapevine' he will try to bring readers an insight into the latest talk that is doing the rounds in the paddock along with the odd bit of trivia information that comes to light.
The views and opinions expressed in this column are those of the author.
---