April 28, 2014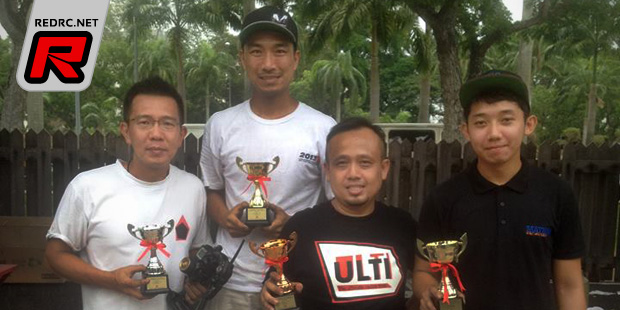 The 4th round of the Singapore RCMC GP Series was held at last weekend with the racers arriving to a wet track in the morning after overnight rain. Thanks to the hard work by some of the drivers, 3 rounds of qualifying got soon underway. In the 1/8th class, Nelson Lee led the way in the first 2 rounds but a fast run by Nicholas Lee in the last qualifier meant that Nelson would start from 2nd in the final. Alvin Ng had a very strong qualifying as well managing to line up 3rd on the grid.

In the 1/10th class, it was a close battle for the TQ with Daryl Thong, Erwin Luhur and Aidi Amin posting times that were very close together but Daryl eventually took TQ after a good run in Q3. In the 1/8th GT class, Dimas from Indonesia took the top qualifier honours from Youyi.
The finals were shortened due to the rain delaying the qualifying, with the A finals running for 30 minutes. The 1/8th final saw Nelson run away with the lead after Nicholas had a collision right at the start. Alvin had a good final fending off challenges by Nicholas and Dimas who came in 2nd and 3rd respectively.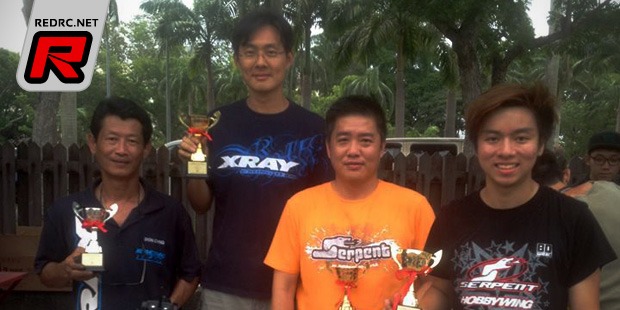 The 1/10th final saw a close battle between Daryl and Erwin, with both drivers running never more than 7 seconds apart. Daryl held the lead for the first half of the race until he ran into engine issues which caused him to retire. This made way for Erwin Luhur who finished the race in 1st position. Don Chng came in 2nd, while Pason Phua had a good race coming from the back of the grid in 12th to finish a respectable 3rd. The 1/8th GT class had Dimas taking the win from his Serpent team mates Patrick Ong and Pason Phua.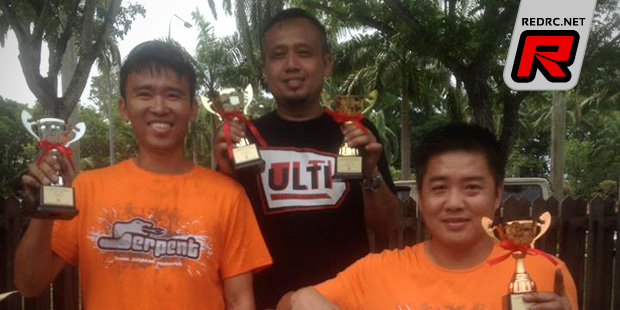 The next round of the series will be held in conjunction with the Singapore Open, an annual event where drivers from the region would be competing in a 2-day event, held at the end of May.
Source: Serpent [serpent.com]
---