May 19, 2014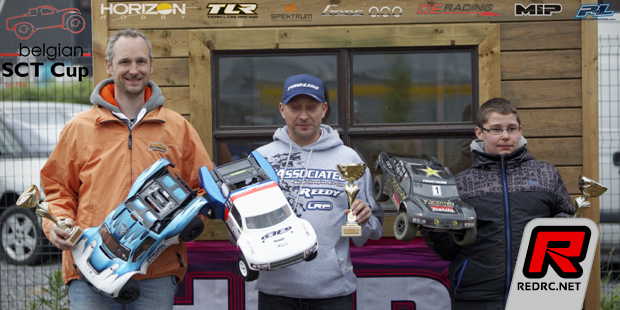 The 2nd round of the Belgian SCT Cup was run in Seraing, Belgium. The track layout with its few low-speed corners, elevation changes and nice jumps made for close racing while its surface dries very fast which was a plus over the weekend too. In Pro2 the race was on between Juian Andre (Team Associated), Philippe Hautecoeur (Team Associated) and Nicolas Evens (TLR 22SCT) who each took a leg in qualifying. Philippe and Julian where also tie on points but at the end Julian took TQ with a better time. In Pro4 Thierry Matthieu (Tekno) dominated qualifying like he did in Brussels. Nicolas Evens (TLR) followed in front of Jean-Yves Konings (Team Associated).

Starting from the number 2 spot into the finals Philippe Hautecoeur secured the overall win by taking the first two A-main. In the opening leg Philippe came in with some margin in front of Julian Andre while in A2 he was in a close fight with Nicolas Evens. Julian then went on to take the win in A3 securing himself the runner-up spot.
2WD A-final top 5
1. Hautecoeur Philippe – Team Associated
2. Andre Julian – Team Associated
3. Evens Nicolas – TLR
4. Gandibleu Nicolas – TLR
5. Gustin Philippe – Team Associated
In Pro4, Thierry Mathieu was able to win A2 and A3 to get the overall win from Nicolas Evens, winner of the opening A-final. Jean-Yves followed in 3rd place in what was his first SC race this year.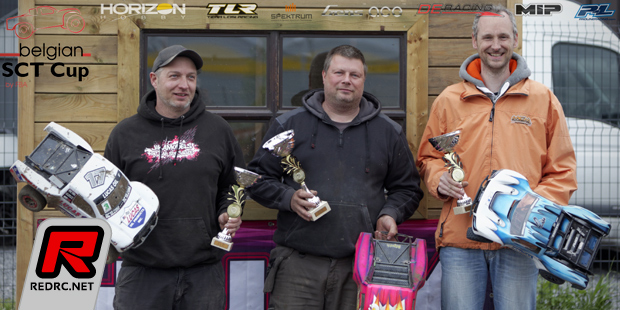 4WD A-final top 5
1. Mathieu Thierry – Tekno
2. Evens Nicolas – Losi
3. Konings Jean-Yves – Team Associated
4. Leurquin Christophe – Tekno
5. De Keersmaecker Philip – Tekno
Source: Belgian SCT Cup [belgiansctcup.be]
---