May 29, 2014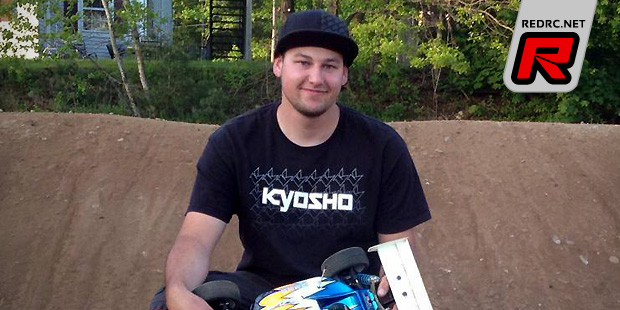 The CT State Championships was held at Wolcott Hobby and Raceway in Wolcott, Connecticut with around 100 entries. Up for grabs was the State championships for 1/8th nitro buggy, truggy, electric 8th scale buggy and 4WD SC. Leading up to the event the area experienced a few days of rain which left the track a little soft, but the Wolcott Hobby crew did a great job of prepping the track and making sure there was no standing water. Come heat 2 of nitro buggy qualifying and light rain started to fall again that quickly disappeared leaving perfect grip conditions for heat 3. Kyosho's Kyle Rhods jumped out front early, limited his mistakes and was able to set TQ for the round. Round 2 and with an unchanged buggy but new tyres Kyle made a few mistakes early in his heat on which left him in third for a few laps but he again jumped back out front and was setting a new TQ by 6 seconds ahead of his round 1 time, but he had to pull off at the 3 minute mark, but the TQ from round 1 was fast enough to give him the overall TQ.

The start of the 30 minute main created the usual pile ups so Kyle was able to quickly pull away with a clear track in front of him. By the end of his second fuel stop he had a lap lead on second place. For the remainder of the race Kyle maintained a consistent pace, limited his mistakes and continued to pull away from the field. At the end of the main Kyle Rhodes took the win and made it 3 straight CT State Championships in a row. TLR's Kay Bless secured the vice championship while Hot Bodies driver Mark Smyka completed the podium in 3rd place.
1/8 Nitro Buggy top 12:
1. Kyle Rhodes – Kyosho
2. Jay Bless – TLR
3. Mark Smyka – Hot Bodies
4. Jon Frascatore – Kyosho
5. Lester Bastenbeck – Kyosho
6. Larry Bromell – Kyosho
7. Justin Drinks – Kyosho
8. Carl Smart – Kyosho
9. Paul Quartuccio – Kyosho
10.John Koiva – Hot Bodies
11.Tim Powers – Kyosho
12.Peter Sheldon – Xray
Thanks to Joe Pillars for sending the report.
---