June 1, 2014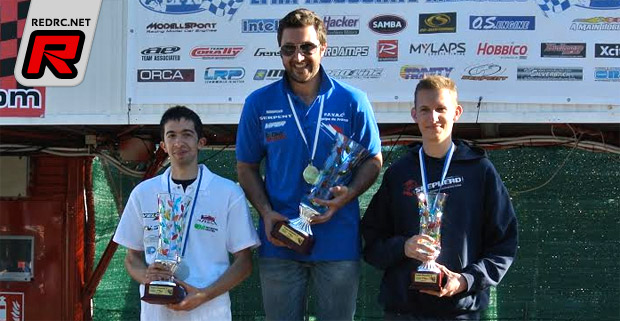 The EC-B this year for 1/8th took place at the well-known Lamberto Collaro Raceway in Bologna with 71 Drivers making the trip to this event. The practice days in the beginning of the week were interrupted by showers and also for the Qualifying days some rain was expected. At the end they were lucky and it was possible to run 5 dry Qualifiers and all the finals on Saturday.
Italy of course had some fast drivers, but also from other countries there were good drivers at this event. The track is not really difficult, but you need a very fast engine and a car with steering for the fast corners. From the beginning it was a battle for TQ between Depta and Lorenzi. It was until the last heat in round 5 that Andrea made his TQ with 20 laps in 5.05.068. 29 Drivers made a 20 lap score with the last one in a time of 5.15.434.
Andrea Lorenzi made his way easy thru the semifinals and so did Merlin Depta. They were joined by Conte, Abisset, Morgan, King, Solaroli, Vogl, Gassauer and Baehrel.
In the final Andrea Lorenzi already after 3 laps made a small mistake and flipped the car in one of the 180 degrees turn, allowing Depta to take the lead. However also Depta ran into some small problems when he had to enter to adjust his engine after 2 minutes. It was Conte that took the lead till the first fuel stop. Lorenzi came back strong and took the first position over with Conte and Abisset changing positions for 2nd and 3rd for the next 20 minutes. Than Lorenzi got in trouble again with a steering problem and he had to be brought into the pit. Abisset took the lead with Conte in 2nd position till the end. Although Abisset was about 1 lap in front it got excited at the end when he made an extra pitstop for fuel and Conte was closing the cap, due to better tires. However it was enough to become European Champion in the B-class.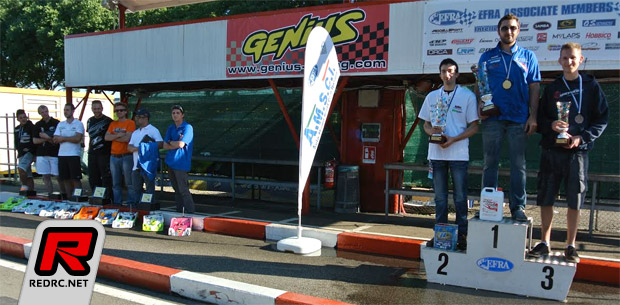 Final Result:
1. Anthony Abisset – 170 laps 45.13.219 (Serpent/Novarossi)
2. Luca Conte – 170 laps 45.14.129 (Shepherd/Picco)
3. Maximillian Vogl – 169 laps 45.04.327 (Shepherd/Sonic)
4. Merlin Depta – 167 laps 45.05.041 (Serpent/Picco)
5. Romain Baehrel – 165 laps 45.01.599 (Mugen/Gimar)
6. Stefano Solaroli – 163 laps 45.00.131 (Mugen/XRD)
7. Andrea Lorenzi – 162 laps 45.06.434 (Shepherd/OS)
8. Patrick Gassauer – 156 laps 45.09.277 (Serpent/Sonic)
9. Neal King – 133 laps 40.13.190 (Capricorn/Capricorn)
10.Renzi Morgan – 115 laps 32.53.591 (Shepherd/Picco)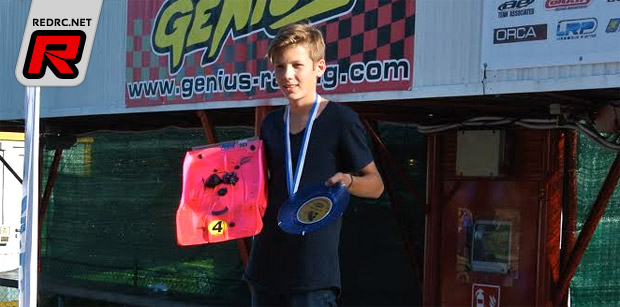 Noah Asendorf from Switzerland is the European Youth Champion, ending 12th overall.
Thanks to Sander de Graaf for the report.
---