June 3, 2014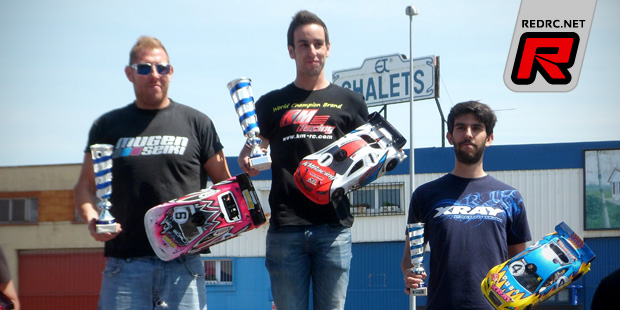 The 2nd round of the Spanish 1/10th 200mm National Championships was held in Gijon in the North of Spain. Defending champion Edu Escandon took TQ honours, setting a new track record and being the only driver able to manage 16 seconds laps. Nacho Lopez was 2nd after the qualifiers and with Juan Hidalgo in 3rd and Sergi Franch in 4th.
Qualifying top 4
1. Edu Escandon – 15L 4:15.260
2. Nacho Lopez – 14L 4:04.189
3. Juan Hidalgo – 14L 4:05.190
4. Sergi Franch – 14L 4:05.589
Final saw Edu opening a gap to the field despite having a flame out due to a lean running engine setting before his second pit stop. This issue cost him a lap but he still won the 30 minute final by a comfortable margin of 2 laps. Jonnhy Pastor came in 2nd and Sergi Franch completed the podium in 3rd.
Final results
1.Edu Escandon – 101L 30:08.871
2. Jonnhy Pastor – 99L 30:13.847
3. Sergi Franch – 98L 30:11.327
4. Juan Hidalgo – 97L 30:01.858
5. Oscar Romero – 96L 30:14.269
6. David Campos – 95L 30:16.908
7. Jorge Revert – 93L 30:06.937
8. David Lopez – 85L 27:57.603
9. Nacho Lopez – 77L 23:06.220
10.Victor Pelaez – 30L 9:42.859
Source: KM [km-rc.com]
---