June 10, 2014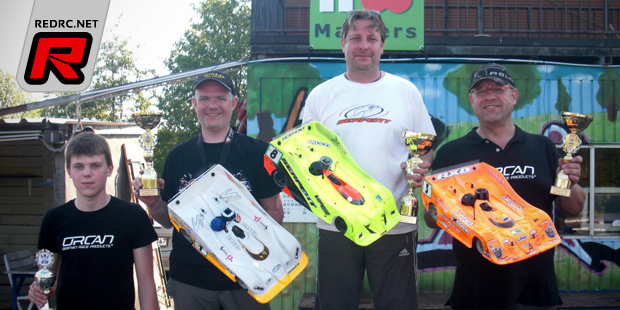 Frank Schewiola, Thilo Toedtmann, Marco Muscara and Thorsten Lewandowski are the class winners of round two of the Nitro-West-Masters, a popular on-road racing series mainly held in Western Germany. Three weeks after the amazing season opener in Oberhausen with a series record of 67 participants, a total of 55 drivers entered the race weekend in Dueren which made it a new record for this 232 meter track near Aachen. Once again the weather was perfect but the nitro family was quite lucky that a thundery front just passed the area with no effect. Finally, as in Oberhausen, the Nitro-West-Masters experienced thrilling racing action in a friendly and fair atmosphere.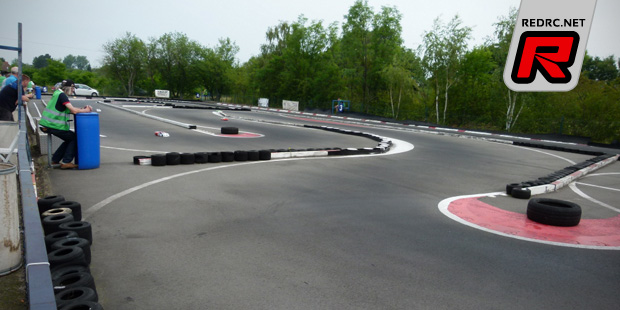 In the VG8 1/8 scale nitro on-road class it was Frank Schewiola who squeezed his Serpent 977 to the TQ honours and who scored a new lap record of 13.913 seconds. Schewiola marked 42.375 seconds for the three-lap summary slightly in front of teammate Christian Wurst (42.565) and with a certain time-lag from the two Xray racers Tobias Hepp (43.388) and Uwe Baldes (44.645). Once the 30 minute finale got underway Schewiola took the lead with Wurst closely at his tail for a while with both Serpent guys racing in a class of their own. But following a small but deciding mistake Wurst ruined his clutch what gave him a hard time for the rest of the race. So finally Schewiola was in a cruising mode to bring home a superb win with a two lap advantage over Wurst. As Oberhausen winner Hepp had to retire only 4 minutes into the race because of an electronic issue, the door was open for Baldes to catch the last remaining podium spot. In the ranking Schewiola (239) is now leading in front of Wurst (238).
1/8 scale VG8 final result:
1. Frank Schewiola – Serpent/O.S. – 118 laps
2. Christian Wurst – Serpent/IDM – 116
3. Uwe Baldes – Xray/Orcan – 112
4. Philipp Römer – Xray/Orcan – 108
5. Danny Claes – Motonica/O.S. – 105
6. Martin Figge – Shepherd/Sonic – 100
7. Ralf Vahrenkamp – Serpent/Novarossi – 98
8. Rainer Rosskothen – Mugen/Novarossi – 81
9. Ralf Wacker – Mugen/Novarossi – 81
10.Tobias Hepp – Xray/Orcan – 12
The TQ in VG10 1/10 scale class was taken by newly crowned European B Champion Thilo Toedtmann who scored 46.483 seconds with his Orcan-powered Xray NT1 to keep the strong Shepherd triple of René Puepke (46.808), Arndt Bernhardt (4.908) and Melvin Diekmann (47.049) behind. These four drivers qualified directly for the main race. Faehd Labik won the semi final B in front of Xray fellow Dennis Krings, and from semi final A Benjamin Lehmann (Shepherd), Dieter Fleischer (Mugen), reigning champion Daniel Toennessen (Mugen) and Hermann-Josef Fuchs (Serpent) managed to move up. On 6th spot after the heats, Joerg Baldes (Serpent) was quick but unlucky and had to retire following four broken pinions. The finale, run over 30 minutes, was characterised by top level racing and a real battle for the top five positions. After Toedtmann had led the field from start to lap 26, the lead changed between Puepke, Lehmann and young Diekmann, but finally Toedtmann fought his way back to the top after 79 laps. When the checkered flag came out after 110 laps, the top 3 cars were in the same lap with Toedtmann winning the battle by nearly 10 seconds in front of Puepke with Lehmann third two and a half seconds behind his Shepherd fellow. But also Toennessen and Diekmann in 4th and 5th were only one lap down. In the point standings Puepke (240) leads ahead of Lehmann (236) and Toennessen (234).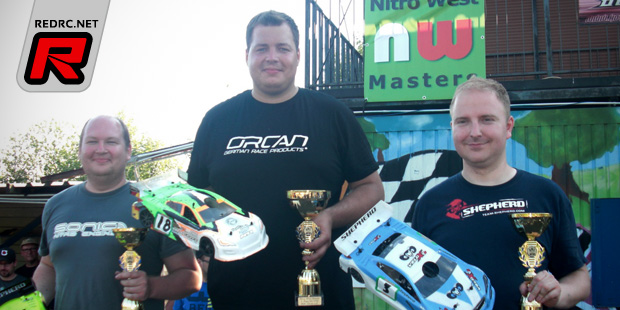 1/10 scale VG10 final result:
1. Thilo Toedtmann – Xray/Orcan – 110 laps
2. René Puepke – Shepherd/Sonic – 110
3. Benjamin Lehmann – Shepherd/Sonic – 110
4. Daniel Toennessen – Mugen/RB – 109
5. Melvin Diekmann – Shepherd/Sonic – 109
6. Dieter Fleischer – Mugen/RB – 103
7. Faehd Labik – Xray/Novarossi – 103
8. Arndt Bernhardt – Shepherd/Sonic – 73
9. Hermann-Josef Fuchs – Serpent/Novarossi – 49
10.Dennis Krings – Xray/Orcan – 6
Beside the regular 1/8 and 1/10 nitro on-road classes, the two Hobby Cup classes HC8 and HC10 are an inherent part of the Nitro-West-Masters with mandatory engines from Sonic and Novarossi. In HC8, the 1/8 scale Hobby Cup class, local hero Ruediger Hepp, a founding member of the organising RMC Dueren, pushed his Mugen to TQ (45.318) ahead of returnee Marco Muscara (Mugen/45.866), Gerhard Bemelmans (KM/45.921) and Matthias Guenther (Shepherd/46,189). Beside these four direct qualifiers, Heinz Faigle (Xray), Jens Kopetzki (Serpent) and Holger Hinnendahl (Xray) from semi final B as well as Detlef Spiess (Xray), Helmut Hoessler (Serpent) and Gunnar Blumendahl (Mugen) from semi final A made it into the main. Ruediger Hepp, father of Tobias and the 2013 HC8 winner at his home track, was leading the race from the start and pulled away, until he had to retire after 70 laps because of a broken servo saver. Muscara took over the lead and achieved victory with a two lap advantage over Guenther with Kopetzki a surprising third another lap down. Positions four and five went to Xray racers Heinz Faigle and Detlef Spiess. Only these five made it to the checkered flag. Guenther, Faigle and Spiess are equal on points at 235.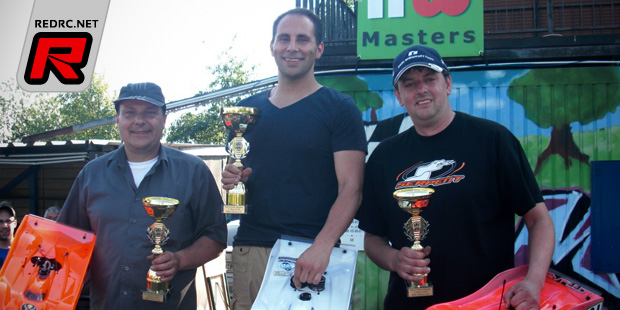 1/8 scale HC8 final result:
1. Marco Muscara – Mugen/Novarossi – 108 laps
2. Matthias Guenther – Shepherd/Novarossi – 106
3. Jens Kopetzki – Serpent/Novarossi – 105
4. Heinz Faigle – Xray/Novarossi – 105
5. Detlef Spiess – Xray/Novarossi – 85
6. Rüdiger Hepp – Mugen/Novarossi – 70
7. Gerhard Bemelmans – KM/Novarossi – 64
8. Holger Hinnendahl – Xray/Sonic – 64
9. Gunnar Blumendahl – Mugen/Sonic – 23
10.Helmut Hoessler, – Serpent/Sonic – 12
What seemed to be a surprise at Oberhausen happened again at Dueren: It was  nitro newcomer Thorsten Lewandowski who took TQ and who was the quickest man on track in the finale. But this time his Xray last to the end and he became a well deserved winner. Sures Velauthapillai was second in the heats and finally finished 2nd in the finale but already six laps down on Lewandowski. Philipp Wiesniewski brought his Mugen MRX4-R to 3rd with Kyosho racer Michael de Keyser enjoying his ride to 4th position. Velauthapillai (236) now leads the ranking ahead of Wiesniewski (234).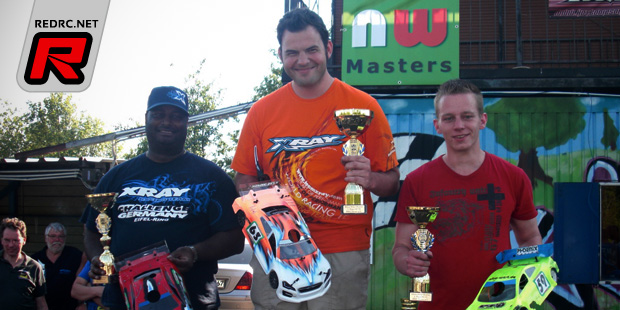 1/10 scale HC10 final result:
1. Thorsten Lewandowski – Xray/Sonic – 104 laps
2. Sures Velauthapillai – Xray/Sonic – 98
3. Philipp Wisniewski – Mugen/Sonic – 89
4. Matthias de Keyser – Kyosho/Sonic – 87
5. Timo Niedling – Xray/Sonic – 81
6. Guido Burghartz – Kyosho/Sonic – 76
7. Hans-Werner Dietz – Xray/Novarossi – 71
8. Marc Oschewski – Xray/Novarossi – 66
9. Werner Vogel – Kyosho/Novarossi – 64
10.Florian Trapp – Xray/Sonic – 21
As for the statistics, Xray was the leading manufacturer with a total of 17 chassis among the 55 participants followed in this ranking by 14 Mugen, 12 Serpent, 6 Shepherd, three Kyosho, 2 KM and a Motonica at the Nitro-West-Masters #2 at Dueren. Round 3 out of 6 of the 2014 Nitro-West-Masters will be held at the Rhein-Ahr-Motodrom in Bad Breisig, located between Bonn and Koblenz at the river Rhine, on the weekend of the 6th of July and is as usual open to all racers, no license is needed.
Source: Nitro-West [nitro-west.de]
---