June 25, 2014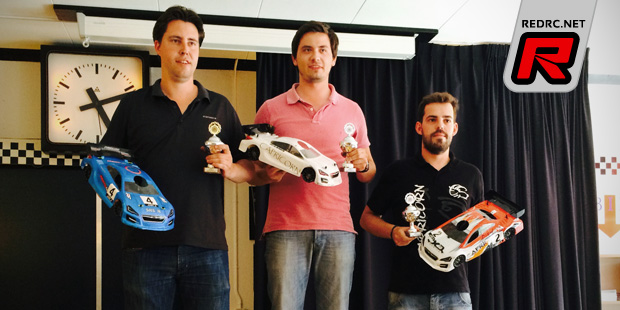 The 4th round for the Dutch 1/10th nitro on-road championship was held at the AMCA track in Apeldoorn. Being very technical yet fast the track requires a good setup for tight as well as fast corners, with tyre wear always being a concern in the final. With some light rain in the morning the actual racing started belayed with the 2nd round of qualification heats on a quickly drying track. After two rounds it was Pedro Rombouts who took the TQ spot, followed by Daan Stuiver, Ricardo Hofmeier and Sidney Blokker.

The 30 minute final started with 10 drivers with the remaining 6 coming from the two semifinals. Right from the start Pedro was in the lead followed by Daan but with 2 minutes into the race a rare driving error let Pedro drop back to 4th place. Halfway through the race Pedro was leading the field again followed by a strong pack of Ricardo, Roy and Daan, all still in the same lap. This was the status quo until the 27 minute mark as it became clear that Pedro was running out of foam on his rear tyres and racing on rims was not the way to go. This allowed Ricardo to take over the lead with Roy and Daan in tow to complete the podium.
1/10th 200mm result
1. Ricardo Hofmeijer – Capricorn
2. Roy Bakker – Capricorn
3. Daan Stuiver – Capricorn
4. Rik Meijeren – Mugen
5. Milan Holthuis – Serpent
6. Pedro Rombouts – Xray
7. Pieter Bottema – Xray
8. Raymond Tempelaars – Xray
9. Dave de Ruiter – Capricorn
10.Iwan Biesot – Serpent
In the supporting Kyosho class Marc Been found back to his winning form, taking the victory in front of Mathieu van der Hoeven and Hans Westerveld.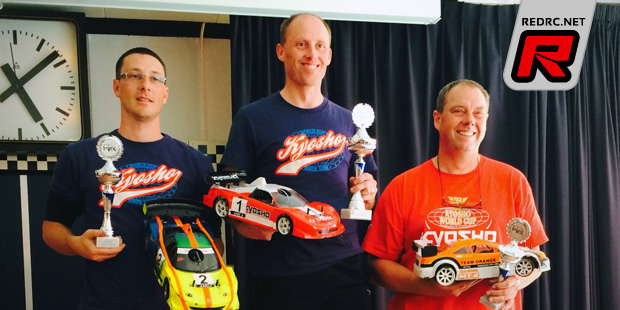 1/10th Kyosho class result
1. Mark Been
2. Mathieu van der Hoeven
3. Hans Westerveld
4. Jan Timmer
5. Mats van Kleef
6. Arjan Versteeg
7. Bas Bakker
8. John Weytboer
Source: NOMAC [nomac.nl]
---