June 3, 2014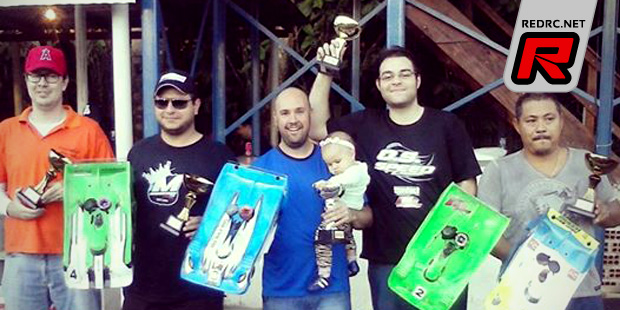 The 2nd round of the Brazilian nitro on-road nationals was held at the Ajarc track last weekend, run in four different classes of 1/8th, 1/10th Open, 1/10th Touring/Sportsman and 1/10th Masters/35+. In the 1/8th class final, the strongest winning contender, Flavio Elias broke his car after start crash. Cesar Salvadori's car was hit in the same incident and he ran with a damaged tire the whole race but this did not kept the KM driver from leading only until he crashed with a back marker, resulting in a damage to a steering block on his car. This cost Cesar the 1st place but with 2 minutes to go leader Eduardo Dulac suffered a battery failure on his Shepherd so Salvadori was able to take the lead again to cruise to victory.
1/8th class top 5 result:
1. Cesar Salvadori – KM Racing/O.S.
2. Eduardo Dulac – Shepher /Max
3. Kazuo Ohara – Mugen/O.S.
4. Samuel Prato – Mugen/Novarossi
5. Peterson Parpinelli – Capricorn/Reds
In the 1/10th Open class, Cesar Salvadori won the semis and lined up in pole position for the main final. After a hit in the first corner he dropped to last place but pushed very hard to recover and take the lead at the 10 minutes mark to never look back handing him the second win of the day. Flavio Elias (Mugen) came in 2nd followed by Leandro Campos (Mugen).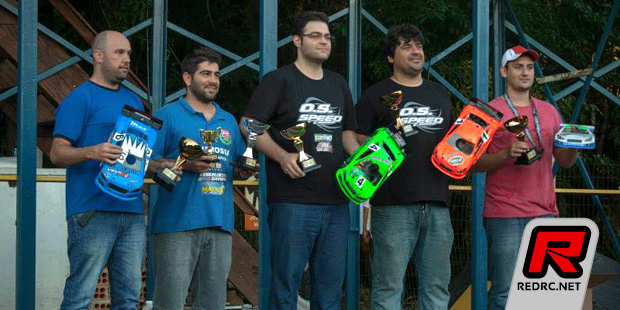 1/10th Open top 5 result:
1. Cesar Salvadori – KM Racing/O.S.
2. Flavio Elias – Mugen/Novarossi
3. Leandro Campos – Mugen/O.S.
4. Eduardo Dulac – Shepherd/Max
5. Rafael Viveiros – Capricorn/Novarossi
In 1/10th Touring Demian Diniz took the day's win meaning he is now able to fight for the championship in the 3rd and final round. Otavio Francisco and Marcio Chichella completed the podium of round 2 in 2nd and 3rd respectively.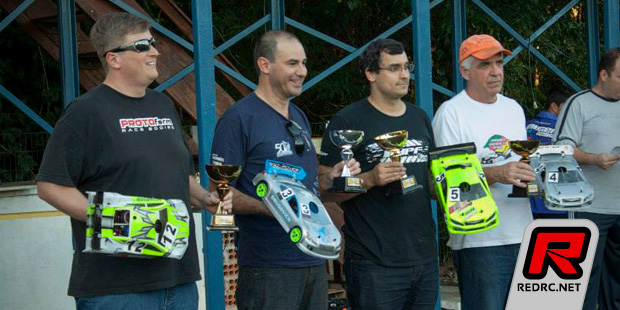 1/10th Touring top 3 result:
1. Demian Diniz – KM/Novarossi
2. Otavio Francisco – Mugen/Novarossi
3. Marcio Chichella – Capricorn/Novarossi
In the 1/10th Masters class, Demian Diniz, who attended all 4 classes of the event, won the race and also the overall title as he won the 1st round as well. Lincoln Almeida finished on 2nd while Chrystian Nozawa completed the podium in 3rd.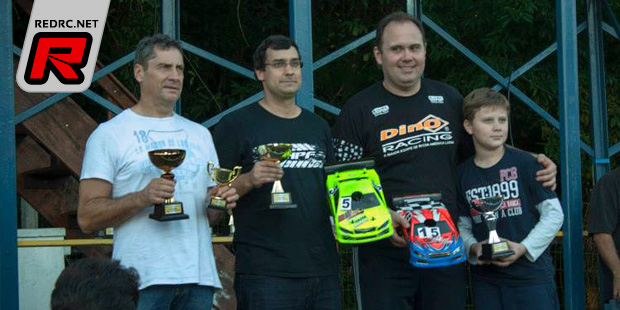 1/10th Masters top 3 result
1. Demian Diniz – KM / Novarossi
2. Lincoln Almeida – KM  / Novarossi
3. Chrystian Nozawa – Mugen / Sirio
Source: KM [km-rc.com]
---