June 2, 2014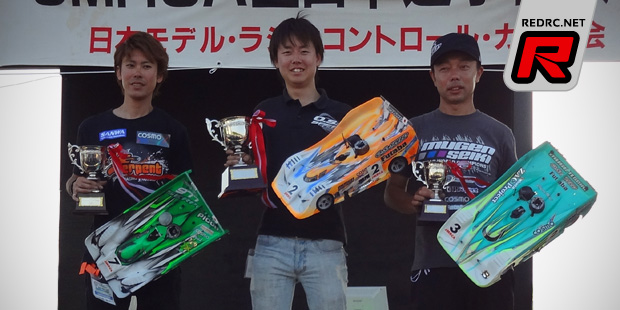 The Japanese 1/8th on-road national championship was run at the Hokusei Circuit in the Mie prefecture, central Japan. A total of 52 drivers attended including three guest drivers from Thailand. Despite being located near a mountain area the weather was good all weekend allowing for 6 dry qualifying rounds to be run. Reigning world champion, Tadahiko Sahashi (Serpent) took TQ with young Shinnosuke Yokoyama (Mugen) taking 2nd. Defending champion, Takaaki Shimo put his Mugen in 3rd after qualifying.

Right from the start of the final Tadahiko and Shinnosuke started to battle until a rear tyre on Tadahiko's car came off before the first round of pitstops. This allowed Shinnosuke to move into 1st place while he also started to pull away from now 2nd placed Takaaki. Scoring record laps to make sure his 2-stop tyre strategy would pay out, Shinnosuke made a small mistake right after the 2nd stop for tyres, allowing Takaaki to virtually close the gap. Unfortunately for Takaaki, the muffler on his car got damaged during a collision at the start which resulted in the engine running too rich which resulted in a flame out after running out of fuel. After Takaaki stepping down, Takehiro Terauchi moved up to 2nd, but he also ran out of the fuel towards the end of the race. Yuuya Sahashi, the elder brother of Tadahiko Sahashi, took advantage of the situation and moved up to 2nd. With two temporal 2nd placed drivers flaming out, Shinnosuke was able to cruise to the win and to take his first podium at a major event after finishing in 4th at the 2010 1/10 on-road and 2013 1/8 on-road World Championships. Yuuya Sahashi (Serpent) and Takaaki Shimo (Mugen) completed the national's podium in 2nd and 3rd repectively.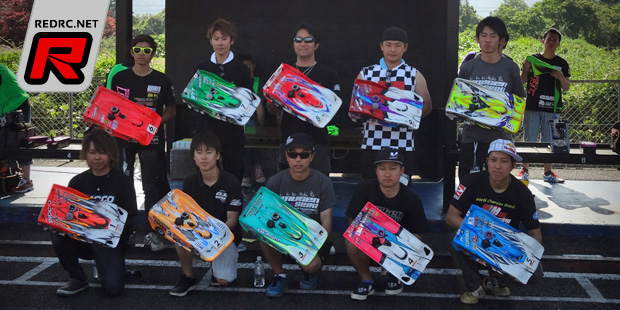 Final result:
1. Shinnosuke Yokoyama – Mugen/O.S. – 142L
2. Yuuya Sahashi – Serpent/Picco – 140L
3. Takaaki Shimo – Mugen/O.S. – 140L
4. Hayato Yamada – Mugen/Novarossi – 139L
5. Takehiro Terauchi – Mugen/Novarossi – 139L
6. Tadahiko Sahashi – Serpent/Picco – 136L
7. Charlie Phutiyotin – KM/O.S. – 134L
8. Hideki Iriguchi – Mugen/O.S. – 132L
9. Yuuki Sawada – Mugen/ZAC O.S. – 123L
10.Shinya Shimazaki – KM/Novarossi – 119L
Thanks to Junichi Shimazaki for sending the report.
---