June 4, 2014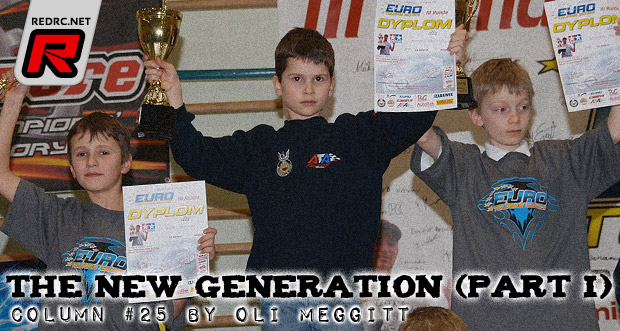 It's a topic that's often discussed and bought up, and something I've alluded to in a number of my previous columns. But I thought it was finally time to dedicate a whole piece to the subject. In fact, so much so that I know I'll need to split this out into a couple of parts! How do we get more youngsters involved in our sport?
I began racing when I was aged 13, when one of my science teachers started an after-school club. He had been racing for a few years, and this was just a way to get people who either had a car racing it, or entice those who may be thinking of getting one. We used to get ten or fifteen people "racing" every week – OK, it was a few laps time trials around some cones in the gym or playground, but that led myself and a number of others to explore other local racing clubs. And for me, it's just kinda gone from there!
At that time, there were a number of drivers in my local area, of a similar age to me, getting involved. We moved up through events, some quicker than others, over the next few years. As time has gone on, many of them have given up as their life and priorities change, but a few of us are still racing together today.
Sadly, I haven't really seen since then the same influx of new youngsters each year – the number joining seems to be falling each year. I think a large part of that is the competition we face from video games and the like, becoming more and more realistic. That keeps people at home, competing against hundreds or thousands around the world at racing or football simulators, first person shooters or strategy games.
Another reason is of course the cost. Well, actually, the perceived cost. I stand by a comment I've made many a time, that racing isn't significantly more expensive than when I started. It's just today, you can't seem to turn up at a club meeting with a basic level kit – everyone almost expects people to have the latest racing chassis and equipment. I think this is being addressed to some extent – with series in the UK like the GT12 championship, which has in turned spawned a large upturn in drivers racing these low-cost cars at club meetings.
And that leads me on to the next point – I still think we have too many classes in racing today. I really think we should try to simplify the classes – but that's a whole new column I think! Less classes means bigger fields, and bigger fields means a bigger spread of talent. Which in turn means everyone has more people to race against. Which means in turn you're more likely to "beat" people – something that certainly appeals to youngsters!
However, I would be in favour of more races having a novice class. A real "run what you bring" type approach. If it's an RC car, let them race it! I'm sure that would help boost club numbers and, if big events have time for an extra heat in their schedule – stick it in!
I also think the media can play more of a role. There are some fantastic success stories from around the world of youngsters getting into racing and moving up through the ranks. I think we can all do more to promote them and their stories. People today are quick enough to idolise seemingly any sort of "celebrity", so why don't we give them a role model, someone who's success it is possible to emulate by just getting out and racing.
Maybe you're reading this with a car sitting in your room, never raced. Go and find your local club and give it a try! You never know what could happen. You may still be racing in 15 years time, like me. Or, you may actually be quite good at it!
Have an opinion on the topics discussed? Leave them in the comments below.
Oli Meggitt is a race organiser, announcer, RC racer and has also been known to stand and talk in front of a camera. Now a columnist for Red RC you can read his thoughts, insights and ramblings fortnightly.
The views and opinions expressed in this column are those of the author.
---