June 26, 2014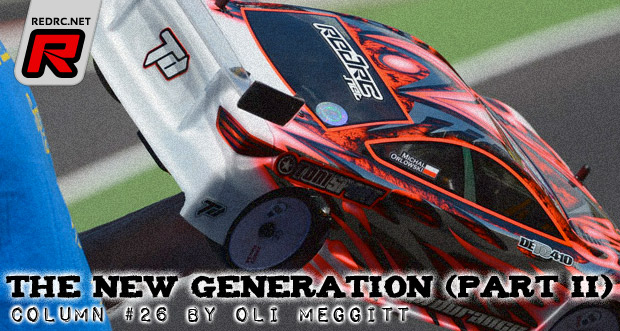 In my last column, I wrote about encouraging more new drivers into our sport. I had a lot of comments from racers about ways that they think we could help to get more youngsters into the hobby. That's great! Make sure you don't just keep your ideas on internet forums or in emails, go and talk to your local club and help get the ideas started! This time, however, I wanted to look at what is perhaps the "next stage" for drivers. I've been fortunate to grow up with friends from racing across the spectrum – for the classic club drivers through to drivers at the top of the international fields.
What I think we've also seen are drivers who also now see a career in the RC industry as a real option for them to consider and eventually pursue. I'm not talking really about the full-time racers out there, but those who go to work at distributors or manufacturers, combining their experience of racing with perhaps their college studies or university degree to make the move into the R&D teams or product development roles. I think this is a great opportunity for those people, and something that probably wouldn't have existed fifteen years ago – at least, not in the same way as it does now!
Don't get me wrong, there are some fantastic designers and R/C company executives out there at the moment, designing the best cars that have ever existed. But as the R/C scene changes, sometimes too it is necessary to change to keep up. Having new blood moving into those companies to work full-time at the offices can have huge benefits. Not only can the companies draw on their recent experiences from the track, but also bring a fresh look and opinion to things. Keeping up with trends, or going against them, is a tough thing to do and with the pace of life seemingly ever increasing, having some young talent onboard will surely only benefit them.
Not wanting to sound "ageist" or offend some of the more experienced members of our sport, but I often find the younger generation also are more "media savvy" too. Whether I've interviewed them, or just chatted randomly in the pits, many of them seem to just understand the importance and reach of Facebook, Youtube and the R/C media sites out there. Having said that, I can think of a number of elder statesmen who are perhaps the best to speak to, both on and off camera! Of course, there's still an awful lot to learn from those who have been around the sport for a long time, but I guess my point is that they won't be around forever, and it's great to see younger people getting the opportunity to take up the mantle, ready for the cycle to begin again in a few years no doubt!
Have an opinion on the topics discussed? Leave them in the comments below.
Oli Meggitt is a race organiser, announcer, RC racer and has also been known to stand and talk in front of a camera. Now a columnist for Red RC you can read his thoughts, insights and ramblings fortnightly.
The views and opinions expressed in this column are those of the author.
---