June 25, 2014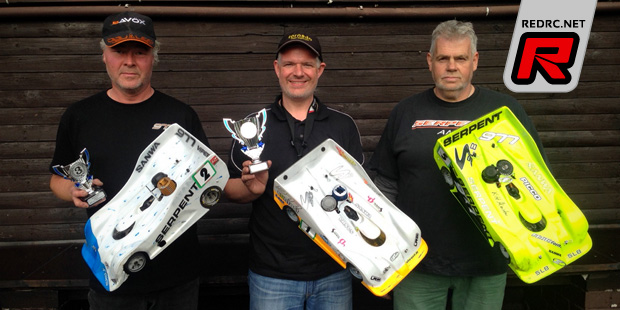 Following a somewhat brief report of the recent Western Germany nitro on-road regionals we now have a more in-depth report available. Reigning champion Christian Wurst has taken his first win of this season in the Western German Championship to put him to the lead in the overall ranking of the 1/8 scale class 1 nitro on-road category. Other winners at round three of the regional championship held on the famous Oberhausen track were young Philipp Roemer in 1/8 scale class 2 and Thilo Toedtmann in 1/10 scale. Oberhausen registered 51 entries with finally 50 participants joining a pleasurable racing weekend at the heart of RC racing in Western Germany with perfect weather and track conditions.

In 1/8 scale class 1 Karl-Heinz Meister let his Picco-powered Serpent 977 almost fly across the 234 meter track to get the TQ position with 25 laps in 5.10,590 minutes. Beside Meister, only his teammate Christian Wurst and Xray driver John Ermen were able to do 25 laps as well but both came in up to 2 seconds behind Karl-Heinz. In the 30 minute final Meister took the lead right from the start until lap 44 when he lost the engine's cooling head and some valuable time re-adjusting his engine. This handed Wurst the lead and with it his first victory in the 2014 championship, after 137 laps with a 12 second margin over Meister. Ermen moved up to second only a few laps into the race but he lost valuable time in the pits due to technical problems only to end the race in 7th position. The 3rd spot on the podium was taken by Ralf Vahrenkamp who moved up from 6th at the start to 3rd to make it a 1-2-3 for Serpent. With 134 laps he was one lap ahead of John Lenaers (Mugen), Alain Levy (Shepherd) finished 5th.
Final result 1/8th class 1:
1. Christian Wurst – Serpent/IDM – 137 laps
2. Karl-Heinz Meister – Serpent/Picco – 137
3. Ralf Vahrenkamp – Serpent/Novarossi – 134
4. John Lenaers – Mugen/- – 133
5. Alain Levy – Shepherd/XRD – 123
6. Claus Nauth – Xray/Orcan – 121
7. John Ermen – Xray/Reds – 104
8. Rainer Rosskothen – Mugen/Novarossi – 91
9. Dirk Rischard – Serpent/Picco – 87
10.Thomas Kroeger – Serpent/Novarossi – 11
With 355 points Wurst now is the new leader of the qualification rounds for the German Nationals. Ermen is 2 points behind while Ralf Vahrenkamp is another 3 points down in 3rd among the 20 1/8th class 1 racers.
In 1/8th scale class 2 local hero Hans-Peter Holl achieved a fine TQ with 24 laps in 5.12,636. He was the only one among 24 competitors in this category to achieve 24 laps. Young Philipp Roemer (Xray) ended the qualifiers in 2nd with Nico Vanderwynckel (Serpent) in 3rd place. From the 15 minutes quarter-final Ralf Wacker (Mugen), Waldemar Liedke (Mugen), Heinz Kroezemann (Mugen), Bert Poesen (Serpent), Klaus Kirschner (Mugen) and new-entry Sven Schroeder (Shepherd) bumped up onto the next final. Reinhard Zick (Mugen) won the semi-final B in front of Roemer, Thomas Reiche (Serpent), first time Shepherd racer Joachim Kuehn and Liedke, who bumped up for the second time. Winner of semi-final A was Holl with Heiko Kube (Mugen), Tim Vogels (Xray), Matthias Guenther (Shepherd) and Michael Woeste (Capricorn) in 2nd to 5th place. Hans-Peter Holl, son of Josef Holl, well-known founder of the MRC Alstaden Oberhausen and grown up with 1/8 scale cars on this home track, led the main finale from the start to lap 112 when he ran into problems. Young talent Philipp Roemer, following hot on his tail for the whole race, was happy to take over the lead to take his second win with his Orcan-powered Xray RX8. Holl brought his Serpent home in 2nd but he was 3 laps down on Roemer, while Matthias Guenther had a diversified race covering all positions between 10 and 3, but he was able to hold the final podium spot at the end.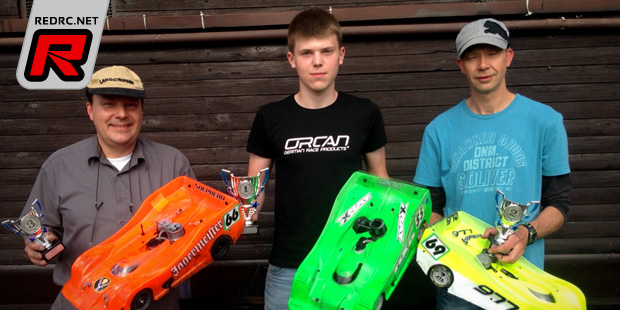 Final result 1/8th class 2:
1. Philipp Roemer – Xray – 133 laps
2. Hans-Peter Holl – Serpent – 130
3. Matthias Guenther – Shepherd – 126
4. Reinhard Zick – Mugen – 122
5. Thomas Reiche – Serpent – 120
6. Michael Woeste – Capricorn – 118
7. Tim Vogels – Xray – 100
8. Waldemar Liedke – Mugen – 100
9. Joachim Kuehn – Shepherd – 95
10.Heiko Kube – Mugen – 37
Reinhard Zick, who finished 4th, is now leading the ranking with 356 points, ahead of Andreas Goebel (339) and Tim Vogels (339) among 30 participants.
The TQ position in 1/10th scale was taken by René Puepke who lapped the track with his Sonic-powered Shepherd 23-times in 5.10,606 minutes. Shepherd/Sonic fellow racer Bernd Rausch was 2nd but already 1 lap down with reigning champion Daniel Toenessen and his RB-powered Mugen on 3rd. In the semi-final B Thilo Toedtmann (Xray), fourth after the heats, finished 1st in front of Rausch, Melvin Diekmann (Shepherd), Daniel Thiele (Serpent) and Arndt Bernhardt (Shepherd). The semi-final B went to Andreas Weyhoven with his Orcan-powered Serpent followed by Toennessen, Thorsten Lewandowski (Xray), Markus Krohne (Shepherd) and old dude Werner Vogel (Kyosho). Disaster stroke for Puepke who was forced to retire from his semi because of an engine failure.
In what was an exciting start into the 30 minute final, the lead changed constantly between Toedtmann, Rausch, Weyhoven and Diekmann during the first 24 laps before Toedtmann was able to secure the lead for the remainder of the race. Rausch seemed to have settled in 2nd spot but Weyhoven could pass him at about half-time. Finally Toedtmann extended his lead to 2 laps over Weyhoven who kept Rausch at bay by 4 laps. Only 6 cars made it to the finish line with Thiele, Diekmann, Toennessen and Bernhardt having to retire early.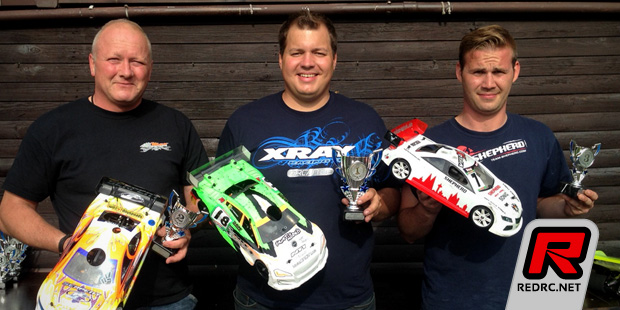 Final result 1/10th scale:
1. Thilo Toedtmann – Xray/Orcan – 126 laps
2. Andreas Weyhoven – Serpent/Orcan – 124
3. Bernd Rausch – Shepherd/Sonic – 120
4. Markus Krohne – Shepherd/Sonic – 117
5. Thorsten Lewandowski – Xray/- – 115
6. Werner Vogel – Kyosho/Team Orion – 90
7. Daniel Thiele – Serpent/Novarossi – 64
8. Melvin Diekmann – Shepherd/Sonic – 26
9. Daniel Toennessen – Mugen/RB – 20
10.Arndt Bernhardt – Shepherd/Sonic – 14
The points ranking is led by the Shepherd triple Rausch (352), Bernhardt (346) and Puepke (343) among 23 competitors.
As for the statistics, Serpent and Shepherd shared the first position in the chassis ranking at this race weekend with 14 cars each, followed by 11 Mugen, 8 Xray and 1 Capricorn, Kyosho and Motonica each. The 4th and deciding round of the Western German Championship will take place at the fast 310-meter track of the AMC Hamm on July 12th to 13th, one week after round 3 of the Nitro-West-Masters (NWM) at the Motodrom Rhein-Ahr in Bad Breisig on July 5th to 6th.
Source: Nitro-West [nitro-west.de]
---