July 2, 2014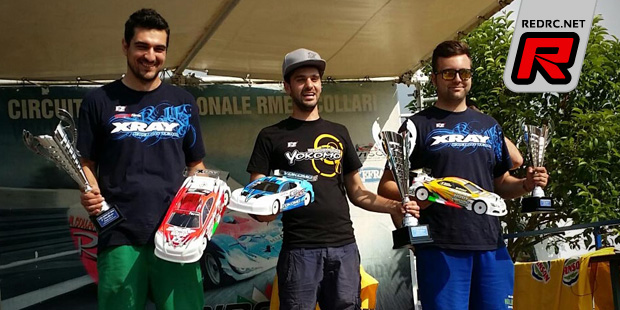 This year's AMSCI Italian outdoor nationals were held at the Rme L. Collari track in Cassino with more than 50 drivers attending in the Touring Car Modified and 13.5T Blinky classes. The weather conditions on Saturday proved to be very difficult and this affected the qualifiers at first but on a drying track Antonio Di Prisco took the TQ in the Modified class ahead of Nicola Marrone and Alessandro Brunelli. In the Stock class Mattia Collina grabbed the TQ spot from Valter Cola while Marco Puelo completed the top 3 result.

The three Modified class finals all saw different race winners with Nicola Marrone taking the opening leg from Brunelli and Pignotti. A2 had Alession Menicucci grabbing the win after a hard chase from 7th place and due to a penalty for Marrone, Alessandro Brunelli won the final leg with Nicola and Alessio in 2nd and 3rd respectively. The final result had Nicola Marrone (Yokomo) taking the win from the Xray duo of Alessandro Brunelli and Alession Menicuccu.
Modified class final result
1. Nicola Marrone
2. Alessandro Brunelli
3. Alessio Menicucci
4. Kevin Pignotti
5. Guido Ristori
6. Francesco Martini
7. Diego Macchioni
8. Alessio Valentini
9. Antonio Di Prisco
10.Alessio Mancini
The Stock class was a bit of a different affair with Mattia scoring two early wins to get the overall title. Valter Cola came out successful in the final leg after a fight with Collina but at the end it was the Xray trio of Mattia Collina, Marco Puleo and Andrea Valerio who made it  in the final's top 3.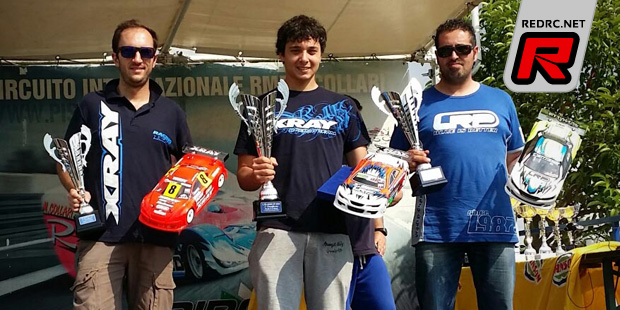 Stock class final results:
1. Mattia Collina
2. Marco Puleo
3. Andrea Valerio
4. Valter Cola
5. Lorenzo Bigi
6. Marco Marino
7. Marco Lenci
8. Matteo Berlincioni
9. Nicola Fornasari
10.Ludovico Tagliavini
Source: Xray [teamxray.com]
---