July 22, 2014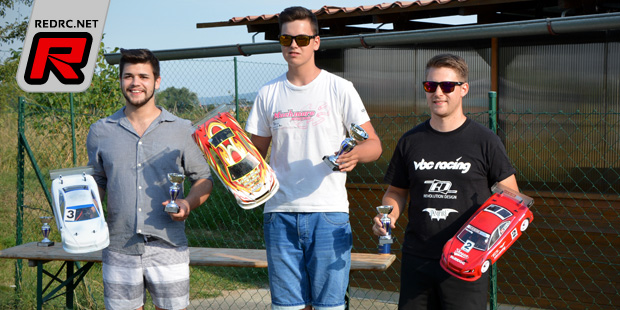 The 3rd round of the Austrian electric on-road nationals was run at the 1. MRC Wiener Neustadt track in Lower Austria. Overall 42 racers participated in the three classes of TC Modified, TC Stock and Formula 1. In TC Modified Dominik Vogl and his Yokomo BD7 been unbeatable all weekend. Dominik settled for TQ after the qualifiers in front of Martin Szunyogh (VBC), who is regaining his old strength after a longer break while Jakob Zündel (Yokomo) completed the top 3. In the A-mains Dominik was unbeatable up front and winning A-main one and two handed him an early overall victory. The runner-up spot saw a tight fight between Martin and Jakob with the better end for Jakob after winning the third A-main.

In TC Stock it seemed like a tight race between Marcus Galler, Vinzenz Schrank and Jan Popic would arise as the three looked equally fast after qualifying. The first A-main then was an easy win for Marcus Galler, followed by Vinzenz Schrank, whose car wasn't the best but he managed to get the runner up spot after a very tight but clean fight with Christian Schiff, who started from 5th position. Jan Popic, coming from 3rd on the grid, had a start crash but he was fighting back and ended up on 4th position.
For the second final run Vinzenz made some minor changes to his car's setup and the first couple of laps he was on Marcus' back, till he hit some dirt on the track and went off. Now Jan was on second place with Christian very close behind. After the 8 minutes race, Marcus again had an impressive 5 seconds lead followed by Jan with Christian being just 0.6 seconds behind. The win handed Marcus an early win and therefore he opted not to start in the final A-main.
The race was still on for 2nd, 3rd and 4th place in this final TC Stock A-main and right from the start Vinzenz took the lead and although his car showed extreme understeering he kept it till the end. Jan again had some mishaps in the first laps allowing Christian Schiff to take the runner up spot in front of Rupert Schandl and Jan Popic. Vinzenz managed to open a gap of 1.5 seconds to the pack and finally he took a solid win, followed by Christian and Rupert. Overall Marcus Galler (Serpent) took the second win in a row, followed by Vinzenz Schrank (VBC) and Christian Schiff (Xray).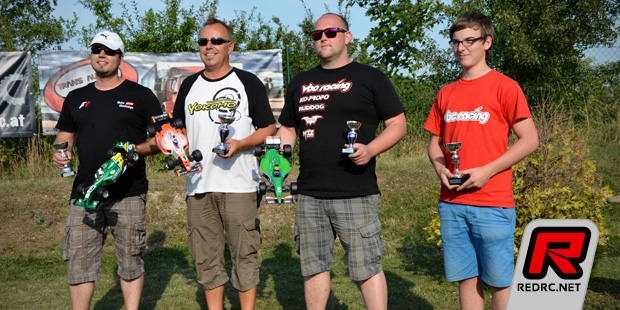 In the F1 class it was again Herbert Weber with his Yokomo who set the pace. He won every qualification heat and also A-main 1 and 2 for an unchallenged win that allowed him to expand his lead in the championship. Second place went to Markus Wurmhöringer after an exciting battle with Andreas Teubl who came in third.
Although weather was extremely hot and drivers and cars were under the weather, it was again an exciting weekend with tight races and great sportsmanship of all drivers. The next round will be held on the weekend of the 16th to 17th of August at the ERC Wiener Neudorf racetrack near Vienna.
Thanks to Vinzenz Schrank for sending the report.
---