July 7, 2014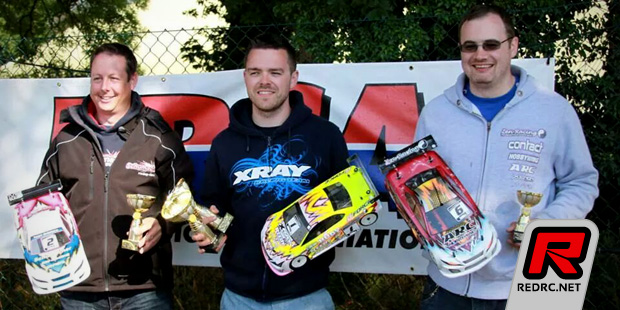 Round 4 of the BRCA touring car nationals took place at the fast and flowing Cotswold track located on Kemble airfield, UK. The first three rounds have seen three different winners which meant heading into round four the championship is still wide open. Saturday morning the drivers were greeted with very wet conditions but fortunately it would dry for round one of qualification. Olly Jefferies was able to keep himself close to the top of the time sheets in all of the qualifying rounds to eventually take pole positions after winning three out of five qualifying rounds with Chris Grainger taking second and Elliott Harper in third. Olly would also set the fastest lap and five minute time of the weekend.

In the 13.5 Pro Stock class it would be a close battle throughout qualifying with Chris Gunter eventually coming out on top with Zak Finlay in second. The top three seemed to have an edge over the rest of the field but themselves were never separated by more than one second through all the five qualifying rounds.
All drivers would race three finals with the best two to count, Olly Jefferies was able to capitalise on his pole position and took an easy leg one win to cross the line with a gap of 7 seconds to the rest of the field. Leg two would prove to be much closer as Olly and Chris Grainger ran nose to tail for the entire five minutes with Olly crossing the line first to take the leg win and overall race win.
Top 10 result:
1. Olly Jefferies
2. Chris Grainger
3. Chris Kerswell
4. Paul Pinkney
5. Colin Price
6. Elliott Harper
7. Alan Bickerstaff
8. James Hart Xray
9. Chris Ashton
10.Jon Bowden
Zak Finlay would also take a win in leg one of the Pro Stock class but unable to repeat this for legs two and three which meant he would have to settle for second overall behind Chris Gunter.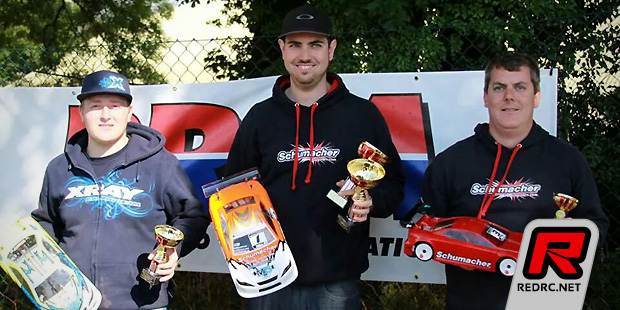 Pro Stock top 10 result:
1. Chris Gunter
2. Zak Finlay
3. Darren Lee
4. Mark Wallace
5. Lee Price
6. Tony Broad
7. Andrew Robson
8. Ben Putt
9. Nathen Wilson
10.Michael Ball
With both championships still undecided the final round at Mendip looks set to be a great finale for both classes in 2014.
Source: Xray [teamxray.com]
---