July 28, 2014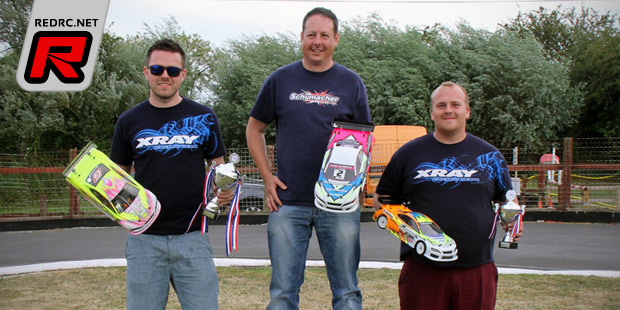 The final round of the BTCC took place this last weekend at the awesomely fast Mendip Raceway in Western Super Mare. The circuit looked in fine fettle as a new enthusiastic committee have spent a lot of time getting it looking in great shape and it was awesome to be blessed with glorious sunshine all weekend.  Almost a full complement of national level drivers took part, with a little eye on the final BRCA nationals in two weeks' time.  With the sun shining it was decided to run round by round qualifying with the best 2 from 4 qualifiers to count and 1 final.

In the Modified class Chris Grainger looked in dominant form, TQ'ing the first two rounds with Olly Jefferies and Elliott Harper pushing Chris all the way and actually tying on points for second and third. Olly had the faster time so lined up 2nd ahead of Elliott.
Modified TC top 10 result
1. Chris Grainger
2. Olly Jefferies
3.. Elliott Harper
4 Colin Price
5. Ben Cosgrove
6. James Hart
7. Zak Smith
8. Matthew White
9. Chris Ashton
10.Adam Catchpole
The watching crowd were treated to an epic battle between Chris and Olly.  The wind had picked up during the back end of the day making the cars very tricky to drive and unpredictable. A small mistake at the beginning from Chris let Olly into first, whoever won the race would be crowned the BTCC Champion for 2014 and receive the Cecil Schumacher Trophy, so the pressure was on. Chris pulled his way onto the back of Olly and putting him under intense pressure managed to find a way past right at the end. Elliott had technical problems so Ben Cosgrove came through to 3rd behind Chris and Olly.
Modified TC final result
1. Chris Grainger
2. Olly Jefferies
3. Ben Cosgrove
4. Colin Price
5. Matthew White
6. James Hart
7. Zak Smith
8. Adam Catchpole
9. Chris Ashton
10.Elliott Harper
In the championship Chris Grainger took the overall victory from runner-up Olly Jefferies and James Hart. In the Pro Stock class Zak Finlay was once again in good form, wrapping up the TQ in the last round of qualifying from the quintet of Mark Wallace, Darren Lee, Chris Gunter and Lee Price.
Pro Stock TC qualifying result:
1. Zak Finlay
2. Mark Wallace
3. Darren Lee
4. Chris Gunter
5. Lee Price
6. Andy Travis
7. Rob West
8. Mark Giaquinto
9. Nathan Wilson
10.Tom Jefferies
Zak got away cleanly at the start of the final leaving the rest to battle behind, Mark Wallace came through the carnage to finish 2nd with Chris Gunter 3rd.
Pro Stock TC final result:
1. Zak Finlay
2. Mark Wallace
3. Chris Gunter
4. Nathan Wilson
5. Tom Jefferies
6. Lee Price
7. Andy Travis
8. Darren Lee
9. Mark Giaquinto
10.Rob West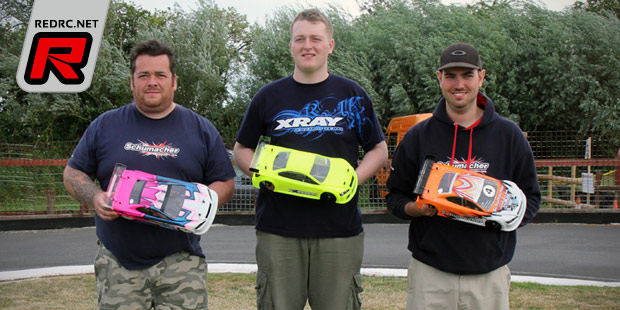 Zak had already done enough to win the Championship before this round taking home the Robin Schumacher Pro Stock trophy. A really strong series from Lee Price secured 2nd overall with Chris Gunter pipping team mate Mark Wallace for 3rd overall.
In the Stock 17.5T 'Blinky' class Nicholas Snelgrove TQ'ed all but one qualifiers with James Stewart lining up second and Jon Townsend 3rd. Nicholas got caught out at the start which allowed James to drive away from the field in dominant fashion. James won from Nicholas with young Bradley Coaker coming home 3rd.
Stock 17.5T result
1. James Stewart
2. Nicholas Snelgrove
3. Bradley Coaker
4. Jon Townsend
5. Kris Kennedy
6. Chris Townsend
7. Bradley Bolt
8. Mike Manning
9. Warren Fox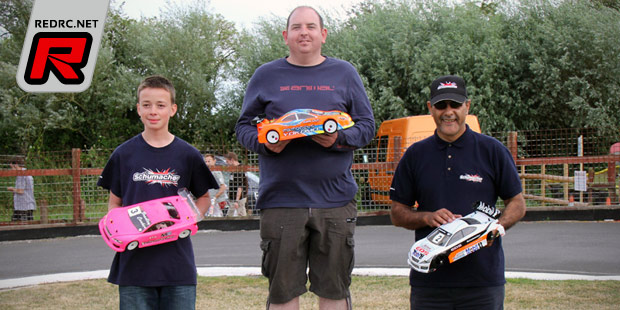 MB Models' Michael Ball had already won the championship before this round with 3 perfect scores. Bradley Coaker pipped Kris Kennedy for second by just 1 point.
Source: Schumacher [racing-cars.com]
---