July 1, 2014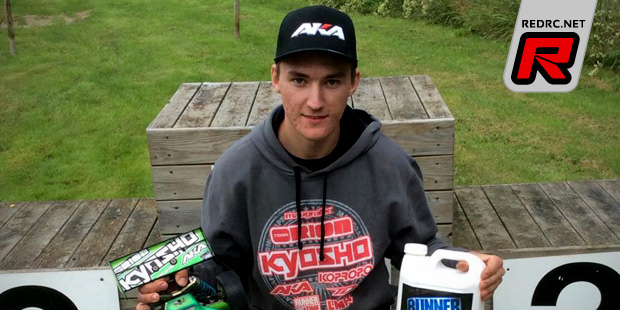 The Swedish 1/8th off-road Cup took place this past weekend despite the weather forecast "promising" questionable racing conditions. Before the race discussions came up to postpone the event until later in the year but finally the decision was made to go ahead as planned. Saturday started with 2 rounds of practice on a wet track followed by 5 rounds of qualifying. Finally 3 rounds of more or less dry qualifiers could be completed until the rain started to fall again in in round 4. Due to the pouring rain the 5th and final qualifier was cancelled, meaning 2 out of 4 rounds would count for the qualification, handing Christoffer Svensson the TQ while David Ronnefalk, one of the pre-race favourites, had a hard time in qualifying, sitting in 8th position.

Sunday looked mostly the same in terms of the weather so everyone was hoping for the best. The semifinals started and in the first one Christoffer had a strange flame out which cost him dearly. He was close to catch the 6th place but he was a few seconds short and very disappointed of course. David's semi started and he was 4th on the grid but got a horrible start and he was involved in a crash that put him dead last. He was also hindered by a wrong tyre choice having him lacking pace so he could only sit and wait for the others to crash or run into trouble. Following some consistent laps and with 5 minutes to go David Ronnefall was in 8th place with a 10 seconds gap up to 6th and final bump-up place. He was able to close up to the drivers in front and a mistake of both allowed him to pass and to end the race in 5th position despite the two chasing him hard.
In preparation for the final David had done some setup work and his now-better car allowed him to swiftly move up the ranking only two laps into the main final and he eventually took the lead on lap 3. Later in the race a mistake of David allowed the 2nd place driver to catch up and to take the lead following a coming together at one of the jumps, but a nightmare lap with two crashes had David taking the lead again. At the end he came in 2 laps ahead of the runner-up driver to take the win just before it started to rain again.
Source: David Ronnefalk
---