July 8, 2014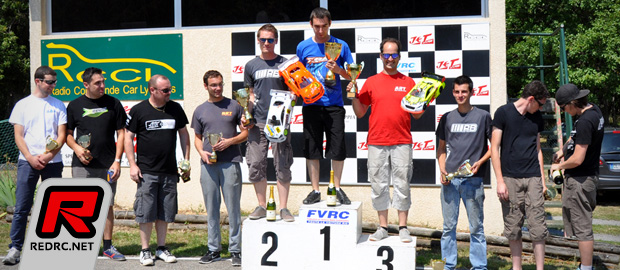 The 4th round of the French 200mm nitro on-road championship was held at the Lentilly track near Lyon. In the National class, it was Maxime Legay who took the TQ position in front of Philippe Martineau and Stephane Campourcy while in the Elite class, Leo Arnold had a tremendous third qualifying round to take the overall TQ. Basile Concialdi came in 2nd and Quentin Leroux held the 3rd spot.

In Elite class final, Quentin Leroux had the best start and kept the first place until his car came to a halt, only 5 minutes before the end of the race. This made way for Michael Derderian who won the the 4th round without a tyre change in front of Thomas Guillon and Basile Concialdi.
Elite class final result:
1. Derderian M. – Xray/Gimar
2. Guillon T. – Xray/RB
3. Concialdi B. – Capricorn/Team Orion
4. Desmarie T. – Xray/Gimar
5. Correard T. – Xray/Xceed
6. Bertin A. – HB/Team Orion
7. Leroux Q. – Capricorn/Team Orion
8. Persyn T. – Xray/RB
9. Turco B. – Xray/RB
10.Colas J.
In the National class, a great fight started between Stephane Campourcy and Maxime Legay but Maxime soon suffered from a broken rear belt on his car. Up front Mathieu Delfour had a very good race and he finished 2nd and in the same lap as winner Stephane. The fight for 3rd place was on between Romain Mestiri and Ludovic Long and finally, Romain finished 3rd with Ludovic in 4th.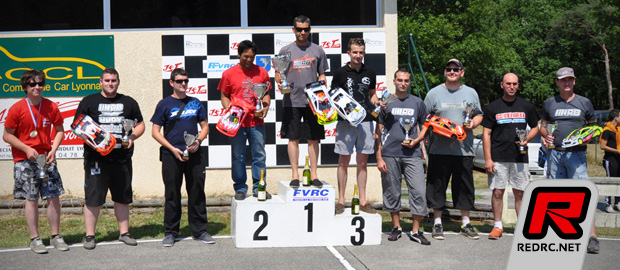 National class final result:
1. Campourcy S. – Xray/RB
2. Delfour M. – Xray/Nova
3. Mestiri R. – Capricorn/Gimar
4. Long L. – Xray/RB
5. Chatelus G. – Capricorn/Team Orion
6. Buatois O. – Xray/NC
7. Besson F.
8. Lenaerts T. – Xray/RB
9. Legay M. – Capricorn/Team Orion
10. Buttifant A. – Xray/RB
Source: Xray [teamxray.com]
---