August 27, 2014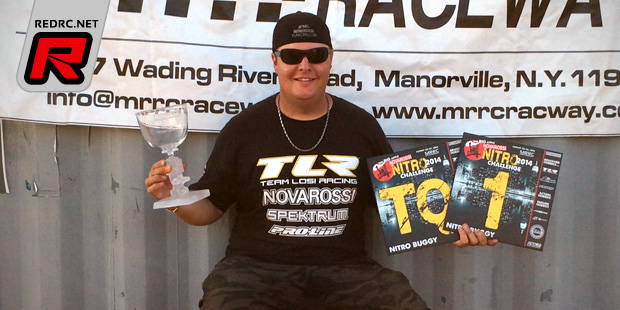 The 2014 Novarossi Nitro Challenge took place at MRRC Raceway in New York this past weekend. Saturday kicked off with four rounds of qualifying with qual points were used to set the starting grid for the 30 minute truck final and the 45 minute buggy final. Adam Drake was on fire during qualifying and took the TQ honors in truck and buggy by setting the fastest time in 3 out of the 4 rounds.

In the 30 minute truck final Drake was followed closely by his TLR teammate Anthony Mazzara. Drake and Mazzarra pulled away from the rest of the field and finished 1st and 2nd. By the time the 45 minute buggy final was up the track was getting extremely bumpy. Drake again got off to a great start and pulled away from Reno Savoya (Xray) and Anthony Mazzara. Drake ended up winning by a little over 29 seconds. 2nd went to Savoya, and 3rd was Mazzara.
Thanks to Adam Drake for sending the report.
---