August 21, 2014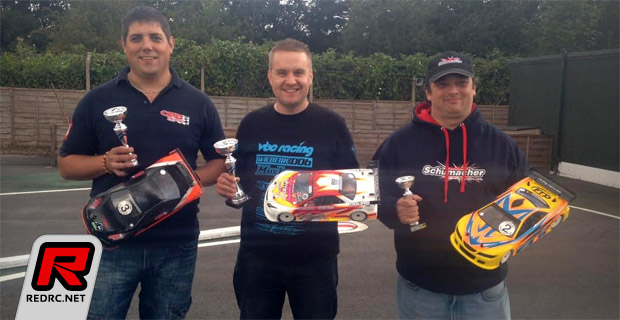 Round 6 brought the final round of the BRCA Clubman Series 2014. Finishing in the midlands up at Stafford, this well known track for its challenging conditions and grip was mixed with the weather which seen drivers looking at the track all day deciding which car to use because the weather could of changed at any second. Round 1 of qualifying started on the Sunday wet with light rain at the start of the round. Due to the weather conditions, the race director decided to make qualifying round by round. In 17.5, Darren Tickner took the honours of TQ followed by Jason Butterfield then David Hough. In 13.5, weather conditions are still mixed with rain dropping and then drying up again. Local driver Andrew Robson managed to find some pace taking first place, followed by Liam Brooks then Ben Putt.
Round 2, drivers still have there dry and wet cars at the ready to make those last minute decisions with the changing weather. In 17.5, Darren Tickner places first again, with two wins he now TQs the round. Mark Trinder then Jason Butterfield following in 2nd and 3rd. In 13.5, Ben Putt now places first because of the changing conditions which places Andrew Robson out of the A final due to a wet race. Ian Whittingham and Chris Lovely now takes 2nd and 3rd place.
Round 3 the weather still continues, but the dry races hold out enough for racers to put some lap times down. Drivers putting the best runs in from the tyres positions were changing again. In 17.5, Darren Tickner saving tyres for the finals by not racing as he has claimed pole. He his followed by David Hough pulling in a good run then Mark Trinder completes the top three. In 13.5, Ben Putt takes TQ coming first in round again, Andrew Robson pulls one out of the bag and take 2nd place followed by championship leader Liam Brooks.
17.5 Blinky Qualifying Result:
1. Darren Tickner
2. David Hough
3. Mark Trinder
4. Jason Butterfield
5. Dominic Skinner
6. Nigel Shaw
7. Shaun Batt
8. Jimmy Maddison
9. Warren Jones
10. Dominic Shore
13.5 Open Qualifying Result:
1. Ben Putt
2. Andrew Robson
3. Liam Brooks
4. Ian Whittingham
5. Matt Quinlisk
6. Andy Murray
7. Michael Ball
8. Dale Burr
9. Chris Lovely
10. James Greener
In the A final of the 17.5 the conditions managed to improve giving the racers dry running to show what they can do. Jimmy Maddison coming out of no where from the back using his VBC car, drove an unbelievable two rounds of finals coming first in both and taking overall win. Coping with some tricky racing, the drivers drove to the maximum for the last round of the year until Mark Trinder and David Hough placed 2nd and 3rd.
17.5 Blinky A Final Top 3:
1. Jimmy Maddison
2. Mark Trinder
3. David Hough
In the A final of the 13.5 class, everyone was just as fast as each other so anyone could take the win. Liam Brooks showing why he is at the top of the championship, using his Yokomo car, wins both finals driving an awesome quality of driving. The rest of the field battled it out until Ben Putt and Andrew Robson places 2nd and 3rd.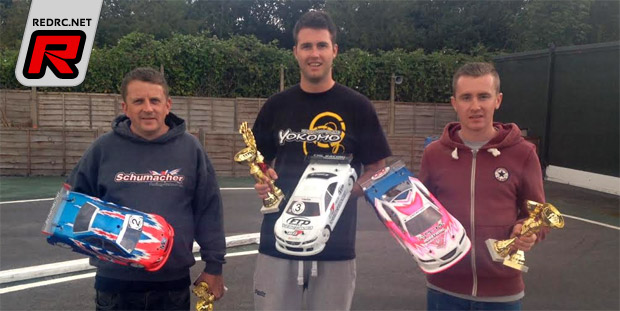 13.5 Open A Final Results:
1. Liam Brooks
2. Ben Putt
3. Andrew Robson
Thank you for everyone who supported the championship and hope to see you all next year in 2015.
---