August 14, 2014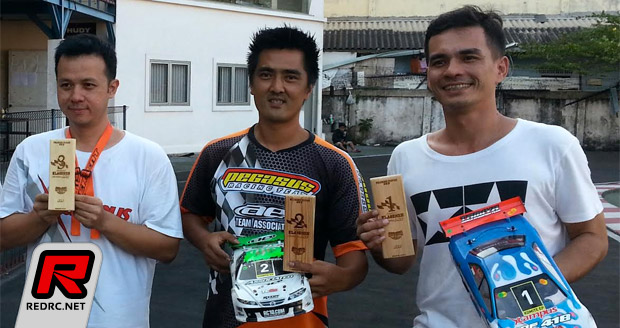 Last weekend at the North Jakarta Sunter Circuit was the final round of the 3 round series organised by Jakarta EP Touring Committee. The air temperature was between 31 to 35 degrees Celsius with the asphalt temperature reaching 56 degrees Celsius and there was three classes run at this race; Touring Super4wd, Touring Stock 13,5 and Touring FWD 13,5 non boost. Less drivers attended compared to the previous rounds however it didn't make it any less competitive. Major teams such as XCampus participated, along with drivers from Pegasus (Associated team), Tamiya, Yokomo and Team Magic. The race was dominated by Touring Stock 13,5 class, the largest class in Indonesia.
In the Touring Super4wd (modified) class, Teddy TQ'ed and swept all three finals , with Peter taking the runner up spot.
Touring Super4WD (Modified)
1. Teddy Syach – TRF 418/M12/Orca/XCAMPUS Team
2. Peter A – TC 6.2/-/LRP/PEGASUS Team
3. Rama T – TRF 418/4PKS-R/LRP/XCAMPUS Team
The Touring FWD 13,5 non boost once again draw attention and secured Teddy Syach his TQ spot, followed by Agung in second and Reynaldi in third. Teddy repeated sweeping all three finals, leaving the battle for second and third place to other contestants. It was unfortunate that Reynaldi suffered technical problem in the first two finals, placing Peter and Reynaldi in stronger positions, in 2nd and 3rd respectively.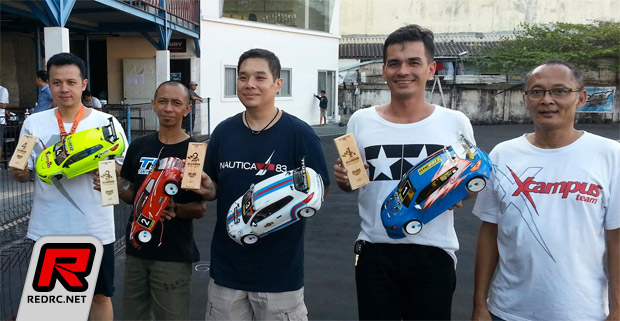 Touring FWD 13,5 Non Boost
1. Teddy Syach – FF03evo/M12/HWmotor/XCAMPUS Team
2. Imam Liyanto – FF03evo/M12/HWmotor/TQ RACING
3. Agung – Vbc/M11X/HWmotor/HOBBY STAR
Touring Stock 13,5 (motor checked) qualifying was TQ'ed by Ronald, with Robert second and Andy third. As the final race began, Ronald successfully pulled away from the rest of the field, leaving the fight to Robert, Andy and Handoko for second and third. They demonstrated their utmost skills under the sweltering afternoon heat. Some cars had to be pulled away from the track, motor and battery weakened by heat, collisions occurred. Finally Robert secured the second place and Andy finished in third place.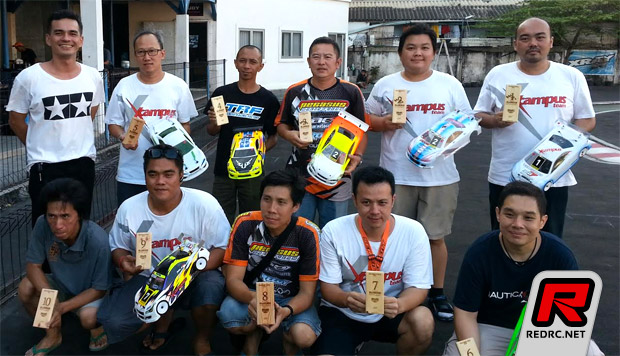 Touring Stock 13,5
1. Ronald K – Yokomo BD7/M12/HWmotor/XCAMPUS Team
2. Andy Tz – TM E4RsII/M12/Reedy/XCAMPUS Team
3. Denny R – TC 6.2/4PKS-R/Reedy/PEGASUS Team
By the end of the day when the regional championship standings were announced, the drivers looked tired yet satisfied. They seem eager to join the 2014 national championship. See you guys next month in Semarang, Central Java.
Source: Komite EP [komite-ep.com]
---