August 21, 2014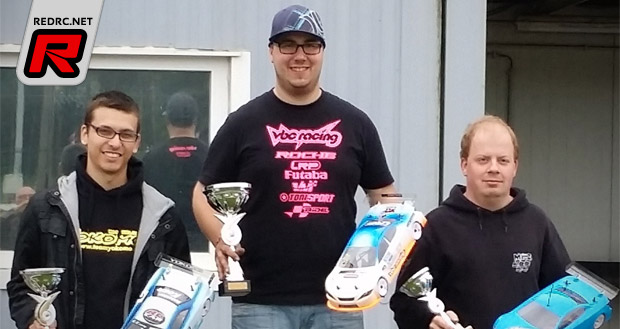 The host for the 6th round of the Belgian nationals was the club of Genk, MRG. Located next to the famous karting circuit and hoping that the weather would be good, the Efra drivers ran there qualifications under varying conditions. Olivier Bultynck, for the sixth time champion, placed his VBC on pole position, in front of Nick Joosens and Nicolas Delisé. In the first final it was Olivier who slid his car in the second corner and lost the lead. Nick went away followed by Rico Claeys and Olivier. Olivier had to fight back and overtook Rico with a nice move. Meanwhile Nick was in the lead with a gap of more than 2 seconds. But Olivier was fast and in the last lap he was on Nick's tale. Nick kept his coolness and took victory in front of Olivier and Rico.
Rain was falling in the second final but it was not enough to drive rain tires. Everyone took the start with slick tires and Olivier took the lead with Nick right behind him. Nicolas was third with Stefan Rommens in fourth. Nick was trying hard to overtake Olivier but Ollie was driving really straight lines and left no place to let Nick pass. Meanwhile Stefan had passed Nicolas and was driving in third place. Olivier persisted the attacks of Nick and took the win. Nick came in as second, a little disappointed about the missed opportunity, and a very happy Stefan took third place. The third final would decide the winner of this race and it was Olivier who took a good start but Nick was again right behind. With more grip and a better feeling in the car, Ollie was in control. Nick tried hard but was happy to follow. Stefan Rommens had a good start and came in third position but in the last lap Rico came back and overtook Stefan in the straight. Rico took third place. Olivier took the win and Nick was second. Overall result: Olivier Bultynck (VBC) winner, Nick Joosens (Yokomo) second and Rico Claeys (Spec-R) third place.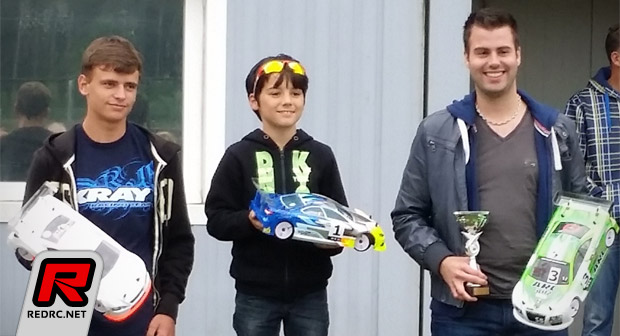 It was again 11 years old Athan De Witte who was on pole position. Geoffrey Vekemans was second with Dylan Senaeve, also a youngster, in third place. Christophe Charlier was fourth on the grid. Athan took a splendid start in the first final and took the lead while Geoffrey was under big pressure from Dylan. Geoffrey tried to defend but Dylan was strong and overtook. Meanwhile Athan was in the lead for over six seconds and took the win. Dylan secured his second place and Geoffrey had to be happy with third place. The second final proved that excitement, fairplay and good driving can go together. Athan, Geoffrey and Dylan drove a fantastic final. Everyone on the side of the track was speechless about this race. Athan in the lead, Dylan in the lead, Geoffrey in the lead, again Athan in the lead and so on. Not one touch between the three drivers but it was Geoffrey who took the win in front of Dylan and Athan. Difference between Geoffrey and Athan 0.6 sec. Congratulations to the drivers, best race of the year. In the third final everything was still possible. Athan took the lead followed by Geoffrey and Dylan. Again very close racing but Athan proved that he is the 'iceman'. Stayed cool and drove straight lines with Dylan, who overtook Geoffrey, right behind. Geoffrey was happy with his third place because with this result he become champion this year. Athan took the win and a strong Dylan second place. Overall result: Athan De Witte (VBC) winner, Dylan Senaeve (Xray) second and Geoffrey Vekemans (ARC) third place.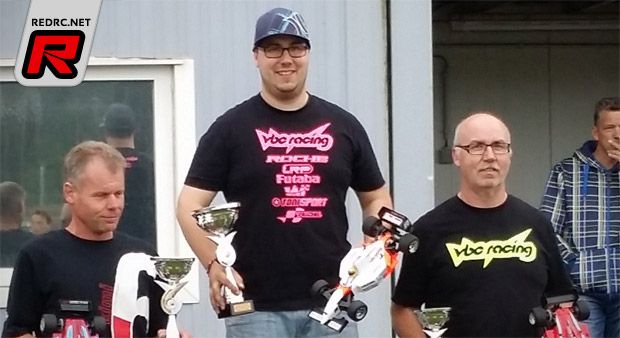 In these weather conditions the formula class was the hardest to drive. With slick tires on wet conditions, it was not easy to go with those rear wheel drive cars. Olivier Bultynck was TQ with Michel Machieu second and good old Krist Bultynck as third. In the first final it begins to rain and the conditions on the track was like driving on ice. Everyone was sliding around. Olivier had some bad luck and a lapped car stood on his car. Meanwhile Michel took the lead and managed to take his first win of the year. Olivier took second place and Krist who took a terrible start was happy with his third place. Michel told everyone that with this win his year was successful. Olivier took a good start in the second final and proved that he was very fast. With laptimes more than 0.5 sec faster than the rest of the field, Olivier took easy the win. Michel ran with no problems to the second place and Hans Buschman, with his self made formula car, came in as third. Also in the third final, Olivier was in the lead in front of Michel and Krist who had a normal start this time. Olivier went away from the rest and Michel and Krist started a battle for second place. Krist overtook but Michel came back. In the long corner of the straight Krist overtook Michel and proved that he was faster. Olivier took the win in front of Krist and it was Ally Coursier who took third place in front of Michel. Overall Result: Olivier Bultynck (VBC) winner, Michel Mahieu (VBC) second and Krist Bultynck (VBC) third place.
Thanks to Krist Bultynck for the report.
---