August 13, 2014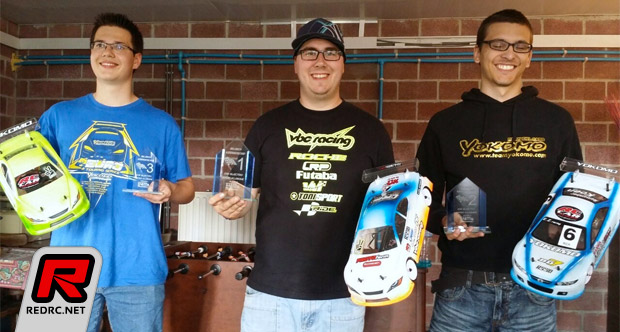 The fifth round of the 2014 FBA Electro on-road championship was held at the RCR track in the town of Roeselare this past weekend. After a very wet weekend at Bierset and a half wet weekend at Rucphen the weather forecast predicted a lot of rain during this race. On Saturday the sun was shining. On Sunday morning the day started dry but the weather conditions proved to be very difficult for all drivers with heavy rain fall during the day.
The Efra boys started in the rain and it was Olivier Bultynck who proved to be fast in the rain in front of Nicolas Delisé and Mitchell Van Es. Kristof De Witte surprised with a fourth place on the grid in front of Cédric Gils. The first final was under heavy rainfall and Olivier took the lead in front of Mitchell. Nicolas was not ready and did not start. Mitchell was pushing hard and Olivier had to defend in every corner. Mitchell managed to overtake Olivier but Ollie overtook immediately again to retake the lead. A splendid fight for the lead with two very fair drivers. Meanwhile Nick Joosens was coming back from sixth on the grid and drove a strong final. Coming back on the leaders, Nick caught Mitchell. Ollie could run away from them and take advantage of the battle behind him. With one minute to go, suddenly the car of Mitchell broke down. Ollie took the win in front of Nick and Rico Claeys was a happy third.
Ollie took a fast start in the second rainy final. Nicolas tried to kept Mitchell behind him but Mitchell was very strong. Again Nick came back from sixth place and begun to fight with Mitchell. Olivier made a little gap and took the win for the second time. Nick and Mitchell touched in the last lap and Nick took second place in front of Mitchell.
With a dry track in the last final and a wet lane in front of the rostrum, the third final would be very difficult on slick tyres. Ollie decided not to start so the battle for second and third was open. Mitchell took a splendid start and Nicolas had to start from the pitlane. Kristof De Witte and Cédric Gils could not keep Rico and Nick behind. Nick was fast and passed also Rico. Mitchell stayed in the lead and took the win in front of Nick and Rico. Overall results: Olivier Bultynck (VBC) winner, Nick Joosens (Yokomo) second and Mitchell Van Es (Yokomo) third place.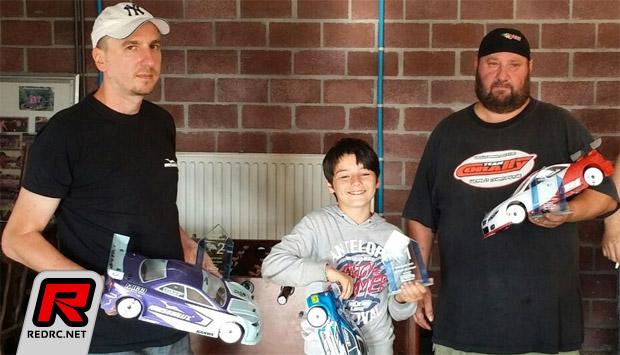 With this weather the higher heats in the Stock class took advantage of the lower heats to drive in dry conditions and so Jannick Rommens was on TQ in front of Robby Engelen and Frans Engelen. Athan De Witte was fourth and Christophe Charlier fifth on the grid in front of youngster Liam Van de Wouwer.
A clean start of the first final proved that Athan would be the man to beat. Athan took the lead and Christophe was following. Jannick had a big fight with Liam an Nathan Cortvriendt for the third place. Christophe tried everything but Athan was fast and was able to win this final. Christophe took second place and Jannick was a very happy third on his home track.
The second final was a walk in the park for Athan. With a very fast run in this final Athan secured the overall win. Christophe again came in as second and Jannick proved that an old guy is still fast and took third place.
The last final in half dry conditions, some drivers on slicks others on rain tyres, proved to be exciting. Jannick took the start and did everything right. Athan spun out and Christophe tried to keep the gap with Jannick as small as he could. Youngster Liam Van de Wouwer was on a mission and proved that he has potential. Jannick took the win in front of Christophe and a very happy Liam. Overall results: Athan De Witte (VBC) winner, Christophe Charlier (Awesomatix) second and Jannick Rommens (Spec-R).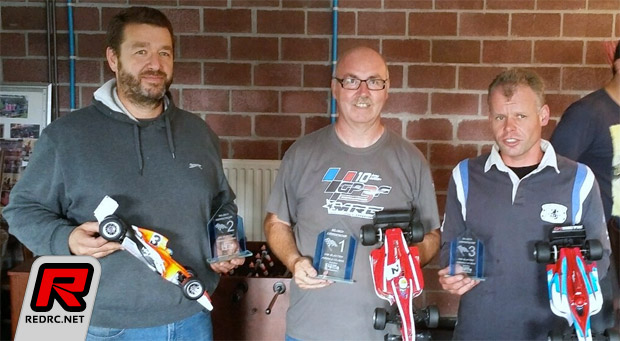 In the Formula class it was Olivier Bultynck who was on TQ in front of Krist Bultynck and Stephane Delisé. In the first final Krist took a very good start and overtook Olivier in the first lap. Olivier was following just behind Krist. Meanwhile Stephane, Steve Deblaere and Michel Mahieu were in a hard battle. Suddenly Ollie's car broke down and he was out of the race. Krist was secure and came in as first. Stephane took second place in front of Michel Mahieu.
Ollie was still in trouble with his car in the second final. So Krist was in the lead and Stephane tried to follow. But Krist felt like a fish in the water and again took the win. Stephane managed to get second and this time it was Steve who came in as third.
Krist stayed in the pit for the last final and Ollie took the lead from the start in this difficult conditions on slick tyres. No rain tyres allowed in this class. Stephane, Steve and Michel were fighting for second place. Olivier came in as first in front of Michel and Stephane. Overall results: Krist Bultynck (VBC) winner, Stephane Delisé (VBC) second and Michel Mahieu (VBC) third place.
Thanks to Krist Bultynck for the report.
---