August 13, 2014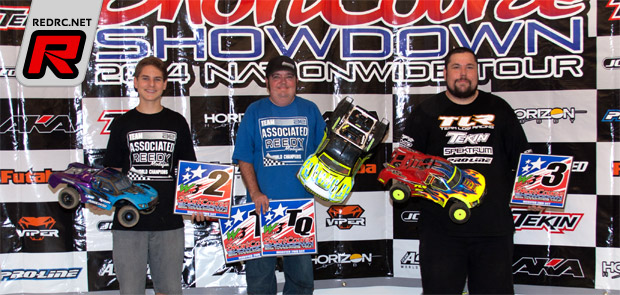 Round 5 of the Short Course Showdown Nation Wide Tour brought us to Phoenix Arizona to Warehouse 3. Warehouse 3 is absolutely beautiful facility. Located in a very new building in a multi-business strip mall, it has the perfect location to have a track and full RC Hobby shop. The schedule for the weekend consisted of practice on Friday, 3 Quals on Saturday, 1 Qual on Sunday and 7 minute finals for all classes with bump ups. Some of the areas fastest drivers were in attendance from both Team Associated as well as Team Losi Racing. Team Associated had Brian Kinwald one of the greatest Champions our industry has ever had join us as well as their up and coming young guns, Spencer Rivkin and Tommy Hinz. From Team Losi Racing we had Chris Wheeler, Chuck Hicks and Rocco Epler. The track went live at 10am sharp with the unique heads up qualifying style that is very popular in the Showdown and we had some great races. Qualifying went well both Saturday and Sunday and set the stage for some very thrilling finals. But before the finals could begin, we had our racer raffle to thank all our racers for joining us. Our great sponsors support the showdown so very well and give so much back to the racers, all the participants received some wonderful door prizes to help make the experience at the Showdown special.
Main time kicked off with Novice division and it was TQ Duke Cox who would go from Pole to last in the first turn but over the course of the final, was able to work his way back to the front to earn the win. 2nd was Blake Lindsell followed by Chris Cain to fill the podium.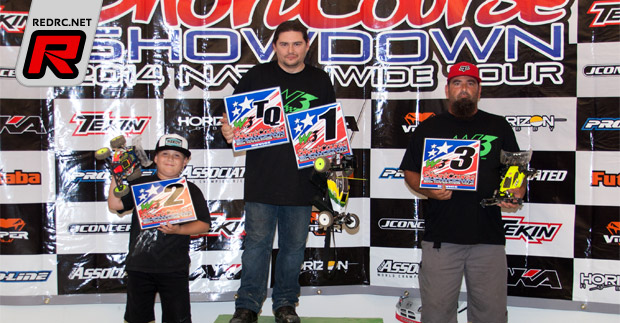 NOVICE
1. DUKE COX
2. BLAKE LINDSELL
3. CHRIS CAIN
4. BRIAN McCUTCHEON
5. ALEXIS HELMRICH
6. LOUISA BUSH
7. ERIC HELIOS
8. BILLIE COMPTON
9. SHANE RILEY
10. PAUL DESROCHERS
In Prolite "Stock Short Course" it was local fast guy Jeff"Humpty" Helms who earned the pole with sweeping all 4 rounds of qualifying and earned the win in the final. Not as easy was the finals for Humpty as 2nd qualifier Dustin Fout gave Humpty a run finishing 4 seconds back. Nathan Chase who is another very fast local young driver struggled a bit in qualifying but was able to finish on the podium.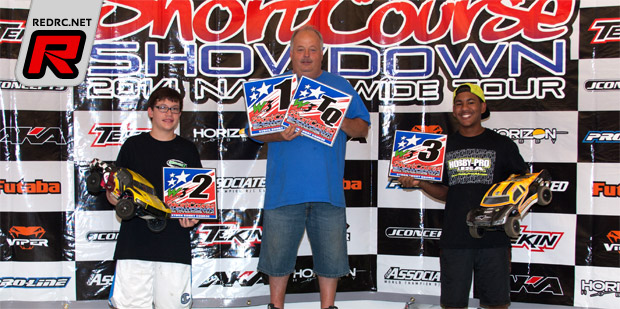 PROLITE
1. JEFF "HUMPTY" HELMS
2. DUSTIN FOUT
3. NATHAN CHASE
4. DUANE FOUT
5. RICKY WIBEL
6. BRIAN WIBEL
7. SCOTT COMPTON
8. JACOB RAMEY
In the PRO 2 "MODIFIED SHORT COURSE" class it was legendary and former World Champion Brian Kinwald who earned the pole position and as the crowed showed, still one of the most popular drivers around. Brian and fellow team mate Spencer Rivkin had a fantastic final going door to door for nearly the entire final. As Brian and Spencer were have a thrilling fight for the lead, TLR's Chris "18" Wheeler was laying down some of the fastest laps in the race to work his way up to the leaders after a difficult start and was poised to pounce if something happened up front, but bad luck came his way on the final lap and he was not able to challenge. Brian and Spencer's fight for the win was thrilling as they went side by side over the final couple laps with Spencer trying everything he could to find a way past Kinwald, but the experience of the former World Champion prevailed and Kinwald took the win by .6.
PRO 2
1. BRIAN KINWALD
2. SPENCER RIVKIN
3. CHRIS WHEELER
4. JIMBO ROWAN
5. ALEX KRIEG
6. DAVID WILSON
7. RYAN FLOYD
8. JAN MOELLER
9. LUKE FRANZEN
10. MATT MOELLER
4WD Buggy
In the Showdown this year we have added buggies to the program and in the 4wd Class it was Team Associated Spencer Rivkin who earned the TQ honors as well as the win in the final. TLR team mates Chuck HIcks and Rocco Epler rounded out the podium.
4WD Buggy
1. SPENCER RIVKIN
2. CHUCK HICKS
3. ROCCO EPLER
4. KEVIN GATTON
5. JAN MOELLER
6. DANNY WURTZ
7. RYAN ZAKRZEWSKI
17.5 Buggy
It was a clean sweep of qualifying for the stock classes for Humpty Helms as he earned the TQ spot in 17.5 buggy also, but he would have a big battle on his hands in the final as another young up and coming driver Jimbo Rowan who qualified just behind Humpty would do his best to unseat the TQ. At the start, Jimbo was able to find a way past Humpty as Humpty would fall back in the pack and have to work hard to get back to the front. AE's Tommy Hinz who started in the 6th spot would be able to get through the pack and all the way to 2nd but Jimbo had already built up a sizable lead and Tommy was not able to pressure Jimbo which allowed Jimbo to cruised home for the win. Tommy would have to settle for 2nd and Humpty Helms was able to work his way back to 3rd.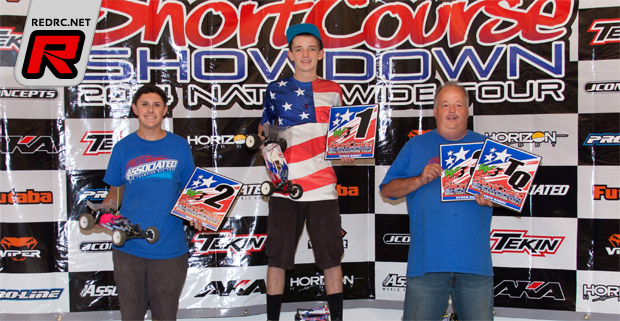 17.5 BUGGY
1. JIMBO ROWAN
2. TOMMY HINZ
3. JEFF "HUMPTY" HELMS
4. RANDY LOCKEN
5. KYLE DAVIS
6. BERT JONES
7. JOE SCHMITZ
8. GABE BOUDOIN
9. JACOB LAYTON
10. NATHAN CHASE
In the 2wd Modified Buggy class it was Tommy Hinz who would earn the TQ starting spot with some brilliant driving during the qualifiers but a tough start for him would take his hopes of winning away and it allowed Spencer Rivkin to go from 3rd to first and take the win. Chris Wheeler who started from 4th was able to get up to 2nd but it was to late to challenge for the win as Spencer had already built up enough of a lead to cruise to victory.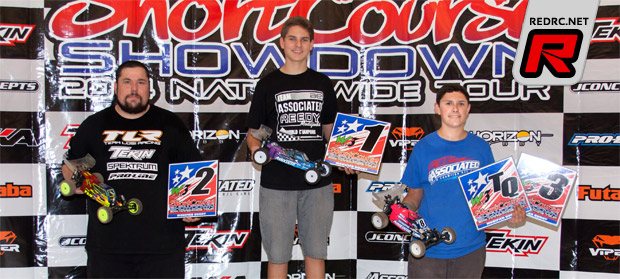 2WD MODIFIED BUGGY
1. SPENCER RIVKIN
2. CHRIS WHEELER
3. TOMMY HINZ
4. BRIAN KINWALD
5. KEVIN GATTON
6. COLE BARNES
7. CHUCK HICKS
8. MIKE BARNES
Pro 4 "4WD Short Course"
4WD Short Course is always an exciting race as these racers strap in as much power as they can and there is always thrilling racing and even more spectacular crashes. This race was no different. TQ went to TLR racer from Las Vegas Rocco Epler. Rocco from the moment he put his truck down for practice could tell he would be the man to beat. At the start it was a good battle early between Rocco and 2nd qualifier David Wilson. Wilson gave chase to Rocco and hung with him for the early stages of the race, but Rocco was able to string a bunch of perfect laps together to put a gap between him and David and then traffic became an issue in the long main and that spread out the filed a bit and allowed Rocco to take a well earned TQ and Win. David would take 2nd and Beau Turner who started 5th on the grid took a well earned 3rd.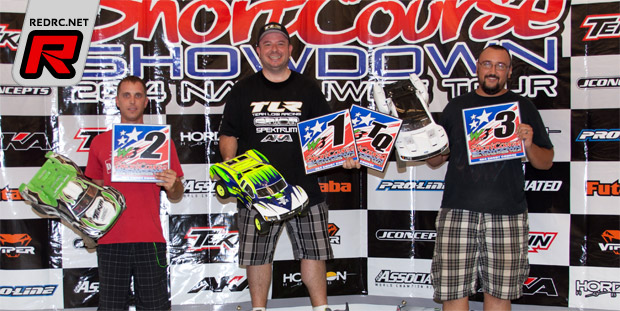 PRO 4
1. ROCCO EPLER
2. DAVID WILSON
3. BEAU TURNER
4. RYAN FLOYD
5. KYLE DAVIS
6. KENNY GATTON
7. DANNY WURTZ
8. JACK HUDSON
9. LUKE FRANZEN
10. RALPH GUTIEREEZ
It was a great weekend at Warehouse 3 and I cant thank Jim, Ricky and the whole team for their wonderful hospitality and fantastic facility they provided for us. The shop was fully stocked with tons of parts, tires and anything a racer would need. The facility was very clean and it was just an overall great experience. Their location located right on a main road gives them the great opportunity to introduce so many new people into the hobby and we are very thankful for the opportunity to bring the Showdown there. Special thanks goes out to Bert Jones of Bert Jones Photography for his fantastic work over the weekend keeping the world updated with great photos and updates on our Facebook page www.facebook/shortcourse.showdown
We are very fortunate to have some wonderful sponsors who support the Showdown and we thank them for believing in the tour and all of their support they give. Team Associated. Horizon Hobby, J Concepts, Futaba, AKA, Tekin, Proline, Viper, Expert Servos, Liverc.com, RC Scoring Pro. Last but surely not least we would like to thank all the racers and families who joined us.
It was great to see so many old friends that I have had the pleasure of meeting over the years, but even better was the new friends we made this weekend. For me as the organizer, it is great when new racers decide to join us and experience what we hope is a different kind of event they they are used to. We hope that no matter where they finished, they had a chance to make some new friends, learn from the other racers and most importantly had a great time enjoying the hobby we all love so much. We look forward to our final tour stop of the year at the Hobby Plex in Omaha, Nebraska in October to wrap up another great season of the Short Course Showdown Nation Wide Tour.
Source: Short Course Showdown [facebook.com]
---