August 11, 2014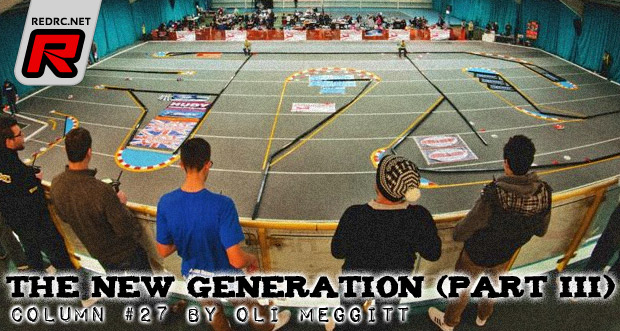 In my recent columns, I've looked at the ways new, younger people are influencing our hobby – both as drivers and as part of manufacturers or companies. However, there's one section of the sport I've not yet covered. One that is pretty close to my heart and one that, perhaps out of all the columns I've written, I've got the most experience of – race organisation
I believe there's two key parts to this; firstly, younger people becoming involved in running or organising clubs or events; and secondly, a 'new generation' of events themselves. Oddly, these two are often quite strongly linked. New people have new ideas and a different view on how events or clubs should be run, which in turn leads to new styles or formats for events. The way race meetings are run – whether they are full size or R/C – has evolved over time and I'm sure will continue to do so. If you look at a Formula 1 even from the eighties, it's very different from a race today.
Cost cutting is a hot topic in full size motorsport, however, in R/C racing, whilst reducing costs is always a great aim, I personally see the movement to currently be to increase the "value for money" racers receive. Sadly, this does often manifest itself in racers reducing the amount of 'club racing' they do, instead focusing their time and money on bigger events. Many of those bigger events have realised that a key element of a race day is the atmosphere in the pits as well as the action on track, and therefore are placing more emphasis on the overall package, rather than just the circuit.
I continue to believe that the most successful organisers are those who race themselves. Whilst people are always conscious of their own free time, therefore reluctant to give up more time to volunteer to help out, I have seen more 'new' blood getting involved in the organisation. Those racers who then take up those responsibilities can use their own experiences to help improve or develop their club or event, and in many cases are often closer to knowing what other racers want from an event.
It's also interesting to note that many of the big, successful events have moved from those being organised by "committees" or national organisations, and are organised by a group of individuals instead. Often, that group is made up of racers who combine their ideas and thoughts. Whilst a committee-type approach can often seem democratic and desirable, racers will always ultimately vote with their feet and, in my opinion, regardless of how or by who an event is organised, they want to attend something which is enjoyable, good value for money, and gives them the opportunity to race an event they want to race at. Seeing younger people giving up their time and not racing, but helping with organisation instead, are great assets to the sport and something I hope will continue!
Have an opinion on the topics discussed? Leave them in the comments below.
Oli Meggitt is a race organiser, announcer, RC racer and has also been known to stand and talk in front of a camera. Now a columnist for Red RC you can read his thoughts, insights and ramblings fortnightly.
The views and opinions expressed in this column are those of the author.
---