September 15, 2014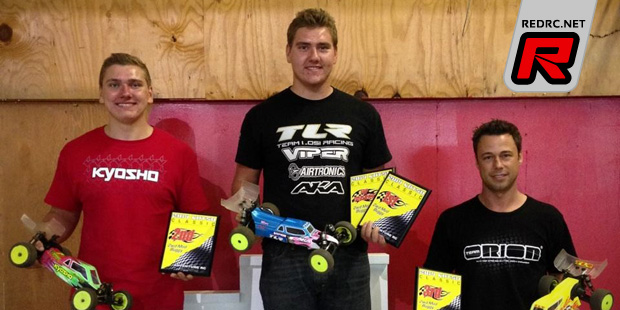 The 1st Annual Katsu Classic was hosted by Adventure RC in Louisville, Kentucky with over 160 entries including team drivers from Kyosho, Team Associated and TLR. The format consisted of 3 rounds of rocket round qualifying and double A-Mains with the two biggest classes being 2WD and 4WD Modified Buggy. The 2WD class saw JP Richards (TLR) taking the TQ from Kyosho's Luke Richards.
In the opening A-main JP and Luke battled for the lead the whole race, but JP had a problem with back traffic and Luke was able to get around him for the win. In A2 Luke got loose on the first lap and was tapped in the corner and went into the tube, so the leg 1 winner spent the rest of the race playing catch up ending up being 3rd behind JP in 1st and Brian Dunbar in 2nd. This handed JP Richards the win in front of Luke Richards and Brian Dunbar (TLR)
4WD Modified Buggy had Luke Richards (Kyosho) taking the TQ after bettering his times in each of the three qualifiers. The first A-main had Luke leading from tone to tone to take the win in front of JP Richards (TLR). In A2 Luke lead for the first 6 minutes but then he had an issue with back traffic putting him back to 2nd behind JP, and he was unable to get the lead back so he finished 2nd. Since JP was second in A1 the two were tied for the win but Luke's runs were fast enough to take the win from JP Richards who had to settle for 2nd. Dylan Gerard completed the race in 3rd.
Thanks to Joe Pillars for sending the report.
---