September 18, 2014
The 2014 UISP Italian National Outdoor Championships were held in Bientina, close to Pisa with more than 60 drivers participating in the three classes of Touring Car Modified, 13.5T blinky F1 and 13.5T blinky F2. The schedule saw to controlled practice rounds on Saturday morning followed by three qualifying rounds while two more qualifiers and triple mains were run on Sunday.

In the finals of the Modified class Alessio Menicucci made a clean sweep by winning the first two A-mains, handing him the overall title early. Alessio then sit out A3 to let Francesco Martini and Alessio Mancini fight for the runner-up spot that ultimately went to Francesco with Alessio rounding out the podium in 3rd to make it a 1-2-3 for Xray on the Modified class podium.
Modified class final result:
1. Alessio Menicucci
2. Francesco Martini
3. Alessio Mancini
4. Diego Macchioni
5. Antonio Di Prisco
6. Alessandro Ciaccheri
7. Manuel Busoli
8. Gabriele Vignolini
9. Matteo Montagnani
10.Simone Alleotti
In the F1 finals Nico Catelani was the man to beat and at the end he went on to win every of the three A-mains. Runner-up Marco Puleo was hot on Nico's heels for the first minutes in each final but he had trouble to overtake Nico so he had to settle for 2nd place overall. Behind the two Roberto Fabiano, Andrea Valerio and Luca Musumeci were in a battle for 3rd with the better end for Roberto who ultimately grabbed the final podium spot.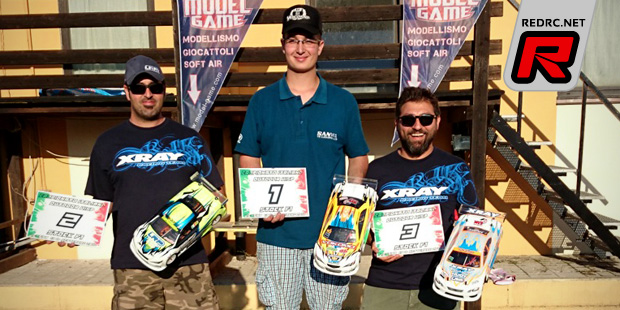 F1 class final result:
1. Nico Catelani
2. Marco Puleo
3. Roberto Fabiano
4. Luca Musumeci
5. Andrea Valerio
6. Davide Bertuzzi
7. Nicola Fornasari
8. Tiziano Borgogni
9. Alessio Pacini
10.Leonardo Tagliavini
In the F2 category Marco Marino proved that he is ready now to bump up to the faster F1 drivers. He won every final in style while Alessandro Arisi and Paolo Ferri rounding out the podium in 2nd and 3rd place respectively.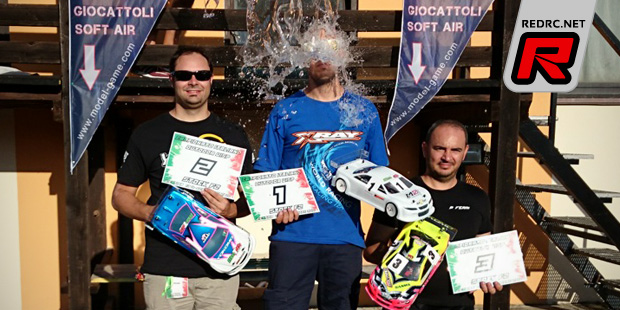 F2 class final result:
1. Marco Marino
2. Alessandro Arisi
3. Paolo Ferri
4. Pericle Tancioni
5. Andrea Gottarelli
6. Luca Pacaccio
7. Danilo Donadelli
8. Massimo Cortinovis
9. Christian Raffo
Source: Xray [teamxray.com]
---