September 18, 2014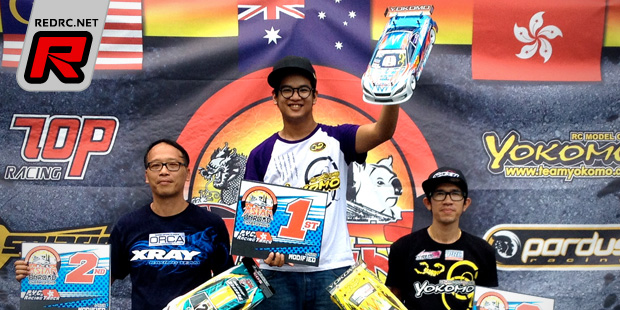 Last weekend the 4th round of the Asian On Road Championships was held at the PYC Raceway in Hong Kong. Hong Kong is well know for being a hot bed of on-road racing and this weekend a great turnout joined for the AOC's first visit to this place. The PYC Raceway is a beautiful facility tucked away between all the high rise buildings just outside of Hong Kong. The format for the weekend was controlled practice on Friday, qualifiers Saturday and Sunday morning and triple finals for all mains on Sunday. Unfortunately on Friday, mother nature had plans to wash out the Friday practice day as the drivers encountered heavy rains throughout the day. This made the organisers make some changes to the program on Saturday to give the racers some practice in the morning and then go into the qualifiers. PYC raceway has the capability to run at night and knowing they needed to get as many qualifiers in on Saturday as they could, the qualifiers were run until about 8.30pm getting 4 rounds in.

As the driver awoke on Sunday, everyone was greeted with blue sky and sunshine and the organisers were able to run the full program and crown the champions. The event had a great diversity of talents in the drivers that attended the AOC with many very experienced racers but also many average racers who enjoyed being part of their first big event and enjoyed the atmosphere.
Touring Car Modified was the largest class of the weekend and it was 200mm World Champion Meen Verjak who would take the TQ honors and take the overall win in Modified. Along with Meen, well know racer Charlee P made the trip over from Thailand and he also ran very strong earning a 3rd place overall. Even though Meen took the overall win, it was not easy for sure. Local hot shoe Chau Man who gave Meen a strong challenge over the course of the qualifiers and mains would end up 2nd overall to the cheers of the local crowd.
Touring Car Modified final result:
1. Meen Vejrak – Yokomo/Scorpion/Scorpion
2. Chau Man – Xray/Orca/Orca
3. Charlie Phutiyotin – Yokomo/Scorpion/Scorpion
4. Fai Ho – Serpent/Scorpion/Scorpion
5. Jackie Shum – Yokomo/Speed Energy/Speed Energy
6. Billy Lee – Yokomo/Thunder Power/Hobybwing
7. Jerry – Xray/Muchmore/Muchmore
8. Kit Chan – Yokomo/Speed Energy/Speed Energy
9. Patrick Chow – Yokomo/Speed Energy/Speed Energy
10.Cho Hoi Wah – Team C/Express/Viper
Super Stock 13.5 Boosted which is extremely popular in Asia and the AOC saw some great racing over the weekend. It was Michael Cheung who would take the TQ honors over the field but had a bit of bad luck in the third final and would see his chance for the win elude him as some contact in the closing stages would take his overall win away. It would be Salton Dong who from the 3rd qualifying spot would take the overall win. Michael would finish 3rd and Tse Kwok Cheong would round out the podium.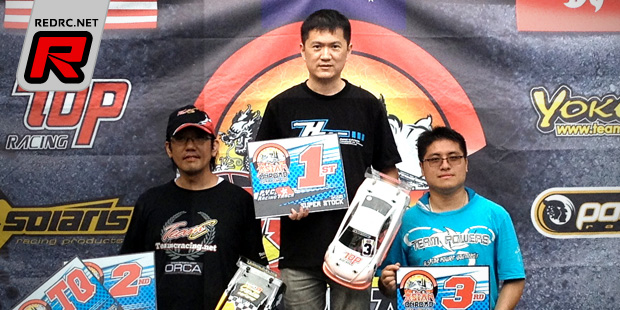 Touring Car Super Stock final result:
1. Salton Dong,
2. Michael Cheung,
3. Kwok Cheong Tse
4. Kee Fai
5. Keith Chui
6. Michael Lo
7. Ivan Lo
8. Kai Man Chan
9. Frankie
10.Dicky Ng
Stock GT is a brand new class in Hong Kong and the AOC was the first big event to run the class. The class had only 7 entries in it and qualifying was dominated by Kit Chau taking all 5 qualifiers to hold the TQ. In the first A final Kit experience some sort of electronic problem which caused his car to be extremely slow and eventually causing him to retire from the race. This gave way to a fantastic battle between Billy Ho and Antonio Hung that went down to the end and it was Billy taking A1. In A2, Kit was able to get his problem figured out and it was business as usually for him as the took a convincing win in A2 and A3 wrapping up the win in Stock GT.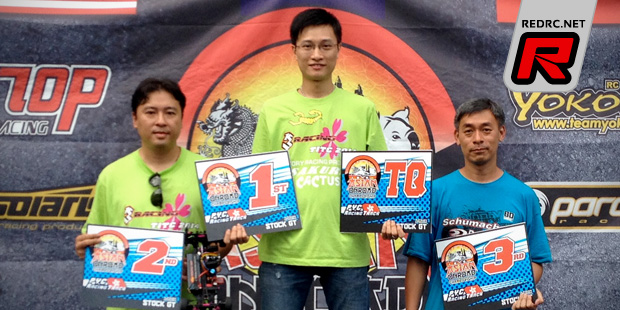 Stock GT 17.5 blinky final result:
1. Kit Chau
2. Billy Ho
3. Antonio Hung
4. Jacky Lau
5. Kris Lo
6. Marco Rosario
7. Enrico Chow
Front Wheel Drive has been around for a while and is seeing a big resurgence in Asia and in Hong Kong with some fantastic racing at the 4th round of the AOC. A familiar name in the racing world in Asia is Stick King, know for driving with a Stick Radio, he was the fastest in practice and was the man to beat in FWD. Not far behind him was another familiar name of Derek Hung from Team Powers. These two racers went back and forth throughout out qualifying each running up front but it was Stick King who earned the TQ spot. In A1 it was a very close fight between King and Hung and in the end Stick King took a narrow win. In A2 It was Derek who had the better car as Stick King battled a huge understeer and was not able to keep pace with Derek giving him the win. So it all came down to A3. A perfect start for Stick King would keep him in front of Derek, but some mid race troubles from traffic would tighten things up and allow Tam Chi Keung to catch the leaders making it a 3 way fight for the win. In the end it was Keung taking A3 and as the points sorted out the tie breaker went to Stick King giving him the overall win.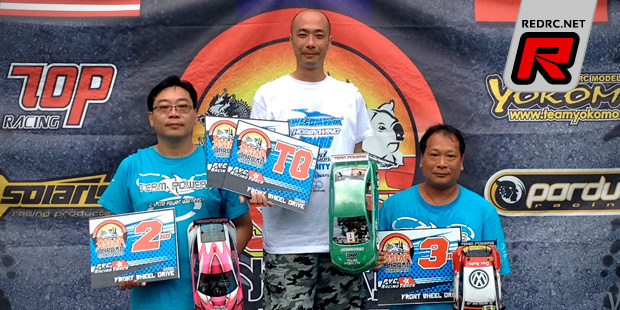 FWD final result:
1. Stick King
2. Derek Hung
3. Tam Chi Keung
4. Kit Chau
5. Chan Tin Sang
6. Johnson Tang
7. Rex Chan
8. Chung
9. Kris Lo
10.Jacky Lau
Last but not least comes the Formula 1 class which is normally a very popular category but this weekend it did not have a big turnout, but the racing between these guys was very good. In qualifying it was a good battle between Terry Wong and K Lee but in the end it was Terry taking the pole position. What was looking to be a close set of finals turned out to be a dominating performance by Terry Wong as he took the first 2 finals without much challenge but it was Mark Sham who found some speed and handling and was able to battle with K Lee to take the 2nd spot. K Lee would end up with 3rd. It was great to have Kazuki Ban make the trip from Japan to join the race in Hong Kong.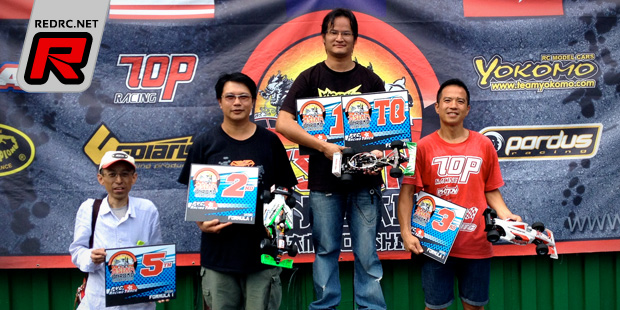 Formula 1 final results:
1. Terry Wong
2. Mark Sham
3. K Lee
4. Lo Lo Sham
5. Kazuki Ban
Up next for the AOC will be the season ending round 5 finals at the World famous Yatabe Arena, November 20th to 23rd. An amazing facility awaits the drivers in Japan that will bring season number 2 to a close. Last year the organisers had a huge turnout for the finals and this year they are expecting the same including some of the best racers in the world to join.
Source: AOC [aocrc.com]
---