September 1, 2014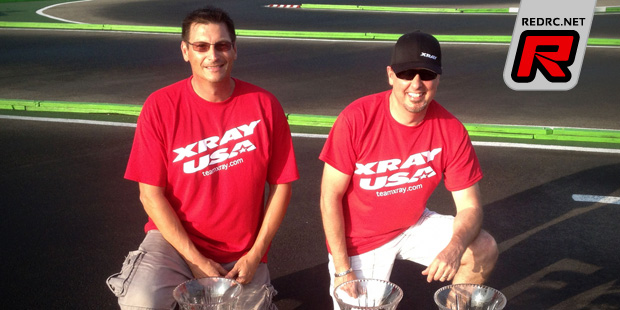 The 2014 Great Lake Challenge in Toledo, Ohio had a nice turnout of 130 entries between four classes. The 1/8th final was very exciting for the first half of the race. Paulo Morganti was leading with Ralph Burch in second only one second behind. Ralph came in for his tire change around the 23 minute mark and the stop went fairly smooth. A few laps later Paolo came in for his tire stop and would never make it back on the track. After Paolo went out, Ralph was never challenged again and was able to just cruise around and take the 1/8th final.
1/8th Open results
1. Ralph Burch
2. Scott Kimbrow
3. Jason Conley
4. Joby Uchman
5. Mike Pulfer
6. Jeff Zuccarell
7. Lou Vanderway
8. Ted Hammer
9. Mike Strack
10.Terry Rott
11.Michael Palazzola
12.Paolo Morganti
In the 1/10th sedan class Ralph Burch and Paolo Morganti dominated the qualifying with Paolo coming out with the TQ. The final would end up being a great race all the way to the end. Paolo went with the strategy not to change tires, but Ralph went with the strategy to change tires and that would make for a very close finish. Ralph Lead most of the first half of the final and was able to put the field a lap down, until he changed tires at the halfway point of the 45 minute final. After changing tires Ralph Was down by one and a half laps and would put on a charge to run Paolo down and pass him on the next to last lap to take the victory.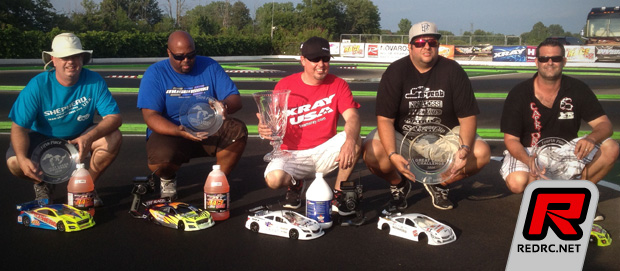 1/10th Sedan results
1. Ralph Burch
2. Paolo Morganti
3. Brian Thomas
4. DJ Apolaro
5. Ted Hammer
6. Chris Doseck
7. Jamie Corrado
8. Jeff Zuccarell
9. Richie Torres
10.Tony Block
11.Uriah Murnan
12.Scott Fisher
13.Rafael Angulo
14.Walter Diaz
A positive weekend also for Mike Strack at the 2014 Great Lakes Challenge. He was able to set TQ for 1/8th masters with a time that was faster than his 1/8th open qualifying time. The main couldn't have been more trouble free for Mike. From the TQ spot, he was able to set the pace and pulled out an early lead and from that point, Mike kept the gap and stayed out of trouble to the win.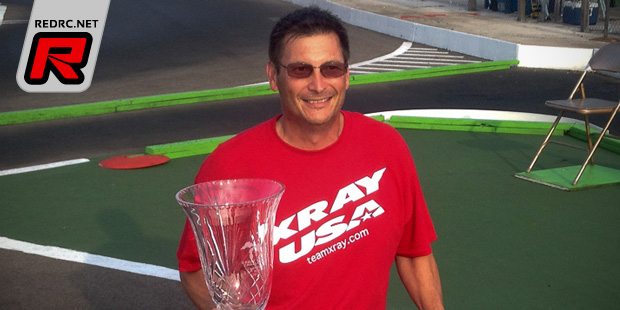 1/8th Masters results:
1. Mike Strack
2. Skip Starkey
3. Joaquin Desoto
4. Rick Davis
5. Greg Esser
6. Dan Louis
7. David Lee
8. Don Jones
9. Art Carbonell
10.Ron Gustin
11.Ted Rogers
12.Bob Block
Source: Xray [teamxray.com]
---