September 12, 2014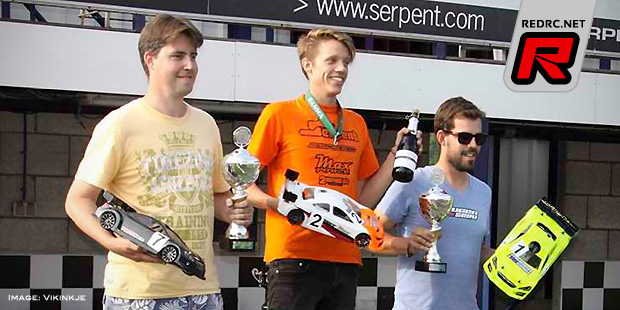 The 6th and final round of the Dutch nitro on-road nationals was held at the MACH track in Heemstede. During practice it soon became clear that a lot of drivers were able to pull very fast laps, promising close racing in the qualification and the finals. On Sunday's qualifying Daan Stuiver was the fastest driver of the National class with three consecutive laps in 48.724 seconds. Daan Jacobs followed behind with 48.777 while Julius Kolff scored a 48.823. Ricardo Hofmeijer completed the top 4 so far.

In the semifinal Roy Bakker, starting from number one was closely followed by Pedro Rombouts in the two spot with young gun Milan Holthuis sitting in 3rd position. The three guys showed a good race pace and they started to slowly pulling away from the field. Roy and Pedro then battled for the lead in the 15 minute final with Milan a few seconds behind when 4 laps before the end Roy ran into trouble allowing Pedro to take the win in front of Milan and Roy.
For the final tyre strategy would come into play as the tyre wear was very high. The main started off well for Daan Jacobs who took the lead in the first lap, but he was closely followed by Daan Stuiver and Julius Kolff. Ricardo Hofmeijer had some bad luck with an engine cut off at the start but he recovered soon. 8 laps into the race there was some bad luck for young Milan as he was facing engine troubles because the plug came loose. Julius also ran into problems and lost 3 laps around the 10 minute mark but he came back only to retire later on due to a broken front belt. Up front the two Daan's had a close race but some 20 minutes into the race Daan Stuiver has to change tyres and he lost his 2nd place to Roy. The allowed Daan Jacobs some room to breathe and he managed to bring home the win without changing tyres.
Final result
1. Daan Jacobs – 106L 30:03,398
2. Roy Bakker – 106L 30:12,857
3. Daan Stuiver – 105L 30:11,438
4. Ricardo Hofmeijer – 104L 30:12,060
5. Remond Tempelaars – 102L 30:03,405
6. Pieter Bottema – 96L 29:41,159
7. Marcell van Buël – 93L 30:09,630
8. Milan Holthuis – 88L 30:03,886
9. Pedro Rombouts – 82L 30:04,696
10.Julius Kolff – 63L 19:40,341
Source: Serpent [serpent.com]
---