September 25, 2014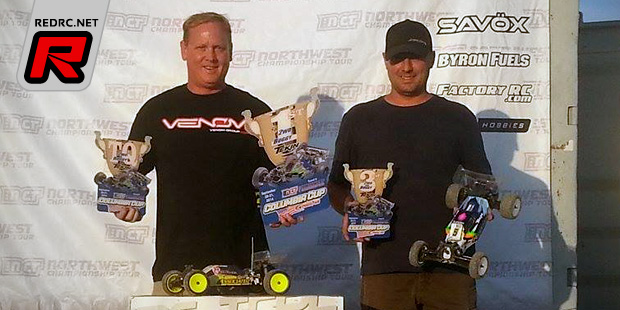 The NCT final race number 6 made its way to Pasco, Washington last weekend. As the NCT is a nitro series race, this event also combines 1/10th scale electric racing known as the 2014 Columbia Cup. This 2-day event gathered the top racers in the NW for a final electric summer shootout and with a fresh track change and temperatures in the 90's, Pasco was prime for some spectacular racing action.

In total, this was the largest turnout for summer racing with over 200 entries and 36 buggies in the coveted 2WD Modified class. Making the drive from the Tacoma, Washington area were some of Team Associated's greats like Michael Schoettler, Chris Bridgewater, and John Walentia. In addition, some of the NW's finest Kyosho drivers were also in attendance like Roger Seim and "Wonder Boy" Tayler Wonders. AE's local presence was also felt with Mike Hudson and Justin Wilde, whom did an excellent job on the track.
The race format was best 2 of 3 rounds using qual points to set up for triple A-mains to decide the overall champions in each respective class. 3 quals were ran on Saturday and saving the best for last, mains on Sunday. The track started out pretty green on Friday, but grooved up by Sunday and proved to be a great racing layout with mild jumps and great flow.
In 2WD Mod privateer Dave Gullickson was able to earn the TQ spot in a hard fought qualifying session, and he would lead the elite pack around the track with his B5R. Team Associated/Reedy's Michael Schoettler, coming from 3rd on the grid, would charge hard and pressured Gullickson enough until he made an inside move to take over the lead. Gullickson, following closely for next two minutes would bobble over triple giving Shoettler a 2 sec lead with only one minute remaining. While fighting to close the gap to Schoettler's lead, Gullickson would make a costly mistake on the treacherous double going on to straight and ended up on his lid allowing Schoettler to stretch out his legs and take a comfortable win. Gullickson would have to settle for 2nd and Keith Hadley would snatch 3rd.
In A2 your TQ would find himself in a pickle as he made an early bobble on the triple putting him in last place with a lot of work to do. This allowed Keith Hadley to take the lead, but in the end it would be local star and 5th place qualifier Joe Cathey taking the win in A2 followed by Team Associated's Chris Bridgewater in 2nd and Keith Hadley in 3rd.
With the overall still up for grabs, Gullickson would fend off hard charging Hadley and Shoettler early on in A3. After one minute in, Hadley would make a fatal mistake that allowed Gullickson to stretch out his lead and finish A3 with no pressure and giving him the overall win in 2WD Modified buggy. Kyosho's Roger Seim would finish 2nd in A3 followed by Michael Schoettler in 3rd.
Source: 2wdMod.com [2wdmod.com]
---