September 15, 2014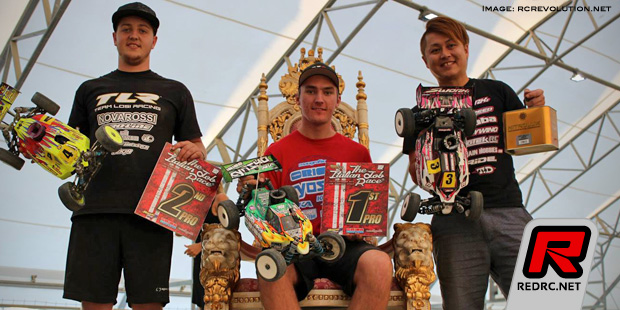 The 2014 Italian Job Race was held at the IBR Padova indoor clay track this past weekend with some of the best Italian drivers and some swift international guests in attendance. In the build up to forthcoming IFMAR 1/8th Buggy World Championships many drivers used the race for final preparations and after five rounds of qualifying on the recently rebuilt track reigning European Champion David Ronnefalk took the TQ for the finals from TLR's Alex Tanchettin and Riccardo Berton (Kyosho). Atsushi Hara (SWorkz) and Davide Ongaro (Mugen) completed the top 5 result.
In the semifinal A David Ronnefalk, Riccardo Berton and Davide Ongaro battled for the win and after both Davide and David ran into trouble Riccardo Berton was able to take the win. David came in 2nd while Davide had to pray to proceed to the main final as he had to wait for the semi B result. In that certain semi B Atsushi Hara was able to come in 1st while Davide Ongaro managed to grab a spot in the main final.
At the start of the 60 minute Pro final Riccardo Berton, starting from pole position, took off with now problems having Ronnefalk, Hara, Cantoni and Zanchettin in tow. In the opening stages Berton and Ronnefalk swapped positions several times until around the 10 minute mark Ronnefalk ultimately took over the lead while Zanchettin moving into 2nd place. Some 15 minutes into the race and Renaud Savoya now was into 3rd place only to fall back again some 10 minutes later. Up front David made some rare mistakes allowing Zanchettin to close the gap to the Swedish driver to around 3 seconds. Halfway into the final and David was still closely chased by Zanchettin while now Hara was sitting in 3rd place followed by Berton, Savoya and Cantoni. Receiver battery issues at the 35 minute mark cost Riccardo Berton around 3 minutes in the pits and the chance to grab a podium place while up front Ronnefalk, Zanchettin, Hara, Savoya and Ongaro seemed to have settled the top sports. At the end of the 60 minute final the top 5 positions remained unchanged with David Ronnefalk taking the win from Alex Zanchettin in 2nd and Atsushi Hara in 3rd.
Final result:
1. David Ronnefalk – Kyosho/Orion/AKA
2. Alex Zanchettin – TLR/Novarossi/Pro-Line
3. Atsushi Hara – SWorkz/O.S./Pro-Line
4. Renaud Savoya – Xray/Orion/Sweep
5. Davide Ongaro – Mugen/Novarossi/Procircuit
6. Stefano Cantoni – Agama/Novarossi/Beta
7. Eghlis Gallo – TLR/Reds/Beta
8. Leonardo Valente – Agama/Bullitt/Beta
9. Mattia Polito – Agama/Novarossi/RB
10.Riccardo Berton – Kyosho/Orion/AKA
11.Matteo Forti – Mugen/Novarossi/AKA
12.Guido Ristori – Tekno/EZ-Power/Pro-Line
13.Adrien Bertin – Hot Bodies/Team Orion/Hot Bodies
Source: RCRevolution [rcrevolution.net]
---