September 8, 2014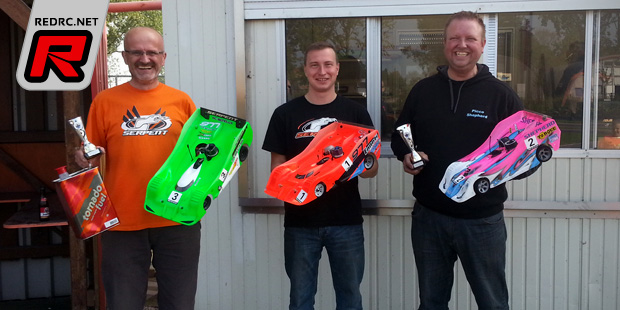 Last weekend the small and technical track of the MBC de Sluis club in the Dutch "cheese city" of Gouda held the final race of this year's 1/8th nitro on-road nationals. In the NK class Gunther van Steay had already secured this year's overall title due to a brilliant year but there were still many other top positions to fill at the final round. Sadly due to illness Belgium ace John Lenaers was unable to attend this last race, giving away his 2nd overall position at the NK Master class.

The race started on Friday with loads of practice for the drivers who knew about the importance to get as many laps under their belt as possible as the re-surfaced track lacked a bit of grip meaning every mistake could potentially end up in a disaster. Present on the first day where Arie Manten and Frank Baggen, the two oldies who scored the 1st and 2nd place at the European 40+ Championships. Both had to score good points in order to secure a 2nd and 3rd place overall the 2014 season.
On race day the turnout of drivers was a little bit lower than expected with 40 drivers in attendance as some drivers were still on holidays but the dry weather made for good racing and after qualifying it was again Gunter van Steay who lead the NK class field, followed by Frank Baggen in 2nd and Joey Sorber in 3rd place. The Nomac Sportsman class had local ace Ruud Knoester in the lead from Benny Ciere and Koen Geurds.
The final of the NK Master class was decided by the fuel strategies and had Gunther van Steay bringing home the win from Arien Manten in 2nd and Frank Baggen in 3rd with the latter two showing great on-track battles.
NK class result:
1. Gunther van Steay – 118L 30:12.7
2. Arie Manten – 115L 30:12.2
3. Frank Baggen – 115L 30:14.4
4. Michiel Renting – 112L 30:17.6
5. Danny Leewis – 109L 30:15.5
6. Patrick Vannieuwenhuyse – 108L 30:11.7
7. Joey Sorber – 102L 27:35.1
8. Marcel Schouten – 100L 30:02.3
9. Peter Ende – 88L 25:22.6
10.Martin Zevenhoven – 50L 13:55.7
The Nomac class final showed the difficulty of the track with almost every driver facing trouble during the main. At the end it was Bennie Ciere who had an almost clean race to take home the win with 108 laps. Gert Machon followed with 89 laps while Ruud Knoester came in 3rd another 2 laps down.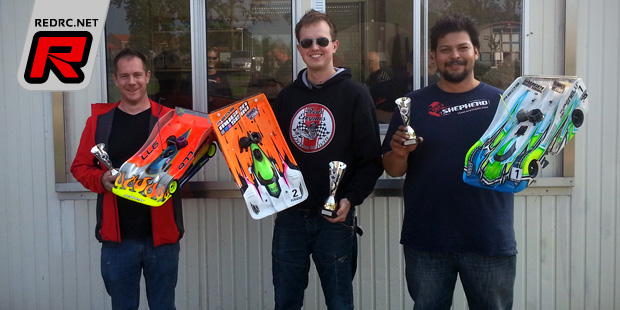 Nomac class result:
1. Benny Ciere – 108L 30:16.9
2. Gert Machon – 89L 30:01.2
3. Ruud Knoester – 87L 30:07.8
4. Mat Hukkelhoven – 87L 30:16.1
5. Ad Moelands – 84L 30:04.4
6. Peter van Marion – 53L 30:06.4
7. Koen Geurds – 44L 12:46.1
8. Emiel Jansen – 27L 07:36.4
9. Stanley Bauer – 25L 07:34.0
10.Stephan van Rooijen – 7L 06:05.4
Thanks to Pieter Sorber for sending the report.
---