September 24, 2014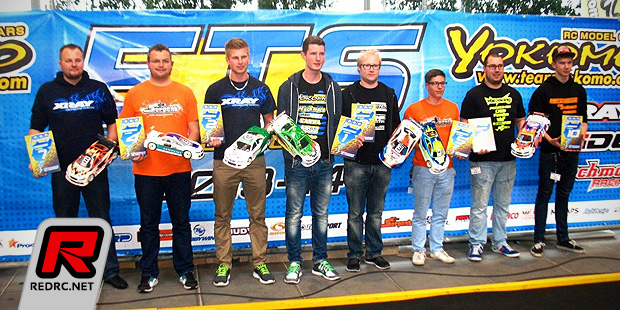 The ETS pilotrace at the World-famous Nürburgring was held last weekend at the track side "Ring Boulevard". Uwe Rheinard and his crew again did their magic to provide a nice and flowing layout laid out on a new carpet that will be in use in the upcoming season. Also in use was the new Ride hand-out tyre that was tested with very good results. In the Touring Car Modified class a bunch of internationally experienced racers signed in, such as Jan Ratheisky, Yannic Prümper, Dominick Fleischmann or Julian Borowski. After the end of the qualifiers Yannic Prümper put his car on pole position for the finals followed by Marco Kaufmann and Dominik Fleischmann.

The mains were dominated by Yannic Prümper. He took the win in A1 and A2 to grab the overall win early. The battle for the 2nd spot was on between Marco and Dominik. At the end Marco was able to cement his qualifying position by grabbing the runner-up spot from Dominik who rounded out the podium in 3rd.
Touring Car Modified final result:
1. Yannic Prümper
2. Marco Kaufmann
3. Dominik Fleischmann
4. David Ehrbar
5. Julian Borowski
6. Dominic Vogl
7. Jan Ratheisky
8. Oliver Bultynck
9. Martin Hofer
10.Dionys Stadler
In the Stock class the race was on between Oliver Franke and Mike Gosvig. Both ended tie on points after the qualifiers and a faster TQ run handed Oliver the pole position for the finals. The opening A-main had Oliver Franke and Henrik Heitsch battle for the win with the better end for Oliver who came in 1st in front of Henrik and Mike who had to fight his way back to the top of the field following a crash early in the race. A2 and it was again Oliver who was out in front and Mike was able to follow but he did not found a way past. Therefore Oliver also won A2 for the early overall win. The final A-main again saw Oliver taking the win from tone to tone. Behind him Mike tried to take it easy to bring home the runner-up spot. Further down the field Jan Ratheisky made a brilliant move on Henrik in the first corner and sitting in 3rd place he was now chasing Mike. After 5 minutes both were only separated by 7/10th of a second but Mike was able to bring home the 2nd place to grab the overall 2nd place. Jan Ratheisky rounded out the top 3.
Final result stock:
1. Oliver Franke
2. Mike Gosvig
3. Jan Ratheisky
4. Henrik Heitsch
5. Tobias Seidl
6. Jan-Plillp Staab
7. Johannes Sperr
8. Thorsten Zorn
9. Philipp Hagnaur
10.Valentin Hettrich
Source: Xray [teamxray.com]
---